One of the most common things you will find on almost any website is probably a "menu". A menu is part of a navigation structure, that webmasters use, to direct users to specific parts of their website. Think of it as some sort of "road signs" pointing you to certain directions. The objective of using menus is to facilitate users to find content that are not immediately available when they land on any of your pages. Granted, one of the easiest ways to construct a menu is by using a category based type menu, which not only helps to let your visitors know what your site is about, but also provides them with an easy access to your content.
Some experts says that a proper navigation structure is an important part of improving users experience. Can't argue with that, and this is why, we point our visitors towards certain categories, so that they can see what content we have to offer on each of those categories. When a user clicks on a category, they will be presented with a list of "articles" related to that category. This list could be in form of excerpts (teasers) or in some cases full posts, which I suggest for you to stay away from. Having full posts under categories, can create too many disturbances for a user, and might also be a strong contender of being tagged as duplicate content.
OK, you might say. So what's wrong with the user being presented with a list of articles? Actually, nothing wrong, but… you can always make it better.
Making Your Category Pages User and (Maybe) SEO Friendly
Rather than bombarding users with just a list of your articles, why not give them a small introduction of what they can expect from a specific category. For example, if you have a category that is SEO, you can say that they will learn the basics of SEO, they will find free tools, guides, plugins, etc.., You set the expectation, to compel them to stay a while longer and hopefully read more of your articles. From a usability standpoint, people will be more appreciative.
Now, not all themes can do this and you should check if yours can do it. I know that my theme does and it is amazing that not many that I know who has Thesis (aff link), uses this feature. Don't blame them, I only found out about this a week ago, and this after deciding to use Thesis, when I moved from blogger to WordPress nearly a year ago.
Anyway, I just started to change my categories some days ago, so it is not (yet) complete. Right now, clicking on any category except for SEO, you will see them like this.
Clicking on the "Blogging" Category….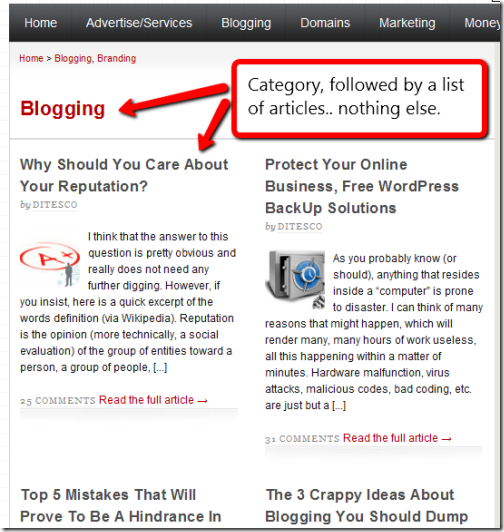 Now Clicking on the "SEO" Category..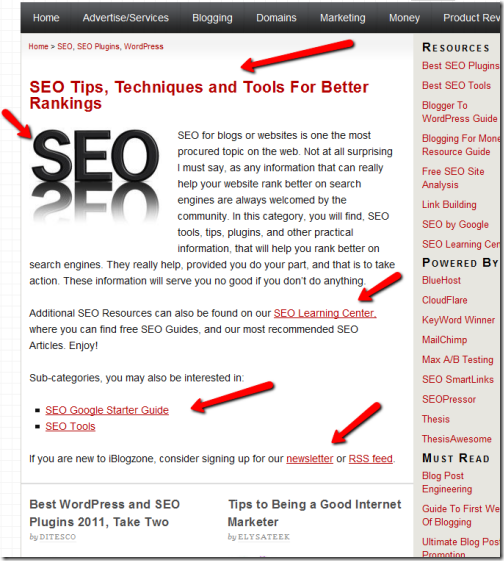 Notice the difference? Instead of just the category "label" followed by the list of articles, I was able to make small introduction, added an image, provided more links (including sub-categories to avoid drop down menus) and finalize it with "soft" subscription links. Cool! You can also see it live, by clicking on the SEO category (new window appears).
As I said, many of the websites that I normally visit, who uses Thesis, does not use this feature. Maybe they also don't know about it :). Not only can you create content for your category pages, you can individually set its settings for "noindex", "nofollow" and more… No wonder the theme I am using has the popularity its got.
How To Create Friendly Category Pages
If you are using Thesis, this makes creating resourceful category pages easier. This feature comes built-in , so there is no need for coding. I am sure this can be done on other themes, and for that, unfortunately I won't be able to help.
Anyway, in you WordPress administration panel, go to Posts > Categories, and click edit on any category (or add new), and you'll see this interface. You can change the title, add keywords (you can skip that), check to make it visible or not for search engines, write an introductory headline and finally your introductory content. Hit update and your are done.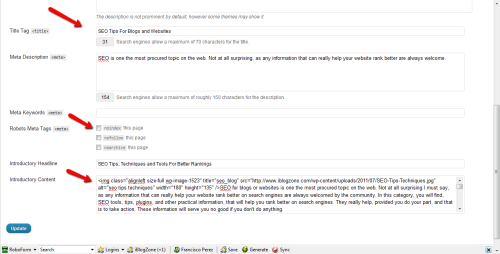 Do User Friendly Category Pages Make A Difference?
From a users standpoint:
– Well, you be the judge. What do you think? Do you think that doing it this way looks more "user friendly"? In my case, I think that it helps my visitors a bit more and in my opinion, anything you do to improve users experience has great value. That should give you a lot of "Google+1s" (lol). Also, my in-page analytics indicates that my visitors tend to click on some of my categories quite often, and this could make them stay a while longer..
SEO Benefit:
Aside from the guys of DIY Thesis, that say there is, I asked Ana of TrafficGeneratonCafe in a comment to tell me what her views were about indexing category pages. If you don't know who @Ana is, then you are missing a lot. Trust me, her site is packed with traffic generation techniques, that work, simple.
Anyway, to make the story short, Ana promptly answered, "it depends on you". If you want your categories ranking on search engines, then have them "indexed". This means that category pages, are indexable and therefore rankable :).. wow, do those words even exist? Thanks Ana btw, for the insights.
That's it! Do have this feature on your theme? If you are using Thesis, are you using this feature to create user friendly category pages? If not, why not? Can you see any "downside" using this method? Thanks!