BlekkoGear Publishers Tools
It has been a while since I have written something about Blekko. Interesting actually as Blekko is one of my favorite "on the fly" SEO Tools, among other things. If you have not heard of Blekko yet, then you might want to take a moment and get familiar with this not so "talked" about search engine and find out why I also called it an All-In-One SEO Tool.
[note]UPDATE: August 2012: Recently, Blekko announced that their SEO tools will be a paid service, as reported on searchengineland.com. If you are looking for other alternatives, try using Bing Webmaster Tools, or these ones here.[/note]
So, what is all this about BlekkoGear, SEO and Other Cool Stuff anyway?
BlekkoGear's Link Widget and Embeddable Search Box
Community-driven search engine Blekko has introduced some publisher tools focused on link transparency and customized search via Blekkogear. Among the available tools, perhaps the most interesting one within the suite, is the Link Roll Widget. The tool is actually an embeddable widget and a way to "show off" organic links that points to any site (in this case yours). The widget is both customizable by number and size, and is pretty similar to that of Twitter's latest, or FaceBook likes. Another way of looking at BlekkoGear's Link Roll, is somewhat like a Google Alert, the difference being that you can have it showing in your site and results, as stated by Blekko CEO Rich Skrenta, is real time.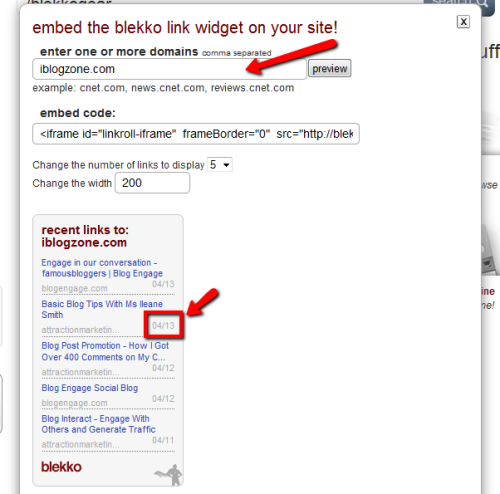 This is a neat way of seeing who is linking to you an a much quicker pace, and for that matter, react quickly. Being able to check backlinks in "near" real time who has just linked at you is a good way to interact and get "things" rolling while it is still fresh. It is obviously better, to thank someone almost immediately than 15 days later.
BlekkoGear Embeddable search box
As an alternative to several ways a publisher can include a search option within their websites, BlekkoGear also has available, an Embeddable Search Box that allows publishers to customize search, within their site. As Skrenta hinted, "our search box lets site owners provide a customized, vertical search engine that will return little to no spam because the search is limited to sources the publishers trust".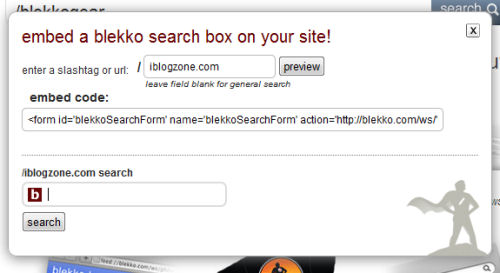 BlekkoGear SEO Toolbar
Very much similar to the dozen of toolbars that are already available as addons for browsers, BlekkoGear obviously has their version of a toolbar as well. Sadly, it appears that it is only available for FF users, at this time at least. Among other things, users can search for "Blekko's slashtags", and one of my favorites, a site's SEO statistics.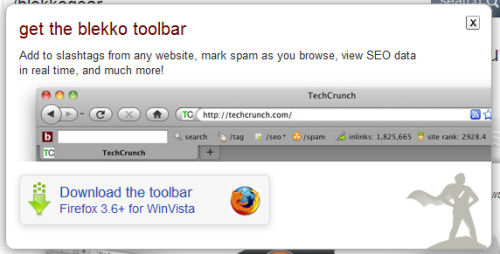 Other BlekkoGear stuff
Other BlekkoGear publisher suite includes:
default search engine – all blekko all the time!
rss feeds – for all your favorite slashtags
trading cards – collect them all
free t-shirt – good for any occasion!
That's it! In case you are interested in giving some of the BlekkoGear publisher tools a spin, you can get them all here.