The benefits of building an email list are well-publicised – the more people you email, the more traffic you'll drive to your website and the more purchases you can encourage. But driving sign-ups can take a bit of patience and a lot of perseverance, testing different approaches to see which ones get you the best results.
There's certainly a knack to it. First, you have to think of what you can offer them in exchange and, secondly, convenience is king – you need to make the whole process as easy as possible. We cover 10 brilliant ways to encourage more email sign-ups. Many of them will help you get the most out of the programs you already have, like installing add-ins on Mailchimp and WordPress, or utilising your social media reach.
Create original, interesting and useful content
If you're selling a service – be it marketing or accountancy – readers judge you by what you say on your website and how relevant and useful it is to them. If you're selling products, complementing your e-commerce site with a blog directs more traffic. In both cases, posting articles that discuss industry topics and give advice on specific areas will position your company and its employees as experts in the field.
Before you think about encouraging more sign-ups, you should ensure your online content is of interest to potential customers, and put forward in an original way they won't find elsewhere. This is an important part of your content strategy for organically creating more visitors, shares and potential new newsletter sign-ups.
Come up with a lead magnet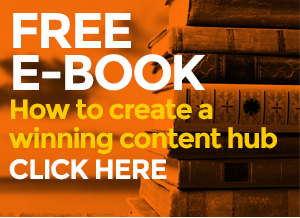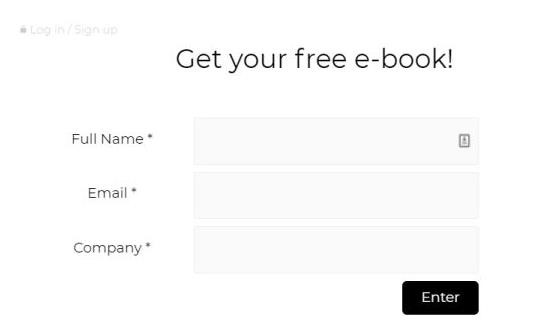 If you want people to sign-up you need to dangle a carrot under their nose. For e-commerce companies, the incentive might be to give a discount, offer free delivery and/or encourage subscribers with the promise of future exclusive offers. You could also say that they'll be the first to know about new products, or run a limited edition 'give away' for new subscribers and share it on social and through your website.
This example from Woo Content shows how service companies can incentivise sign-ups by offering a tip sheet, eBook, white paper, access to a webinar or an exclusive insight not shared elsewhere. On your blog, if you have a particularly meaty subject, think about providing a brief look into the topic and encourage subscribers with access to the full publication.
Embed a capture form
Now that you've got people on your website reading your content, and you've come up with a hook, you need to add at least one means of sign-up. One of the sure-fire ways is to embed a convenient, one-click capture form in a prominent position on your website, and make sure it stands out by using colour or imagery. If you can, split test to see which colours, messages and positions work best. You might think that using multiple buttons at once will give you a higher subscriber rate, but don't litter your website with them as it quickly becomes spammy.
The sign-up form needs to be as simple as possible, including one line to promote what you're offering and only asking for the information you need, i.e. an email address. Also, giving your newsletter a unique name, such as 'TechInsights' or 'The Content Cable' will give the impression it's well-thought out and established.
If you have more than one business area or newsletter, you should allow readers to select which topics to sign-up to and the frequency. And finally, we're all concerned about online security so let subscribers know you won't share or sell their details with a small disclaimer that doesn't distract from the message.
Install a slide-up or pop-up
Pop-ups and slide-ups work well as the reader doesn't even have to leave the page they're on to sign-up. Pop-ups do just that – pop-up in front of greyed-out text, so all focus is on them – and slide-up bars appear as the reader scrolls down the page, so they've already had a chance to be tempted by some useful information on your site.
Slide-ups and pop-ups should contain similar information to a static capture form, all of which can be added to your website by using a WordPress plug-in. You can link it to the sign-up form of whatever auto response system you're using – be it Mailchimp, Aweber or GetResponse.
Post-script CTAs
One place that sign-up links work well is in the Call to Action at the end of blogs, but leave the big-sell to your pop-up or capture form. Instead, you should aim to work the sign-up link into the content where you can, so the text is unique each time and fits more seamlessly. If this seems like a lot of effort, you could just place a link at the end of your best blogs, or the ones that are most relevant to the offer you're providing.
Social sign-up
The first step in gaining subscribers through your social channels should be to add sign-up links in all of your about or bio sections. Regularly tweeting or posting content from your newsletter or blog that has a sign-up button on it will get people interested in your content and more likely to sign-up.
More direct social sign-up options include using MailChimp to add an email sign-up button on your Facebook page, or with Facebook API, you can post your newsletter directly on to your page. The SlideShare Pro Dashboard allows you to include a lead capture form in SlideShare presentations on LinkedIn – add it after a few slides pass to catch the optimum number of readers.
Enable forwarding and sharing

If you have an email newsletter and want to build up subscribers, add a function on the email itself so that current subscribers can share it with their contacts. The Content Marketing Institute email above has its 'forward to a friend' button right at the top of emails. Rather than leaving readers to forward it through their email provider, if you do this through your email distribution program you'll be able to track where new sign-ups come from. The newsletter will also be forwarded in its proper state complete with images and attachments.
Use QR codes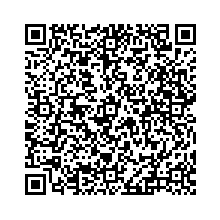 And for any form of printed literature, from brochures to advertising on the back of a train seat, include a QR code to build you email list by linking directly to a target webpage. Again, get that carrot out so the reader has a reason to scan the code into their device. If you're using pop-ups or static forms they'll find the means of email sign-up easily from the page you've linked them to, if not, you can direct them straight to the form from the QR code. QR codes also work really well if you travel a lot for work – you can hand out a business card with a code on to prospective new sign-ups at a trade fair, for example.
Other places to promote sign-up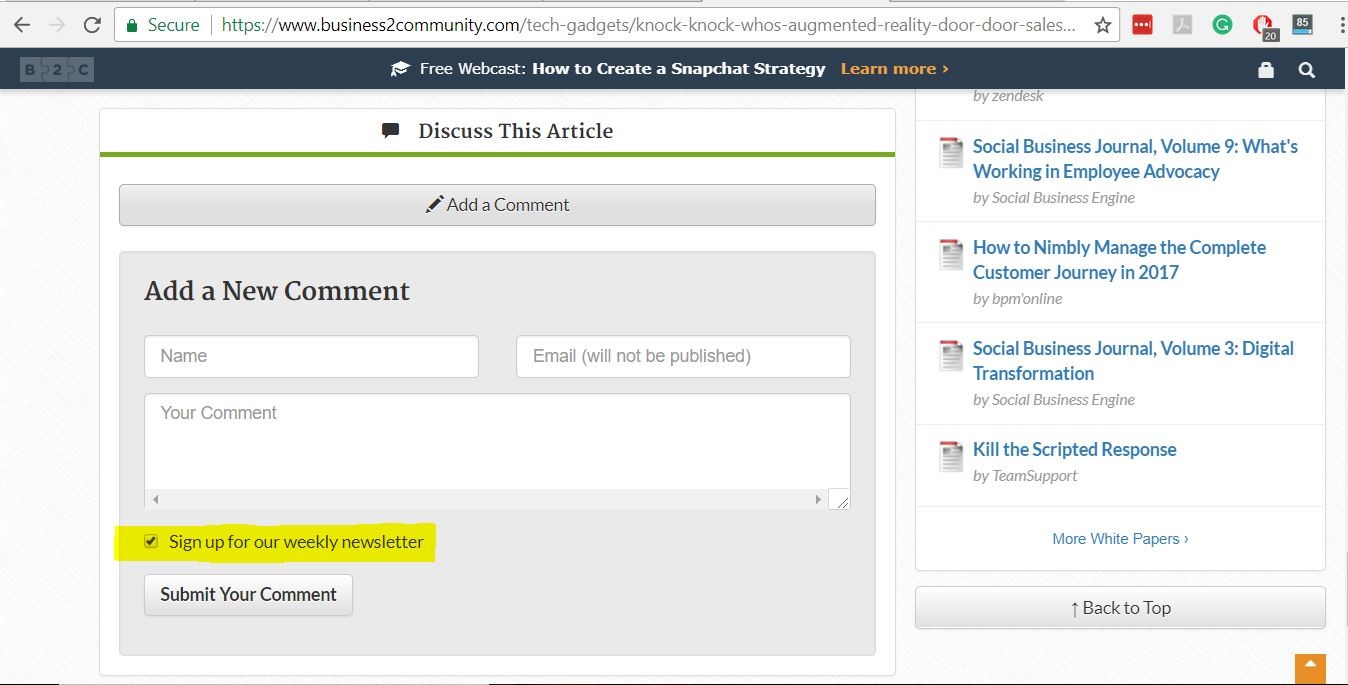 The comments section of your blog is a prime location to add a newsletter sign-up form, particularly if you already ask people to input their email address in order to comment. Simply add a 'sign-up for our newsletter' check box that auto-populates with a tick, like www.business2community.com does below. Chances are if people are interacting with you through comments they'd be up for receiving news and offers.
email signup button in comments.jpg
You should also take advantage of your email signature and encourage co-workers to include a link to your newsletter sign-up page from their emails. And if you're an e-commerce company, add sign-up to your checkout page.
Advertise
It might be that you have a number of newsletters and one of them isn't performing as well as the others, or you're branching out into a new area of business. In this case, if you have the budget, it pays to advertise. Affiliate marketing will target specific sectors to get in relevant leads from across the web, and you only pay for the sign-ups you get. Alternatively, you could run a Facebook ad campaign targeted at people who have stated particular interests on their profile.
Author's BIO:
Chad Harwood-Jones is managing director of Woo Content, a copywriting agency that implements content strategies to bring commercial results through cleverly crafted words and SEO.