Undoubtedly WordPress is one of the number one CMS platform choice of many bloggers, marketers, and even small businesses to build their websites. So many websites are being built in WordPress that themes, plugins and other features are constantly improving in a lot of ways. Themes are getting more sophisticated, new features, getting responsive, and plugins never stop from being developed to further enhance WordPress functionalities. The success of WordPress is indeed remarkable and as everything around it is getting much more demanding, so are the hosting requirements to make sure that all those "nice things" do not hamper your websites performance. After all, when someone lands into your site, both on desktop or on mobile, you want to be sure they stick around for a bit.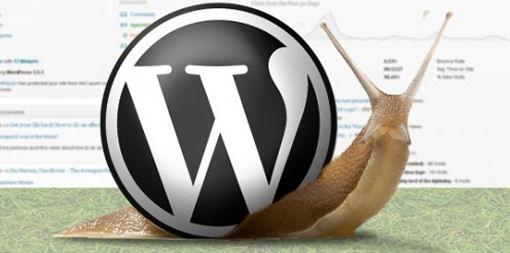 With that said, here's a quick question – do you know what ticks off people when they visit your site? I don't know about you but in my case, I grow very impatient when a site loads slowly. The experience that I have when visiting other fast sites is so good that even if I want to read an article from a slow loading site, I will probably just look for something else related elsewhere. Whoa… Did you notice what I just said? Look for it elsewhere – that means I leave your site before I even have the chance to see what you have to offer. This behavior is not unique to me, as most of the people out there are now as demanding, if not more, than me.
Long story short. WordPress is great, but it does not work alone. Slow loading WordPress sites suck and it is bad for user experience (UX). Bad UX = Bad rankings on search engines. As you can probably figure out by now, slow loading website is simply a thing from the past.
So, how do we make WordPress faster? Well, aside from reading some tips I provide here and here, the biggest single solution is web hosting. A web hosting specially designed and created to host WordPress powered sites with high performance speed. You probably know that there are many hosting companies out there that offer such services. Sadly, most of them are complicated to use and more importantly, quite expensive. So, would it not be ideal to have a super fast loading WordPress powered site, while at the same time being affordable and having a great support?
Nestify.Io
Enter Nestify.io, a high performance WordPress hosting application that will blow your mind when you see how it performs. I have many hosting accounts and even sites powered with CDN. I can tell you now with a high degree of certainty, that none of them can match the speed of some experimental sites I just launched to test Nestify. Take a look a this speed test.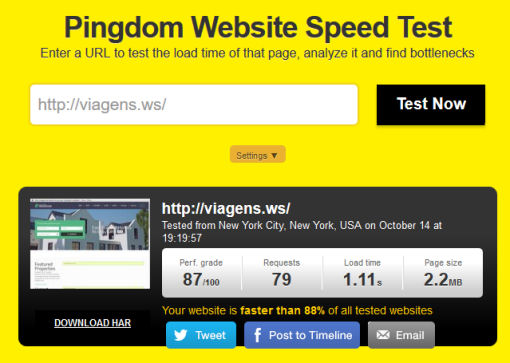 Obviously, depending on other factors like the speed of your internet connection, the device you are using to browse, etc., site speed loading may vary. Although it is a test site, it has a lot of dummy content in it. If you want to see how Nestify works live on this site, head over here, play around and come back. Really, come back as there is a surprise towards the end of this post.
What else?
Nestify has optimized each layer of PHP stack to deliver highest possible performance. You can launch WordPress, Joomla, Magento, Drupal instantly and manage it via Git, secure FTP or Dropbox. In addition and, it's…
Production Ready – Every application and stack deployment is carried out using best practices for production.
Convenient – You can deploy your applications using Nestify's dashboard for WordPress or using Dropbox, Git or secure FTP.
Super Fast – With properly optimized stacks and caching, your applications are delivered 500% to 1000% faster.
Scalable – Each application is designed to handle 20x to 100x more traffic instantly without any interruption.
Secure – With automatic updates and security checks for stack components and OS, there are no loose ends.
Self Healing – If stack components stop working properly, Nestify stacks self heal and restore services instantly.
E-Commerce Ready – with Free SSL and support for WooCommerce and Magento, their stacks are ready for business.
and more…
And if you are thinking, how about its ease of use? Well, I have to admit that some months ago, when I first had contact with Nestify, things were not as easy user friendly as I was expecting it to be. I even made some suggestions to the owner of the service and fast forward some 60 days later, he sent me the following in an email.
All issues with plugin uploads are fixed for current and new users
WordPress performance is improved further
WordPress core, themes and plugins can now be updated with single click button from dashboard
All operations are documented on new support portal
Users can contact support and browse help articles right from dashboard or from the help page
Databases can be managed via phpMyAdmin from dashboard
A detailed guide for DNS changes is now available, so users can point their domains to wordpress more easily.
…and last but not least, you can sign up for their weekly newsletter to receive wordpress security news and a list of top malicious hosts that should be blocked. More information about the newsletter is available at http://eepurl.com/by_u5f
How To Install WordPress On Nestify?
OK. I will let you know how, but be warned, it is very, very easy to do so. To do this, I purchased a new domain name – diteso.marketing – and installed WordPress…
click on images for a larger view
STEP 1
Hit the "New App" button and you will be taken to the screen below. Enter your domain name, choose WordPress and hit the "deploy" button. Your WordPress installation begins.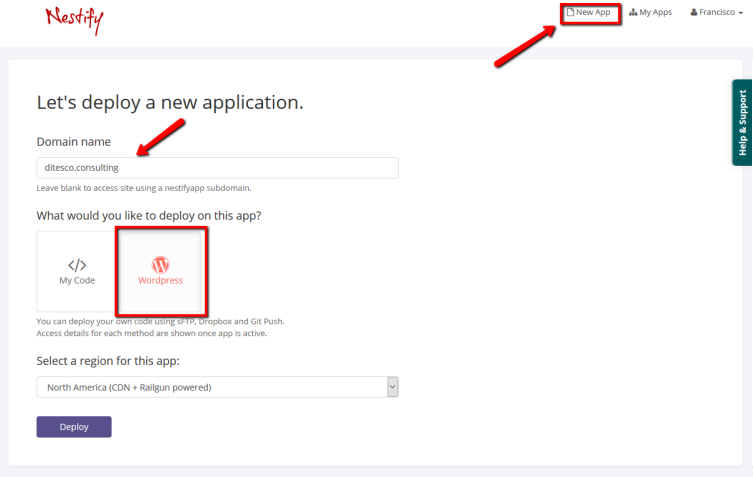 STEP 2
After a little while, you will see that your WordPress has been installed. You can see your credentials by hitting the "show passwords" button. One final step is to set your DNS nameservers to what Nestify provides you after the WordPress installation.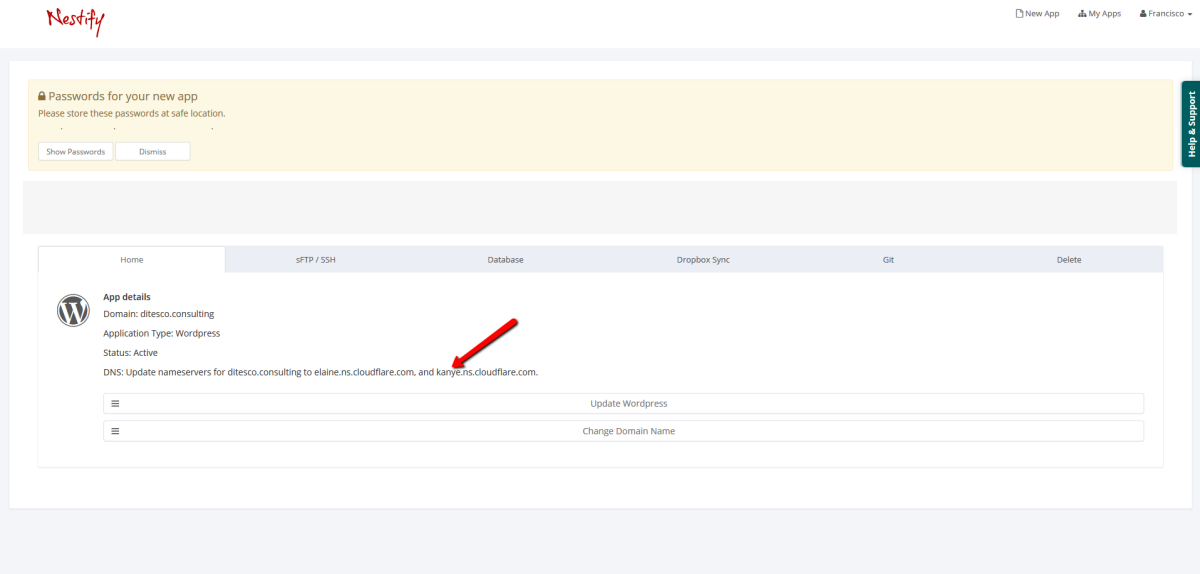 STEP 3
Copy paste the DNS nameservers to where you have your domain name registered and save.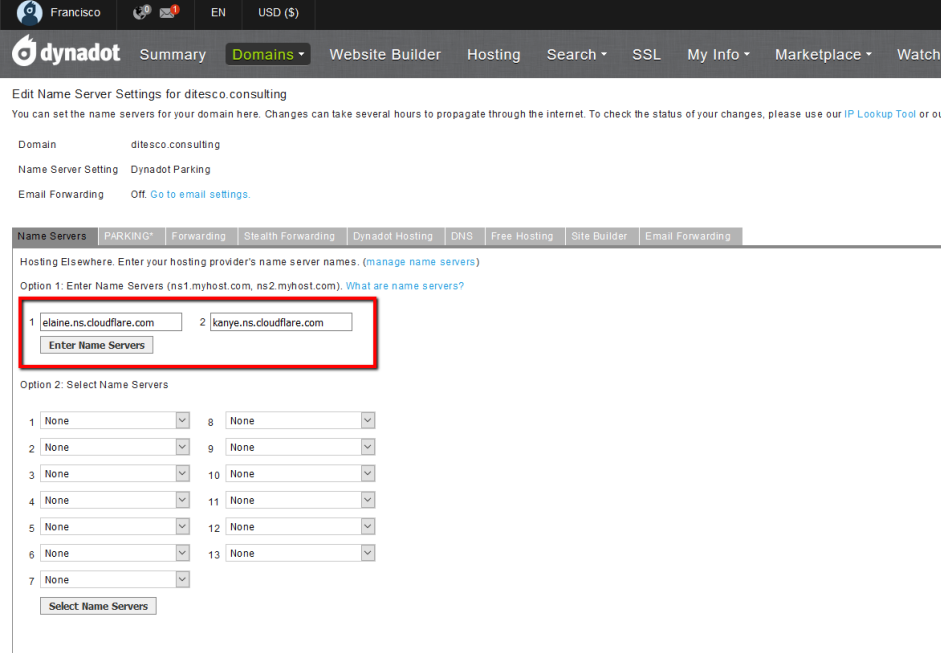 and that's it! Wait a while before the propagation thing does its magic and you are good to go.
And if you are curious. See the speed test that I ran for this test site. Absolutely ridiculous.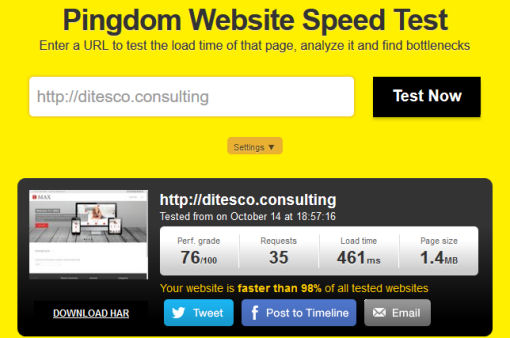 Not convinced? Well, let me help you. First, head over to Nestify's website and sign up for your free account. From there, follow the steps of adding a new app (WordPress) and hit the "free trial button". You will have 7 full days to test it out. No strings attached. And if you are lucky, you may even get to have your account upgraded to a full year subscription. How? Read on.
As part of a very generous offer from the fine folks at Nestify, we are giving away not one, two, but five (5) free 12 month subscriptions ($120 approx. value each) for 5 lucky readers of iblogzone.com. To win, just follow some simple set of rules below and. These subscriptions will have all features as regular customers and will get access to all upgrades, security updates and future addons. Good luck!
Giveaway of 5 Free Full Year Nestify Subscriptions

a Rafflecopter giveaway
This post
brought to you
by Nestify.io.