If you loved the hit Marvel superhero movie The Avengers as much as I did then you too have an appreciation for great films. But beyond just the cinematic experience I was inspired by the characters themselves. They all had such distinct personalities. Those personalities actually match up pretty well to blogging tips I have come to discover through the years. While that may sound a little farfetched to you, let me explain:
1. The Hulk – Be passionate. The fist thing that you have to remember about blogging is the passion behind it. No one can be a successful blogger if they do not have a passion for their blog topic. To me none of the superheroes had as much passion as the Hulk. As he shared, the secret to his strength was that he was always angry. Well, I will share with you the secret to a great blogger. Always stay passionate. Love what you write or do not write it. After all, if you do not love what you write then why would readers want to read it. Anyone can tell when you are just throwing junk out there. Remain passionate about your blog or find new ways to express that passion to keep your blog alive.
2. Captain America – Stick to what you know. Captain America has to be one of my favorite superheroes ever. I mean, what is not to like? He is loyal, dependable, follows order and tries to do the very best he can. Those are all admirable traits. But the trait I like best is that he sticks to what he knows. He may be stuck in the past but that does not hold him back. In blogging the same idea should hold true. Just because you do not know everything about a subject does not mean you have to give up blogging about it. In fact, the best bloggers often are learning all the time. If you simply share what you know then you can't go wrong. Personal experience is the best way to write a great and interesting blog.
3. Iron Man – Do not be afraid to be cocky. Okay, so Tony Stark is annoying. He's arrogant, rich, prideful… and funny. All these traits that would typically be off putting somehow come together to make a truly human man out of a metal suit. When you blog you have a choice. You can be mealy mouthed and wishy-washy or you can go cocky with it. Be confident in what you know. Even when you are wrong you will still be confidently wrong. People respect confidence. No one wants to read a blog full of "ums" and "I think" and "maybe". Instead charge ahead with what you write. You may end up being corrected but at least you will not be ignored.
4. Hawkeye – Keep your eye on the target. Poor Hawkeye. To me he was far outclassed by the rest of the superheroes, but he did have one major thing going for him. He always kept his eyes on the target. In blogging you do not have to be the biggest fish in the pond, but you do need to have a target in mind. Know who your target audience is and find ways to reach them effectively. Create a free website if warranted, know what your blog's niche topic is and stay in it. Those on target efforts will help to make your blog more productive and profitable in the long run. After all, what good do a hundred arrows do if they are not aimed? It is better to have two arrows aimed well then a hundred scattered to the winds.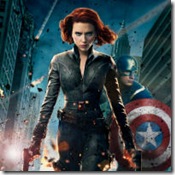 5. Black Widow – Have a thick skin.Whew. For the only female superhero in the group this lady has to be one tough cookie. Think about it. She goes head to head with the Hulk and survives! But the thing I found most astonishing about her is how she could use her "weakness", her emotions, against the bad guys. Instead of being hurt and upset when people were mean to her she used that to learn and grow. That is a great trait for a blogger to imitate. Not everyone is going to like you or what you say. You need to get over the hurt feeling and learn from the critics. If they are right then change what you are doing. If they are wrong then ignore them. Just do not let a few cranky or picky people ruin your love for blogging.
6. Thor – Make friends wherever you go. Eat, drink and be merry, for tomorrow we may die seems to be Thor's mentality. Who would not go along with such a large and imposing figure? Something I really liked about Thor was his ability to make friends. Sure he was not too good at it at times, but he did not hold a grudge and really tried to get along with everyone. Even his no account brother. The same idea can be applied to blogging. A great blogger knows that they are not alone in the world. They should try to connect with their fellow bloggers, even ones that are competitors. If you can learn to share strategies and readers then you can both profit from it. Even if your fellow bloggers are hard to get along with you can still be a friendly presence and offer a sense of community to the group. You never know when you may have to band together against a bigger foe.
7. Loki – A little planning can save a lot of effort.Yes, Loki was the bad guy. Yes he was a trickster and trouble maker. However he had one thing going for him. He could sure plan well. His plans were intricate and well thought out and that is a trait we blogger should strive towards. Having an ultimate goal in your blogging can help you to waste less time and get more done. You have to really plan ahead to accomplish this, but planning is a good thing. All the best businesses are planned well. The more you treat your blog like a business, the more profitable it will be. Yes enjoyment is still a good thing, but if you want to make money off of your blog you will have to use strategy as well. Know your opponents, know your readers, and plan accordingly.
8. Agent Coulson – Get the facts. If there is one thing to admire about bureaucratic paper pushers is that they are thorough. They get all the facts lined up before they ever make a move. This is a good idea in the blogging world too. If you write about something controversial or even something important it is a good idea to back up your post with facts. Use references and link to valid sites. This can help to increase your blog's creditability and shows that you really care about what you are writing.
9. Nick Fury – Know when to hold them, know when to fold them.To be frank, Nick Fury kind of scares me. More than any of the good guys or even the bad ones Fury knows how to work the system. He holds his card tight to his chest and does not show them to anyone until the time is right. A good blogger knows all about timing. There are times when it is good to post and times when it is better to wait. There are times you need to just get something out fast and times you need to hold back until the whole story unfolds. Work on your timing to become a really great blogger.
10. Pepper Potts –Work harder than everyone else. As Tony Stark's assistant poor Pepper is always second fiddle, but she does not let that get her down. In fact she works harder than her boss to make things right. Sometimes life is not fair. You may be a great blogger but you are not getting the recognition you deserve. Do not let it get you down. Instead work even harder. Just think about it this way, when it does come together you will have the best blog out there and you will be prepared for anything.
So, is there any superheroes above that you can relate to?
image credits: marvel.com