You've probably heard about this already before. High quality sites, authority sites, domain authority (DA), page authority (PA), trust flow, and just about anything else that measures a sites importance, strength, influence and relevance.
PageRank, as you know, is a good indicator of authority and Google does take that into consideration when returning results on the SERPs (search engine results pages). However, in today's heavily populated interwebs, PageRank alone won't get you there, specially if one of your monetization models is selling ad spaces, sponsoring reviews, and even consulting services. Although there are chatters around the web that says search engines do not count domain authority as a ranking factor, I believe that "indirectly" perhaps it does. In any event, that's really not what I want to share with you today, but rather, explain what DA is, and why it may be important for your online endeavors.
First let me give you an example. I have a client who has a travel blog. Due to a NDA (non disclosure agreement) that I have with them, sadly, I won't be able to say who they are. Anyway, one of their monetization models is to attract advertisers (display, reviews, sponsored giveaways, etc..). The site has a great content, a PageRank of 5, and has an Alexa closing in on the 200K level and improving. Traffic is not bad (hovering 25K page views, with bounce rate of approx. 35%). With all that, one would think that they are definitely a prime candidate for advertisers, media buyers, etc. Your first reaction will probably be – WOW, with that kind of PR and a rapidly increasing Alexa, it should be no brainer. Provided the pricing is right, they should have a lot of proposals, considering it is a highly competitive niche. If you were thinking along those lines, well think again.
Gone are the days when those numbers would be good enough reason for a blog/site to make some decent money on those monetization methods I mentioned above. Thing is, not anymore. That site has sadly not getting any advertisements, and if fact even being declined in some networks, due to a very low Domain Authority. Yep, the site has a DA of 13. Don't get me wrong though. All those metrics combined are extremely important. PageRank, Alexa, a sites responsiveness, etc. are good to have and should be ignored. Another factor which is equally important is the sites speed. Slow sites will obviously have problems, and couple that with some countries having slow internet connections, and a site may be doomed. Yeah, slow connections still exist as not everyone can have access to services such as bt broadband, for example. Nonetheless, you should know that, DA is now a metric that a lot of people are looking at. The above example is just one reason why DA is something you should be looking at.
What Is Domain Authority (DA)?
Not going to go around the bushes with this as this method of measurement is clearly defined by Moz.org, which to my knowledge has been introduced by them. So what does Moz say about DA (technical definition)?
Domain Authority is Moz's calculated metric for how well a given domain is likely to rank in Google's search results. It is based off data from the Mozscape web index and includes link counts, MozRank and MozTrust scores, and dozens of other factors. It uses a machine learning model to predictively find an algorithm that best correlates with rankings across thousands of search results that we predict against.

It's best to use Page Authority (PA) and Domain Authority (DA) as comparative metrics when doing research in the search results and determining which sites/pages may have more powerful/important link profiles than others. While specific metrics like MozRank can answer questions of raw link popularity—and link counts can show the raw quantities of pages/sites linking—the authority numbers are high-level metrics that attempt to answer the question, "How strong are this page's links in terms of helping them rank for queries in Google.com?"
Here's a video from Rand, that is a bit old, but nonetheless, provides a deeper understanding of what trust and DA is.
Why Is It Important?
As I mentioned earlier, DA is something that many "people" are now looking at. If you read the technical definition above and watched the video in its entirety, you may come to a conclusion that a good DA is synonym to having a good link profile, strength of a website, popularity, etc.
All that is good for:
Sites Credibility (reputation) – a good DA is indicative that a site is "not spammy" and trustworthy.
Google Rankings – If DA is measured in part due to a good link profile, then one would assume that a site with a high DA has many quality inbound links. If inbound links is "one of the most important SEO factors (see below *)", then it is safe to say that in general, a site with high DA, is most likely to rank better on SERPs, right? Makes sense..
Link Building (Ex: Guest Posting, Commenting, Content Syndication, etc.) – Links are still important, and if you have any doubts, read this recent interview of Matt Cutts conducted by Stone Temple Consulting. For the purpose of this post, the key takeaways are these:
Links are still the best way that we've found to discover that, and maybe over time social or authorship or other types of markup will give us a lot more information about that.

…The challenge with guest posting is that people have different conceptions about what it means. And so for a lot of people, a guest post is something that a fantastic author has thought deeply about, labored over, polished, put a lot of work into and then publishes on a highly reputable domain name.

Posts like that can be a great way to get your name out there, to build your reputation, to make yourself more well-known, potentially build links or traffic or help with your SEO…
So, to cut this short, if you are an advertiser, a guest blogger, etc., you probably would like to be involved with sites that have a perceived high authority, simple.
How Do I know A Sites DA and PA?
I've seen quite a few DA checkers out there, but my favorite, aside from using Moz's Open Site Explorer, is a nifty Chrome extension (Moz Bar), that lets you see a sites (or page) DA and PA instantly. In addition, the MozBar also gives you some other info on the fly, like dofollowed and nofollowed links, internal and external links, etc. It's free! You can install the MozBar Chrome extension from here.
Here's how it looks like on a specific page or domain (click to enlarge)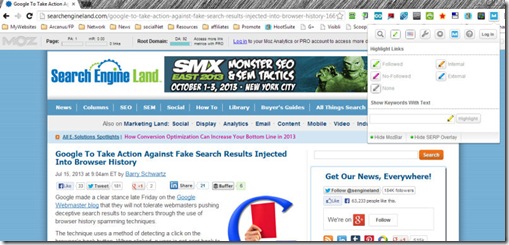 On search results
As you can see, the tool provides some quick info about a sites DA, PA and more. This is particularly interesting to use when you are looking for sites to guest post on. If you are an advertiser, a media buyer, or looking for sites where you can extend your reach, making use of this tool is also something you should consider.
What Is A Good Domain Authority?
It is hard to speculate on what would be a good DA. Nonetheless, and based on some research I've done, I believe that 20+ would be a good start (from a scale from 0 – 100).
How Do You Increase Domain Authority?
Once again, I will let Moz provide you with some helpful hints. Note that it is not an easy process, otherwise, it would be easily gamed.
Unlike other SEO metrics, Domain Authority is difficult to influence directly. It is made up of an aggregate of metrics (MozRank, MozTrust, link profile, and more) that each have an impact on this score. This was done intentionally; this metric is meant to approximate how competitive a given site is in Google.com. Since Google takes a lot of factors into account, a metric that tries to calculate it must incorporate a lot of factors, as well.

The best way to influence this metric is to improve your overall SEO. In particular, you should focus on your link profile—which influences MozRank and MozTrust—by getting more links from other well-linked-to pages.
Here's also a nice infographic put together by VerticalMeasures.com. As you can see, although doable, not really that easy.
That's it! Do you know what you Domain Authority is? What importance, if any, do you think that domain authority has today, in comparison to what it was before?