If you aren't privy to email marketing statistics, you'd be inclined to think that email is old, craggy, intrusive, or even offensive. Inboxes are the breeding ground for spam and email is sometimes looked upon as an archaic means of communication, so to speak.
So, you'd be quick to disqualify email as a viable marketing channel. But Jay Baer of Convince and Convert informs us that as you read this, over a billion emails will be sent.
Why so?
His reasons are as follows:
Banner ads were never effective. Today, they are going the way of dinosaurs with a precipitous drop-off in click-through rates.
Email marketing just works. There's really no other way to put this across.
Consumers accept email as a daily part of their life. Whether they like it or not, they've come to depend on it.
Email is the single best method for long-term retention and lead nurturing.
While an email could live forever in your customer's inbox, your average Tweet or Facebook share barely lasts for more than 3 hours in your followers' streams or feeds. Go figure.
If you think you're starting to be convinced, here are some awesome examples of email marketing from establish brands and a few lessons on how to go about it for startups:
Beau Ties: From Print to Email
Known as a company that makes good-looking, high-quality handmade ties, Beau Ties that came a long way from advertising on the back pages of The New Yorker to a great example of a traditional company that has embraced digital marketing and uses email marketing surprisingly well.
It's a company that thinks "list hygiene" and uses emails to send out web-only specials, updates, and information perfectly crafted to engage subscribers.
And what do they have to show for it? Beau Ties boasts of a huge 75% increase in revenue through their email marketing efforts. The act of cleaning up their lists regularly alone contributes to about 45% increase in conversions.
Read all about Beau Ties' success story here.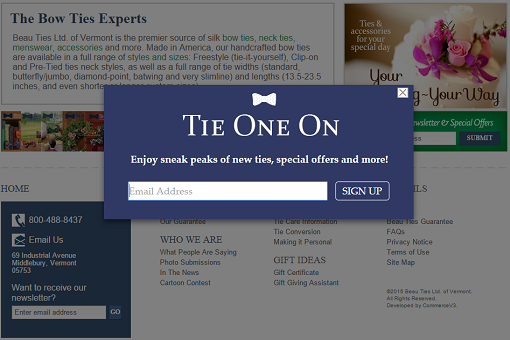 Lessons for startups: Always keep it simple. Start with clear, authentic, permission-based marketing. Work constantly on your leads' personas to keep that list laundry clean. Move the bulk of your marketing and advertising to digital channels.
Use free tools and services on the web liberally. Bannersnack, for one, allows you to create banner ads of any type in an instant. IM Free and Picjumbo are go-to sources for relevant, license-free images for commercial use within your emails, now that Gmail's Grid View is ushering in the visual age of email.
Apollo Education Group: Size Does Matter
Ever heard of the University of Phoenix? It's a part of a larger group called Apollo Education Group, which includes other online universities. So, what would a traditional education group know anything about email marketing while brand new startups still struggle to get it right?
A lot, if you look at the numbers. As with most traditional organizations, the Apollo Education Group had plenty of issues with over-dependence on clunky, tech-heavy platforms and servers maintained by their IT department.
It was a challenge. But it wasn't insurmountable. Apollo's marketing team worked to get a buy-in from the management, explored various possibilities, established regular team meetings, kept A/B testing results, organized customer data and profiles, and more.
The result? A whopping 39% overall surge in open rates by fine tuning the "From" address, a further open rate increase of 9% by using personalization tweaks (such as a name in the pre-header), and a 58% growth in click-through rates from email template testing,
Read the complete case study here.
Lesson for startups: Don't ever start from scratch. Don't over rely on IT for marketing and communications functions such as email. Using servers and complicated legacy systems are old school. Make extensive use of apps such as Litmus to A/B test your email.
Road Runner Food Bank: Make It Easy to Donate
It's interesting to get off the regular startup circle and look at some rather "normal" or even "boring" organizations making their email marketing deliver. One such organization is Road Runner Food Bank – a nonprofit with a mission to eradicate hunger in New Mexico.
Based in Albuquerque, Road Runner supplies food through hundreds of partner organizations to help curb hunger. In a single week, Road Runner Food Bank reaches out to 70,000 New Mexicans through its extended network of soup kitchens, pantries, and meal programs.
As with any nonprofit, they need funds to make all this happen. Funds, as you know, are hard to come by.
Road Runner looked into a revamped email design, integrated emails into its content strategy, and included smart conversion tactics such as a two-click donation button within their emails.
They now boast of a return on email revenue that is 12.5 times higher than the average for nonprofits. Their conversion rate hovers at 57.8% – 2.6 times better than the industry average.
Read the complete case study here.
Lesson for startups: Make it easy for customers, especially the non-tech savvy ones. That applies for everything from email optimization to website design. If one click would do instead of two, weed out the other.
Microsoft Store: When Good Gets Better
When you visit a store with sophisticated products on the anvil, you usually have experts who'll walk you through your options. This is referred to as a "white glove" experience. But, can you ever provide a "white glove" experience using email?
Microsoft Store wanted to deliver just that. As a humongous company, Microsoft had trouble aggregating the data, getting its act together, and work as one cohesive team. Large companies have their own set of challenges, and Microsoft is no different.
The team started out with a solid content strategy. It then talked to customers, avoided over-segmenting customers, implemented cross-channel integration, and refined its internal processes. As for the email itself, it used helpful headers to help customers locate nearest stores to aid their respective purchases.
The result was phenomenal: Microsoft achieved an open rate lift of 150 to 400%, a rise in CTR of 400 to 2200%, increased send volume by 300%, and to top it all, their email revenue alone grew 600%.
Read the complete case study here.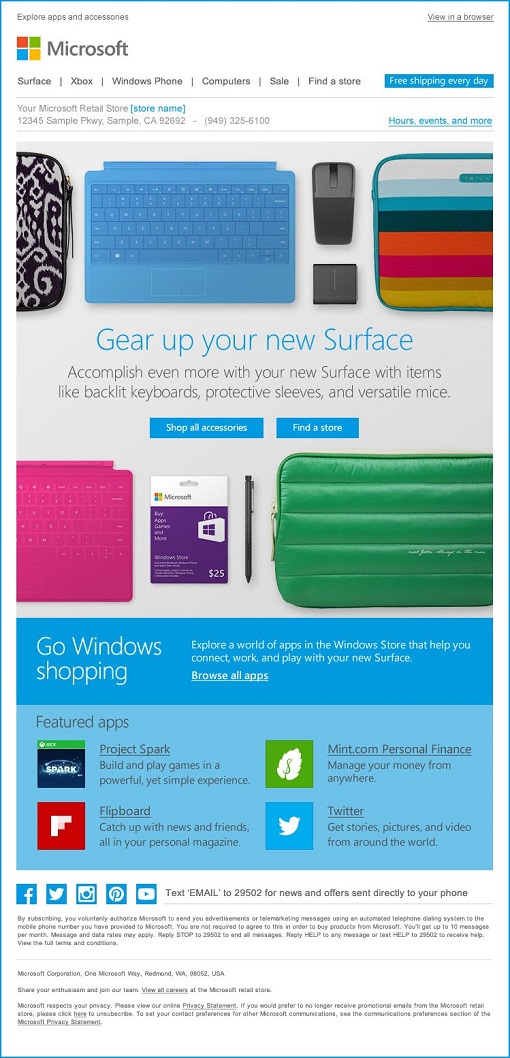 Lessons for startups: You are never too big for improvement. No company is not a good fit to make incremental changes. Microsoft's case is an eye opener to what's possible with continuous tweaks and relentless optimization.
Put into use everything you know about email marketing and don't be afraid to experiment. A content strategy that provides a uniform, branded message across multiple channels is critical to conversions. Test out a comprehensive email automation tool such as GetResponse to send out customized newsletters, set up auto-responders, and create campaign-specific landing pages.
Over to You
Email marketing still holds promise in spite of the presence of multiple digital marketing channels. It is by far the solid choice for savvy marketers and customer-centric companies.
Given the limitless expenses of marketing and advertising, email is also one of the most cost-effective methods of promotion available for businesses today.
The question is this: are you using and optimizing your email marketing or are you guilty of taking it easy or ignoring it in favor of more glamorous channels such as social media?