Gaining exposure for your business is important if you want to bolster credibility in the marketplace and get your message to the thousands of people out there. Yes, social media is growing and is popular, but the most sought after choice is still email marketing. Email marketing ranks top for return on investment among direct marketing strategies, and marketers and bloggers rely on the services of an email and SMS marketing company which allows them to manage their subscriber list and also create stylish email and SMS campaigns.
Build Relationships with your Target Audience
Email marketing is an effective way to build a relationship with targeted customers. Messages can be created and sent to thousands of interested buyers and on top of that you can actually start to get feedback from this type of marketing campaign immediately. Email marketing solutions can also be expensive, so finding a service which offers affordable marketing campaigns from one platform is sought after. Thanks to marketing service companies, novice- and seasoned marketers and bloggers can start building relationships with their target audience by sending emails and SMSs to their list of contacts. Just make sure that you follow this checklist of email delivery to overcome sending anxiety.
For any business, making a profit is the reason for advertising. Marketing managers need to have all the skills to understand consumer preferences, pricing, sales figures and pricing and they make use of an email marketing campaign because in a few seconds millions of electronic mail users can be reached. Personalized email marketing messages are fast and can achieve instant results as well as feedback.
Track and Analyze Your Email Marketing Strategies
Tracking and measurement is also a powerful marketing tool and is necessary because it enables marketers to track who is reading the emails and also who is clicking on the links to the company's website for instance. A customised email newsletter has the customer in mind and always provides useful and helpful information and attracts new customers. It is also useful for brand-building and increasing awareness. A newsletter's content should definitely focus on the needs and wants of the readers. By having them opt in to your newsletter you are communicating and interacting with a targeted market….. reminding them that you are still around with your top brands, new products and offers.
Free Emails?
It is true that there are many email marketing services being offered, but for new marketers and bloggers, they want something that is as easy as possible. With their focus being to offer the simplest, most reliable marketing solution for everyone, SendinBlue.com offers a range of features which are focused on marketing, transactional emails and sms. They also offer superb pricing plans with their business models: monthly subscriptions, credit packages and Free Plan. By creating a free account you will automatically get 9,000 emails to send each month, and absolutely free. Now that´s something to seriously think about. If your list is still relatively small, it is an option that can help you build your list and start your email marketing campaigns.
They area a hosted service like many others, but their free plugin integrates many features into your WordPress dashboard for easy access. Other top features to look out for are –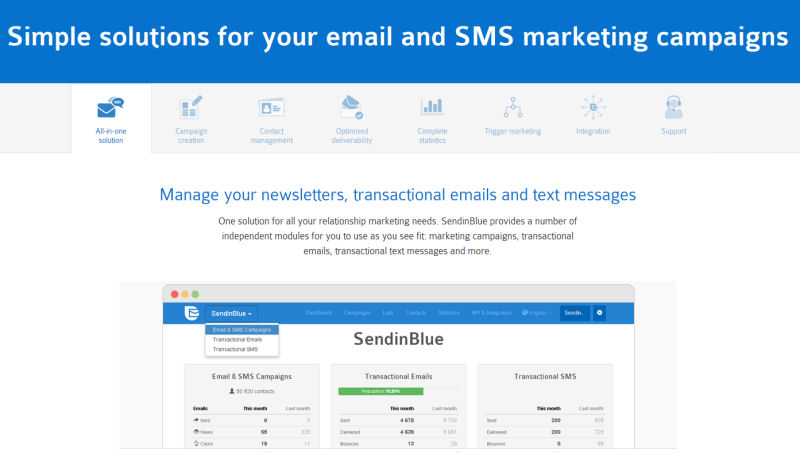 ▪ free entry level pricing plan
▪ marketing – you can import your contacts, create a Subscription Form to use on your newsletter or website
▪ after you have created your list of contacts, you can create your first campaign and create content with HTML code, drag & drop builder, responsive design builder and WYSIWYG Editor
▪ set up autoresponders for those welcome emails
▪ free WordPress plugin
▪ mobile responsive email campaigns
▪ track statistics on subscriber interactions
▪ and more …
Towards Successful Marketing Campaigns
Businesses are facing tough competition and slow sales can get a new outlook with e-mail marketing campaigns. Signing up with SendinBlue is simple and once you have signed up and received your confirmation email, gone through the dashboard and followed instructions to complete your setup you'll be ready to start your marketing campaign. You'll get all the support, fair prices and features you need to run a successful marketing campaign.
SideInBlue Giveaway
And aside from that, you may just be the possible winner of the giveaway that SideInBlue was generous enough to offer iblogzone.com´s readers. You can win a bronze membership account for a full six months. If you decide to use the free plan and win, no problem. Rules of engagement are very simple, just see them below and good luck!
a Rafflecopter giveaway