The elite marketing professionals excel at effective email campaigns, devoting time and study to determine how to use the latest resources, metrics and methods to win the attention, patronage and brand loyalty of scores of people globally who open their marketing email daily.
Such people are far too committed and enthused – at least, according to an alternate breed of marketers: the losers. This mediocre class of marketers does scant planning, no research and little innovation, relying instead on methods that became trite a decade ago.
Fortunately, they are willing to share their methods for losing at the game of modern email marketing so that others may benefit, as demonstrated by the great infographic by Reachmail below.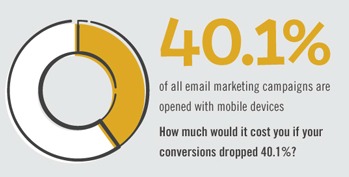 First, wait until the last minute to brainstorm a strategy for a campaign launch. Make sure your plan is one-dimensional, focusing solely on desktop users. Ignore the fact that more than 40 percent of people use smartphones and tablets to read marketing emails. Overwhelm small screens with large graphics and an abundance of text. Who cares if mobile readers get annoyed? At least you will snag that one person in every five who won't mind zooming in repeatedly to see the full email or company website. They will be the only ones who don't abandon your company's pitch.
Next, stay late after work to approve the email design and ad configuration. Take breaks and go eat dinner. Then launch the campaign as you end your late shift, sending it at 11 p.m. or a wee bit later. Hey, at least night owls will read it, right? Not really. The email will simply linger and be a cold letter at the bottom of an avalanche of newer mail in the morning. The majority of readers will likely delete it without opening, focusing on fresher mail instead – but it won't be your fault. You did your "best."
Lastly, send every recipient the same recommendations and sales promotions. What difference does it make? It's the prices and deals that count; well, one-on-one attention and customization count infinitely more. However, segmenting email lists to personalize the campaign and target the interests or demographics of your audience is too time-consuming. Eight-five percent of marketers do it, but you pride yourself on not following crowds. You're content to not know nor act on the knowledge that men open more emails than women do, but women are more likely to click images or links within an email. Don't design messages for Millenials with the insight that four out of five of them will likely use smartphones to open promotional mail. Send teens and young adults the same content as those over 40.
Rolling out your next campaign with these features will surely make you head of the low-performing marketers club.