Hi everyone, hope you all had a great and productive week! Remember those days when the toolbar PageRank was updated some every three months? Well, if you are still trying to figure our when was the last time and if it will still be updated, you should know that the toolbar PageRank has not been updated for some 11 months and Google has no intention of updating it either. As a matter of fact, in a recent thread from Google Webmaster Central, John Muller went as far as saying the following:
I wouldn't use PageRank or links as a metric. We've last updated PageRank more than a year ago (as far as I recall) and have no plans to do further updates. Think about what you want users to do on your site, and consider an appropriate metric for that.
He then refers to a link that was publish a long time ago, but as it so seems is still valid today and what users should be focusing on. The post was Beyond PageRank: Graduating to actionable metrics.
The Growing Influence of Blogs On Buying Behavior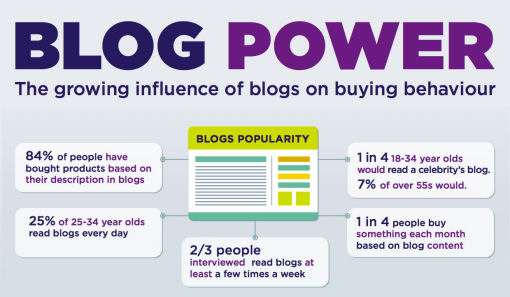 Blogs have always been an important part of the savvy marketer's online arsenal. Recent research suggest that they not only continue to play an important role in the path to purchase, but is growing and growing. In a recent study conducted by ResearchNow.co.uk, it show that over two-thirds (84 per cent) of users make purchases after reading about products on a blog. However, some are discouraged by paid content in blogs too, according to research. All-in-all, it seems that blogs are still popular when it comes to helping a user in its buying decisions.

Content Marketing Today: An Interview With Jordan Kasteler
SearchEngineJournal.com has published recently an article about "The One Big Mistake Businesses Make With Content Marketing: An Interview With Jordan Kasteler". What's really important right now in the world of content marketing, and what should people be focused on going forward? These are some of the questions that Brent Csutoras got a unique insight from Jordan in the video below.
Finally, in case you have missed the SendInBlue.com giveaway, you should know that it is still running and if you have not participated yet, you may want to take your shot on winning a full six month access to SendInBlue´s eMarketing solutions.
And as usual, in no particular order:
Content Creation & Marketing/SEO and Search
How to Optimize Your Google Shopping Campaigns with SEMrush Product Listing Ads (PLA) Data
Social/Small Business Bites
5 Things I Would Do If I Were Starting Affiliate Marketing Today
More from around the web …
Weekly Marketing Skinny – November 22, 2014
That's it! Enjoy and have a great weekend!