Hi everyone! Hope you had (are having) a great holiday season. A little than a year ago, Google has released an interactive infographic about how search works. This infographic is actually quite interesting as it shows you how Google goes from crawling and indexing to fighting SPAM, from ranking pages to returning results. It also runs through some of their removal policies. As I said, quite interesting in case you have not been there yet.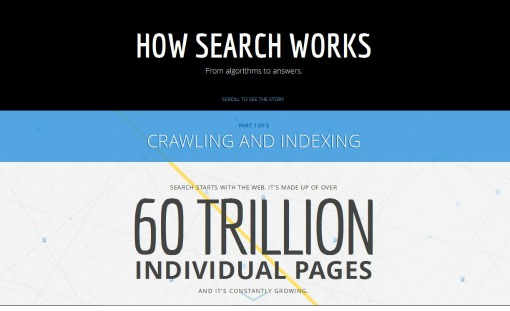 This week Matt Cutts released a video talking a bit about "what you may have not noticed" on how search works. Needless to say that he focuses a lot on SPAM. I wonder why, LOL.
Yet again from Matt Cutts, yesterday he thanked SearchEngineLand for clarifying a small but significant update of a change on Google's guidelines on link schemes.
Thx to @dannysullivan for pointing out that we could clarify our stance on links embedded in widgets: http://t.co/038YpFwyPj

— Matt Cutts (@mattcutts) January 10, 2014
Specifically, the most noteworthy update reads:
Before the update:

Links embedded in widgets that are distributed across various sites.

Now:

Keyword-rich, hidden or low-quality links embedded in widgets that are distributed across various sites.
As you can see, Google is now saying that not all links are not allowed but only keyword rich, hidden or low-quality links are not allowed. Looks like there is some room for discussion here, don't you think?
And finally, in case you have not received a notification yet, Google has extended the integration of G+ to Gmail by now allowing users to send an email to any of your G+ connections, even if you have never exchanged emails from them. This feature apparently is slowly rolling out to all Gmail users and is perhaps another attempt to further push people into using Google+. Problem here is that it may be a source of unwanted emails. What do you think of this move? You can find more info here.
And as usual, in no particular order:
Content Creation & Marketing/SEO and Search
2.4 How did Google's Hummingbird update shift on-page SEO cornerstones
Social/Small Business Bites
How To Connect Google+ To One Or More Brand New YouTube Channel(s) Without Needing To Create New Google Logins
14 Ways to Get More Likes on Instagram
More recommended read!
That's it! Enjoy and have a great weekend!