[note]UPDATE JULY 2012: Sadly, WP Junkies has been decommissioned. This is due to many technical difficulties that we were facing in fighting spammers and hackers. Another nice project affected .. Anyway, we thank all the members and users for their support, while it lasted.[/note]
Last week, I hinted about a "top secret" project that I was working on with Michele of NewBizBlogger :). Today, it is time to unveil what this project is all about, as we are very excited and hope that you can be a part of it.
Michele approached me about a month ago with an idea of creating a WordPress Social Network. Something specific (in topic), unique, useful and user friendly. Since I moved to WordPress, right there and then I knew that a "passion" was in the making. Needless to say that I literally fell in love with WordPress, and never looked back for any other alternatives. Michele and I, share the same passion, if not "addiction" to all things WordPress and for this reason, a new Social Network is born. In any event, Michele tells the story of how this whole venture started (and ended, lol) and to avoid repeating it here all over, just head over there and read how a simple connection can result in a promising business venture. Then come back here 🙂
Introducing Your WordPress Social Network
If you share the same passion, addiction, or love WordPress as much as we do (and we now you do), we are proud to introduce you to WordPressJunkies (WPJ), a WordPress Social Network that has nothing else in mind but WordPress, and everything else related. Whether it is about WP Themes, Skins, Plugins, Hacks & Tips, Tutorials, How to "whatever", Bug Fixes, Customizations, etc.., WordPressJunkies is the place to share your stories (and maybe find solutions to your problems too), regardless of what they are, provided it is relevant to the topic.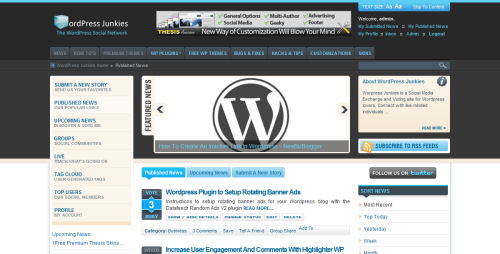 WordPressJunkies's objective is to provide you with a specific and unique place for sharing anything you have to say about WordPress, free from all other "noises" that other social networks have. Not that other social networks are'nt great (they are), but WordPress Junkies is just different, in that, if it has nothing to do with WordPress, then it will not be home for your great WordPress story 🙂
Let me give you an example:
Say you have a "mind blowing" blogging tip, which I am sure will be of great value for many, where in principle will not be interesting for WordPress lovers. Add a twist and make it, a "blogging" tip using a WP plugin of some sort, and it will definitely be a strong candidate for front page. Get lots of votes and you might even get if featured. The end result, more exposure, chance to build relationships, added traffic and ultimately be a part of a community that shares one common denominator, "Passion for WordPress".
All that being said, it is now time for us to extend an invitation for you to register your free account on WordPressJunkies and start submitting your stories, befriending like minded people and voting for those stories that you like most. We hope that you will find WPJ user friendly as we are using an interface that is popular and a proven CMS Management platform. While we are still in Beta, and most likely will stay that way for a while, we will be constantly adding new features to further enhance user experience. We in return are counting on you to not only help us spread the word out about WPJ, but also to help us build this community and report any bugs or suggestions you feel necessary to improve your WordPress Social Network.
What say you? Are you leaving now to register for your free account and start sharing your WordPress stories? Wait a minute, and let us know what you think about this project? Michele and I will certainly appreciate any comment on your part 🙂