Hi everyone! Hope you all had a great week. Following the Google dance (Panda, Penguin, EMD, PageLayout, etc), online marketers have been focusing their strategies onto guest blogging and blogger outreach. While these strategies work well, when done properly, it could still be time consuming for many of us to find blogs related to our topic. With that said, SEJ posted an article this week that narrows the process of searching bloggers and/or networks designed to connect businesses and bloggers. Here are 9 networks to make it easier to find blogs looking for content, and in case you missed it, this list of sites are great for guest blogging.
With regards to Google's new link disavow tool, there has been some doubts in the industry whether or not we should be using it. Danny Sullivan from SEL, got some answers, directly from the head of Google's web spam team, Matt Cutts. Worth reading, if case you are thinking of using the tool.
On a different front, I just started to play around with List.ly. List.ly, as they say, is a social curation tool for your site. They highlight benefits such as, increased engagement, improved SEO, traffic generation, and many more. For now, I still am not quite sure how to make of it, but the concept looks similar to that of Scoop.it. Essentially you create a "list" and start curating content into it by using their interface or a handy bookmarklet. Good thing is that it does not seem to have a limit of the number of lists you can create and it is free! Anyway, check it out if you are interested, and if you have been using it already, do let us know what you think of it. Is it, just another …?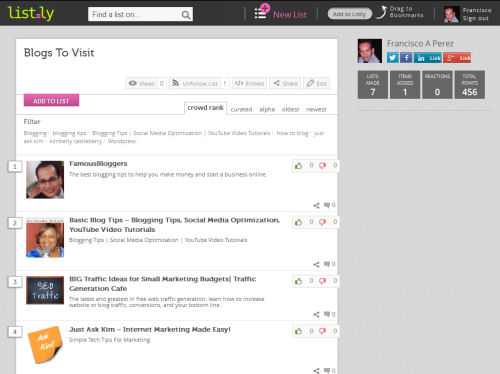 As usual, in no particular order:
Content Marketing/Small Business Bites
Found via just-ask-kim.com. Is Selling Evil, by ilovemarketing.com
SEO/Inbound Marketing
Top 25 Make Money Online Guest Post Blogs
Social Web/Other Roundups and Cool Stuff
9 Social Media Tools Every Blogger Needs To Know About
Should I structure my site using subdomains or subdirectories?
That's it! Enjoy and have a great weekend.