Don't you just get overwhelmed by the amount of information available out there that teaches you how to become an Internet Marketing Guru, a SEO expert, a business coach, a problogger and just about anything you can think of? Well, there is a reason for that, and I like to call it "the learning curve" (I'm sure you heard about this before). I don't know about you, but everyday, I find that there is always something new to be learnt. Changes in methodologies, new technology, blah, blah, are just but a few things that add up to the learning process. If you are thinking of providing services about SEO, Internet Marketing, Content Creation and all things related, or simply want to improve your knowledge and implement stuff on your own, there is one thing that is extremely important to succeed. You need to know what you are doing. Simple, right?
Right. Providing internet marketing and SEO services or anything similar, where you don't have a clue as to what the whole process entails will just make you look…, well, you fill the rest. And so, the education process is important and the more knowledge you have, the better you can execute your services, or succeed with your online endeavors.
Internet Marketing University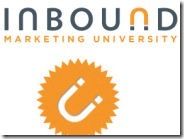 The fine folks over at HubSpot never cease to amaze me with the amount of "juicy" stuff they provide. Inbound Marketing University is, just as the name suggest, a place where you can learn about the whole Inbound Marketing Process. Inbound Marketing entails a lot of things, including, among other things, content creation, SEO, social media, lead generation, lead management, and analytics. Whew, sounds an awful lot, is it not? Yep, its no walk in the park and the sooner you get educated, the better.
Anyway, recently I have enrolled myself on their program, and hopefully after the training process, pass the Inbound Marketing Certification. The program includes 18 classes, mentored by people that know what they talking about (e.g. Chris Brogan, Guy Kawasaki, and more). The program includes reading assignments and optional homework assignments to walk you through each step of inbound marketing and you can complete the classes at your own pace. OK, I guess you get the point.
Now, you may be asking the obvious, how much? A mind boggling zero, nada. All you have to do is create your profile and you are good to go. Can't beat that.
Not interested? Well, you may have your reasons why you want to miss this one out (not sure what would that be), and if you are interested in only some reading material, here are a few I can suggest. They are free and only require registration. And yes, they are aff links :).
The Ultimate How-To Marketing Guide
Inbound Marketing Process (Infographic)
Learn How to Code with CodeAcademy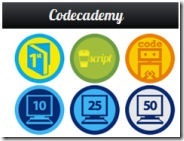 Have you ever wished to know how to do some basic coding? Don't know about you but it is something that I always wanted to learn, at least some basic. Why spend money to do some simple stuff, when you can learn how to DIY? CodeAcademy (not aff link) is the easiest way to learn how to code. It's interactive, fun, and you can do it, also at your own pace. Won't give you more details here, as it is pretty much self explanatory – learn how to code. And yes, it is 100% free. No excuses, unless you hate coding for completely :).
That's it! I really do hope that you found these resources helpful for you. If you do, can you please share it with your friends and do the "button" dance? Will appreciate it.