Having to optimize content is extremely important, and one that I thought I had pretty much well covered, until.. (in a moment). First, let's get one thing out of the way. We all need great quality and properly optimized content, to ensure that we provide maximum value for our readers, while allowing search engines to know what we have to offer and rank it amongst the most relevant of results. Sound about right? Read on.
All search engines have one thing in common when it comes to returning results for users, and that is to provide the best possible information that provides value and relevant to a search query. We all know about the impact of many websites that got hit with Google's recent changes and as it all seems, unique quality content is "King" again, or better yet, has probably always been.
Anyway, I said "until" in the beginning, because after having installed the SEOPressor WordPress plugin (aff link), I found out that there were still a lot of room for improvement, to optimize several of my posts, specially the older ones.
While I am a strong advocate for all things free, I do once in while suggest premium tools, provided they deliver more than what free tools can do, save you money in the long run, and most importantly that I (preferably) have used myself. If you are a registered contributor here on my blog, you will see that I have three SEO premium plugins installed, one of them being SEOPressor. Rather than taking this as a sales pitch, regard it as a legitimate review and ultimately make a decision on your own. Further below, I do tell you how you can try it first, so that you may have a well informed decision (more on that later).
How Should You Optimize Content?
OK, let's do a quick run down on some things that matter most when optimizing your content for SEO. You will find many tips saying about how you should use, title tags, keyword density, sub-headings, bold, italic, alt tags, nofollow tags, deep linking structure, and all that stuff that you should by now already know. If you don't, here is a good place to start and learn more about SEO.
The other question is, what is really behind all these technical hulahbalooh? Did you guess? Keywords, period. This is the only way that search engines will find out what you are talking about, which bring us to another question..
Why Should We Optimize Content?
You are on a search engine and what do you do? Type words. That's the language you use to communicate with the search engines. That's how you make a query. Then, the search engines will return results. Based on what? Based, on what you have typed, keywords. This is why you need quality and optimized content. Search engines love it because they can return relevant and quality results for users, which are ultimately the ones that will benefit from the results. Make sense?
Optimizing content for SEO has always been something that many apparently ignore, simply choose to ignore, or do not know how to do it. On-page SEO, and all things related to it, can be an intimidating stuff, but in a nutshell, it really does not have to be complicated. Most of the time it is the "do it later", "laziness" or the "ooppss, forgot" factors that comes into play. Or, failure to take action.
Is There An Easy Way To Optimize Content?
What if, you can have a checklist of SEO "must do", to ensure that you have properly optimized content, right within your editor of WP, telling you exactly what you are missing? That would be nice, would it not?
Enter SEOPressor. SEOPressor is like a coach right beside you, telling you what you need to do to optimize your content (not write for you, lol). You don't have to hire anyone to write optimized content for you with this plugin. It does not get any easier to optimize content. To make it simple, I will show you how "this article" (this one that you are reading right now), develops as we go on. Note that I start with a score of 0%. So, without further ado, this is what I have done:
Step One: Wrote this article freely without any editing or worrying about the technical bits and pieces. Just got those creative juices flowing.
Step Two: Now that I'm done writing, its time for me to start editing and optimizing my content. I choose a "keyword" I am targeting for, and run SEOPressor by simply saving a draft of the post (not publish). In this example, I will be targeting for the keyword "optimize content". Pay attention to the score and suggested changes. First run indicates poor optimized content, red flags all over the place.

Before Saving Draft
Keyword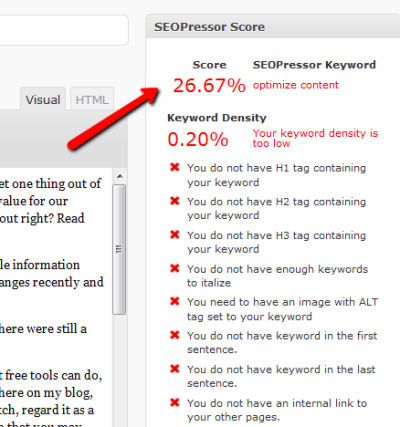 First Run
Step Three: Made my changes as suggested. Included h1 / h2 / h3 tags, deep linked to another article, included an image (alt tags are added automatically), and included keyword on first and last phrases. Re-ran the plugin once again (saving the draft). Watch the improvements.

If need be, make additional changes and then rinse and repeat, until you see the score turning "green". This is the indication that you have now your post properly optimized. Obviously the closer you get to 100% the better, but I will settle for anything at a minimum of 65%. There are some suggestions that you might not want to follow (adding h1 tags, nofollow, or keyword density at +/- 6% max., etc). This is really up to you. The point is that you know what needs to be done to optimize content, and always remember not to overdo anything.
Once satisfied with the score, hit publish and do the rest of the stuff you will normally do, like sharing it with your friends, and all the other link building and traffic generation techniques you know of. Rinse and repeat for your older posts that you are trying to get better results. Don't mess too much on articles that already rank well. It is sometimes "wiser" not to change a winning team. Optimize content for older articles you have and monitor your SEO progress. In any event, even if you don't think that now is the right time to invest on a premium plugin, I hope that at the very least, you learned something about the importance of having quality and properly optimized content.
There you have it. Convinced yet? If not, here is one way to take SEOPressor for a test drive. Register on iBlogZone and write a guest post :). Use SEOPressor and other premium SEO plugins to see how it goes. Live action on how to optimize content ;-).