There are tens of tweet scheduling functions out there I found. Even most Twitter clients have this function integrated by now. However fiddling with individual time setting and going back to a web interface in order to get it done was always quite a hassle for me.
Let me therefore introduce you to a new tool I have been using recently. It is a nifty App called Buffer, that solves me a whole lot of trouble to schedule tweets faster and easier than before.
How is Buffer different to the rest?
You don't schedule each tweet individually, you simply add to Buffer and the App schedules the tweets for you.
You can add tweets from any page you are reading with handy browser extensions (Chrome, Safari or Firefox)
You can add tweets to your Buffer from inside Google Reader
You receive detailed analytics for your Buffered tweets to measure your impact.
Add from any page
One of the things I particularly appreciate about Buffer is that I can add tweets to it from any page I am reading.
In addition it comes with a feature to tweet things other than the post title and link. This is very important to me, as it gives me a chance to stand out from the rest of tweets and I can make my tweets unique.
You simply highlight some text and then hit the Buffer icon, this is what happens with Francisco's post:

Use Google Reader to Buffer tweets
Using it inside Google Reader also comes in very handy as you can add Tweets to your Buffer right from there.
Whenever you like an article simply hit the Buffer icon and you will get the shortened link to the page and the URL, here is another example of Francisco's post:

Timing of your Tweets
By default your Buffered tweets are sent at Twitter Peak times for you.
Of course you can always go back to your account and adjust the times to your needs. You can increase the frequency or delete some time slots, as well as change them.
Your Tweets Performance
Knowing how well your Tweets performed is another key aspect for me.
Buffer provides you with detailed analytics about Clicks, Reach and Retweets of your tweets. This is really cool as it also helps you on how to get twitter followers more efficiently. Here is a set of data from my recently Buffered tweets: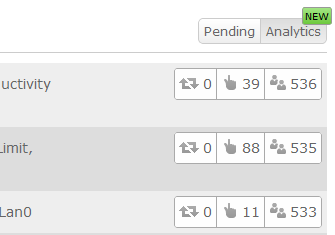 Wrap Up:
Buffer's functionality as a Tweet Scheduler goes way beyond existing functions I know of and making use of it saves me a lot of time each day.
In addition I can add lots of tweets to it without annoying my followers with too many tweets back to back. Especially as I am a heave Google Reader user it helps me a lot to tweet about all the amazing findings I come across each day.
What about you? Which Tools are you using to make your life easier on Twitter? Will Buffer be helpful for you too?
Let's discuss it below.