Paving in for the next generation keyword tool, the popular search-based keyword tool by Google, also known as the SKTool, will soon be discontinued, making way for the updated keyword tool (launched in beta since April of this year). If you use Google's keyword tool as much as I do, then you might have recently noticed the following alert as shown below:

What's New In Google's Revamped Keyword Tool?
From what I can immediately see, the updated Keyword Tool allows you to search by words or phrases, websites, and even categories (where available), getting results of both the Keyword Tool and the Search-based Keyword Tool in one central location.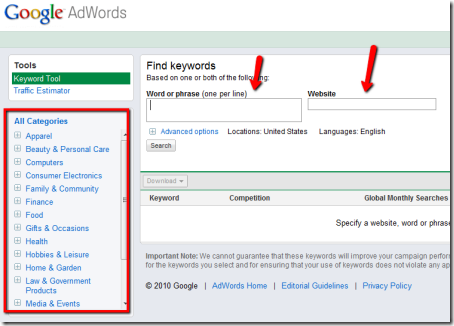 The category section of the revamped tool is particular interesting to identify keywords that might be of interest if you decide among other things to filter your AdSense categories. The information that the new keyword tool provides is also more complete than that of the previous tool. As an example, I have tried to "search" for the keyword "SEO" to compare results (without signing in your AdWords accounts).
Before: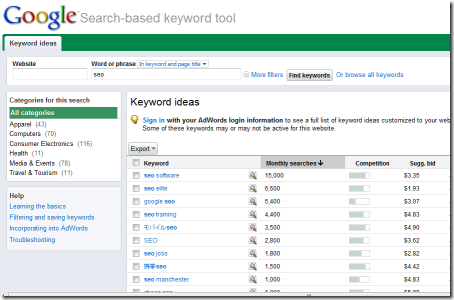 After: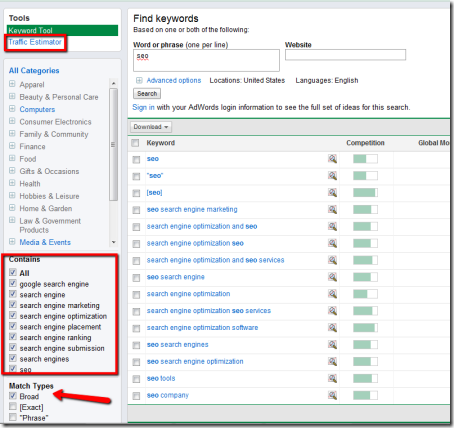 As you can see from the results above, the difference is clear from the old to the new keyword tool. In the new keyword tool, the results appear to be more relevant to your search and, aside from the categories that are more orderly, you can see related results under the "contains" box. Further down, you can immediately choose to search for "match types" which can be broad, exact or a phrase. It is no longer needed to do this manually.
Hint: Try using the keyword tool using your websites URL. It should return the "main" keywords of your website. Once you have the results, select to include on your results the "average CPC" and analyze those data. That should give you an idea of what type of AdSense ads you will get displayed on your website and "how much does Google pay you" if someone clicks on them (more on this later – just a heads up!).
The other new cool feature is the traffic estimator. Using the traffic estimator with the same example as above, you get results such as estimated CPC, position, daily clicks, competition and more. From here, you can have an idea of how your chosen keyword may perform. Although this is tailored more from an advertisers point of view, it is equally an important data that you can use, specially if you are monetizing your website.
There you have it. This is just a glimpse of the Google keyword tool and some ways where it can be useful for you. As you know, there are many ways that this tool can be useful for you. One of them is finding and selling domain names for a profit.
So, have you heard about the new Google keyword tool already? Have you tried it. What do think about it and what do you use it for? Your comments will help me elaborate further on my future posts that I will be sharing on how to use it to your benefit.
In the mean time, here is something you might want to consider using. I have it and it works like a charm. Keyword winner does help a lot.