Not so long ago, I have shown you one of the ways to make money online by setting up a membership site using a WordPress plugin called MagicMembers (aff link). Although that is an excellent option, many of you may think that it is too early to create your own membership site. Coupled with the fact that there is a little investment required, you will probably prefer to see if there is an alternative to that, experiment with it, and then decide on a later stage whether it is, or not, a viable alternative, despite knowing all the benefits a membership site can bring.
That said, Sire of WassupBlog has recently wrote an article on how to make money off a popular post by using MediaPass. After reading about it there, I decided to also share some of my views about MediaPass (ref link) here. Obviously I do recommend you to read what Sire has to say, as with everything blogging, each one has their own opinion and views and it will be definitely interesting for you to find out what he has to say.
What Is MediaPass?
Another way to see MediaPass in my view, is an easy alternative to a membership site. MediaPass allows you to charge for any online content you provide and creating an account is not only simple, it is totally free. Technical knowledge required is virtually zero and once you create your account, MediaPass will provide you with easy to install codes that will essentially serve as a gateway towards your exclusive content (paid subscriptions).
Exclusive here is the key factor as this can be anything from "pillar articles", most viewed post (see Sire's example), eBooks you have created, specific tutorials, article series, exclusive video, and just about anything else (use your imagination), provided it is online and inside your website. You choose the pages you want or specific sections (archived pages for instance), set the price for access and you are done. Only pages that you choose to be paid are affected by this and all other is free content. At anytime, you can cancel the subscription and make it available for free, your choice.
This works well if you think that you have or can create content that is so exclusive and of high quality that people will be willing to pay "something" just to have access to it. Another example could be a three part tutorial, where you share some "proven methods" to improve earnings on ClickBank. You provide internet users with a "teaser" and if they want to read the rest, here is where MediaPass comes into play. The code you inserted will now block the access to the remainder part of your paid content. The user will see the following screens before they can proceed.
The block. This is where users are now informed that the content they are trying to access is premium.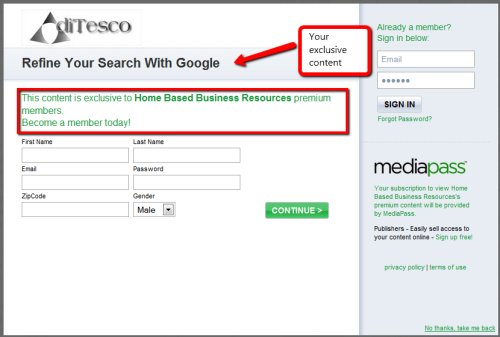 They want it so bad they now fill in the info requested and hit the continue button. They select the membership options that are presented to them and continue. The prices here are set by you.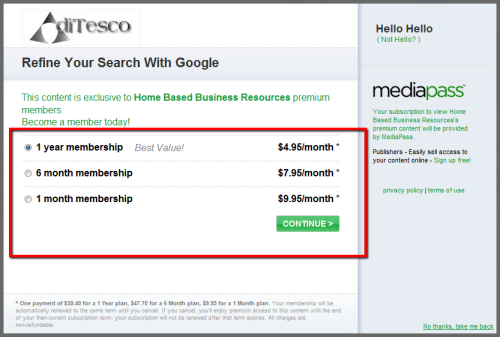 Once selected the subscription option, they select the payment option, and after everything is confirmed, they now have access to that specific content. Congrats, you just made an extra couple of $$$.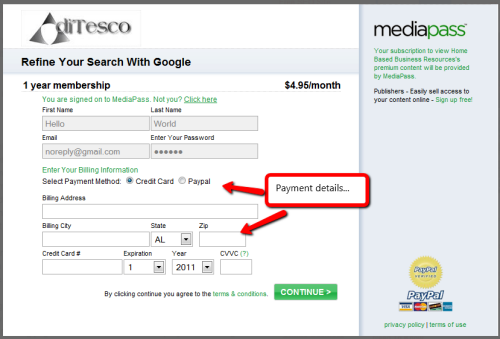 Disadvantages of paid content and using MediaPass?
Not everyone sees paid content as a good thing. At the end of the day, it is really up to you to decide whether or not a specific content requires a paid subscription and if it is really worth it. Another matter is that although it is free to open an account, the service in itself is not free and you share the revenue with MediaPass at a 65%/35% split, the later for MediaPass. In my opinion this is slightly high but as I said, since you do not have to worry about almost anything and do not require any upfront investment, the price can be considered reasonable. At the very least, think of MediaPass as an experiment that will eventually help you decide to set up your own membership site in the future. On a side note, MediaPass is actually saying that this is an introductory rate!
There you go. MediaPass can really be an interesting alternative to charging for content. Considering that you have full control of your content, it is a viable solution for those who think that they have premium stuff to offer.
What do you think? Is this something you will want to experiment with? If I set it up here for my most viewed pages, do you think someone will want to pay to have access to it or will I drive them away? (lol)