What Works For One, Does Not Necessarily Mean It Will For The Other
OK, the title may not say much, but the idea here is to give you an example (s) of why trial and error, testing, or experimenting with just about everything you want to venture at online, is of utmost importance for you. While this is true in life, the specific objective of this post, is to show you that not everything is black and white when it comes to making money online.
As you well know, there are numerous ways to make money online. From AdSense, to selling your own products or services, selling ad spaces, writing jobs, affiliate marketing, text links, sponsored reviews/tweets, in-text links, in-image ads, etc.. the list can go on.
A recent article from Justin of dragonblogger.com prompted me to write this article as I believe that it is a great "case study" to learn from. Just to let you know, Justin and I have mutual respect for each other and this story is for you to learn, hopefully, something from it.
The Story:
Not so long ago, Justin wrote an article about backlinks.com. I commented on it and mentioned about another network called Intellilinks. Since, he signed up for the network and started to experiment what kind of opportunity he can get from them. Sadly, his experience from them was not so good as he has not received any opps for over 30 days. My experience with Intellilinks is not that good either but I do have a small recurring income from them (for other sites), and actually just got paid.
Read Justin's recent article about Intelillinks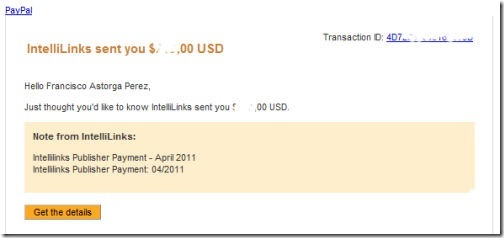 In the comment section of the same article (about Intellilinks), Suresh mentioned Teliad. Teliad is very similar to Intellilinks as they also, among other things, sell text links to advertisers. Well my experience with Teliad after a year of being with them is absolutely disappointing, zero. Why? Maybe the advertisers base of Teliad appeals more on different topics that mine, or, I just did not give it enough effort. More detailed info about Teliad can be read over at Suresh's blog.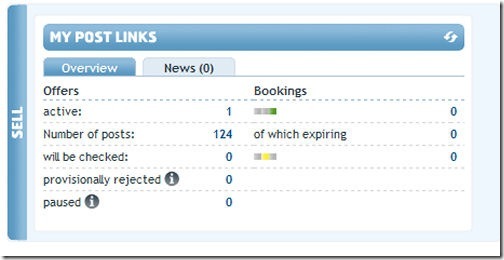 Following the same comment thread, Tuan of Tek3D mentioned that his experience with Teliad is very good compared to that of Intellilinks ($100 / $0). Note the response from Justin.

Another recent article from Justin, mentions about going PRO on Sponsored Tweets (ST). I was not too convinced about it, because the PRO status is a paid service. Anyway, since it was on trial for $1 for 30 days, and until he told me that he got an offer within the hour of upgrading to PRO, I did not think twice. Excited, I upgraded to PRO and 120 hours later, no opps for me (yet). In contrast and within the same time period, I got three offers from BSA. Will I quit on ST, not quite.. Just updated my "profile", "tags" and "pricing" to see if that is one of the problems. We'll see. Trial and error.

So, what does this all mean?
First, a wonderful experience about "sharing" and "learning" from each others personal experience. This is by far one of the most interesting part of this story.
Second, and if you came this far reading this article, I guess you would know that the message I am trying to get across is that, you don't know, what you don't know and what works for one, does not have to necessarily work for the other. Just because you read "somewhere" that "someone" was successful on "something", you will never know how it will work for you unless you take action on it. Justin, regardless of the outcome, decided to take action, he gave it a decent period of time to see how it goes for him, and then drew his own conclusions. What does that tell you? That he is a doer for one, and a bonafide "action man" :).
Lastly, and another interesting thing that could be learned from this case is that this all started with a comment. Also, did you just noticed what happened here? Link Luv for everyone :). So, in case you are still not convinced that "commenting" is powerful for a lot of things, let this be one example for you.
That's it. Have you had any similar experience like this before. Did you have any startup ideas that you took action upon? When you say that "you will", does that actually translate into taking action? I would love to know what you draw from this.