What is a membership site?
Essentially a membership site is a secured part of a website where users can only access content you provide via a password protected area. One of the reasons to create a membership site is due to its potential in obtaining recurring income. However, that's not all as membership sites are also great to build an online community, create and build loyalty, maintain relationships, build a list, send newsletters, promotional campaigns, etc. With a membership site you can provide access to exclusive content, such as eBooks, training material, premium tutorials, articles, or you can also have a download area for games, themes and skins (if you are developer), software, and much more.
One of the problems with setting up a manageable membership site is that the available solutions can be complicated for a non tech savvy person and the cost associated with it could be somewhat on the high end. Not to mention that some solutions are available in modules and if you want to upgrade, you will have to pay an extra. The ideal solution would be to have, a powerful yet easy to use membership site software that delivers, is flexible, fully featured and inexpensive. Does that even exist?
Enter Magic Members Plugin. As the name suggest, it is a WordPress membership site plugin whereby anyone who knows how to install a plugin can easily set it up. A WordPress membership plugin that "turns", any new or existing WordPress site, in to a fully automated membership site following simple and easy to understand instructions. If you ever considered setting up and run your own membership site, this is definitely a good solution, considering the features and support if offers.
Just for you to have an idea of how easy it is, once you have downloaded the plugin, you install it just like you would any other plugin. Upload, install and activate. Once you've activated the plugin you will see the admin panel that controls everything you want. You set up the membership levels, payment options, content control, create coupons, etc.… For example, in the admin panel, you can go to the content control option, select download, upload anything you want, select level of access, and you're done. Easy set up: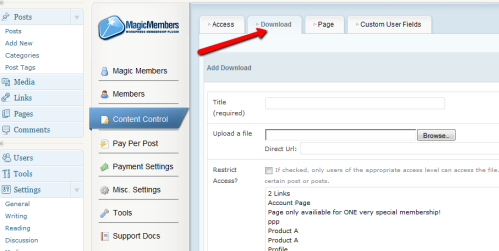 Key features of Magic Members WordPress Membership plugin
Magic members WordPress Membership plugin is made up of great features that empowers you to make your membership site perform just about every task you can think of. Some of the key features include:-
Unlimited membership levels
Magic Members membership software empowers you to control access to various levels of your membership site. With your membership site plugin, you will be able to offer particular members specific access to different areas of your site according to their subscription levels. This is a sure way of increasing value for your membership site.
Multiple membership options
Easily set various membership billing options with varied subscription amounts. Your members can pay for their subscriptions on a daily, weekly, monthly and on annual basis. "Standard" members have monthly subscriptions while "Premium" members have annual subscriptions. Open a free gateway, with controlled content if you want.
Wide range of payment modules
Most of the popular payment options are included. Modules include PayPal standard, PayPal Pro, CCBill, 2Checkout, ClickBank, Authorize.net, SagePay, among others. You can use them all or select only what you want to. This feature makes it easy for you to receive subscription payments from your members.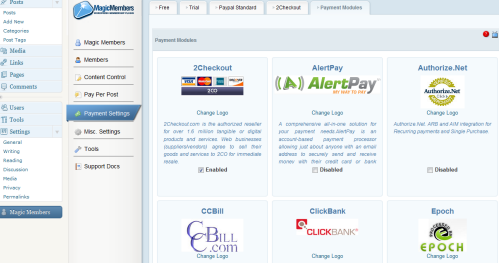 Controlled access to content
Obviously, the key feature and primary condition for a membership site. This enables you to control what different membership levels get access to. Here is an example when creating a new post. Let's say that this is an exclusive content. Just use you normal WordPress "add new" post and then define the level of membership option.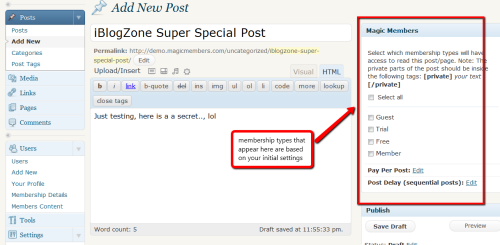 Integration With AutoResponders
Magic Members has seamless integration with AWeber, GetResponse, Constant Contact, iContact and MailChimp.
Video tutorials to guide you to every step of the way
Training videos, support guides, comprehensive FAQs, and a support staff ready to answer your question within 24 are all in place to ensure that your membership site is up and running smoothly.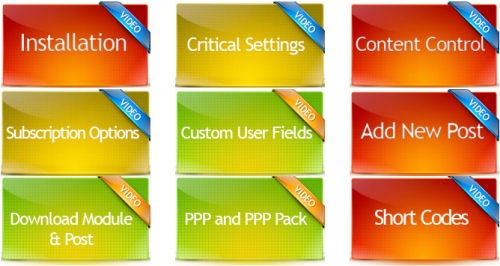 And really, a whole lot more. Here you can find out more about all the features that Magic Members membership site plugin has to offer (not aff link).
That's it? In the near future I will be giving you some examples of different types of membership sites you can create and hopefully will allow you to generate a little more revenue.