Hello everyone. I hope you all had a wonderful new year and to kick start 2011, I am going to share with you about Hesham's new service, launched later last year. The service, which he calls Thesis Awesome (aff link) is nothing more than pre-designed themes (skins or child themes), specifically tailored for Thesis users. There are already 5 skins available, including the latest skin which is to create landing pages. Having in mind online business entrepreneurs, Hesham added to his collection the Blogskin child theme.
First, a short story…
I decided to use Thesis Framework last year when I finally made the decision to move from blogger to WordPress. I opted for the theme primarily due to its SEO optimized functionality and price to quality ratio. While the Thesis framework is really excellent "under the hood", it lacks greater design functionality and control for non coders like me. You can do almost anything you want with Thesis, provided you know what you are doing. Since I am not that tech savvy, I had to look for alternatives.
Hesham to the rescue. He helped me design my theme from scratch and now I can also do pretty much anything with it. While this is so, it still requires something that I really do not enjoy very much, coding. I would prefer if there was a way to do this in a more simple fashion, so I can concentrate and focus on my most important tasks. Problem solved…
Enter BlogSkin from Thesis Awesome. A Thesis skin that has a built in control panel, which enables any user to tweak and control the design of your website with only one tool required, your mouse :). OK, maybe 1% keyboard, and that is for simple text entry. So here is one fact. Thesis + BlogSkin = Thesis Awesome. Sleek design, tons of functionality, great control, customized widget areas for just about anything, including advertisement banners and more. These are just added features to that of what comes "out of the box" with Thesis. Combined, it is a WordPress theme powerhouse. Of course you can always hire a designer, but in my opinion it is most likely that it would cost a lost more.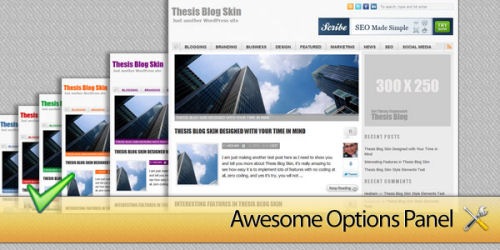 If you already know me a "tad", you should know that I only recommend something that I believe is worthwhile and preferably I have used. For obvious reasons, this Thesis product skin is not free, but it contains all the vitamins to what makes it a great investment. That said, here is a short video of what you can do with the new BlogSkin by ThesisAwesome. Please excuse the "flaws". My film director, editor, screencast manager and all those big boys were all out on holidays, so I had to do this myself :).