AdSense checklist has just been recently launched by Google for publishers that are just starting or interested in improving their experience with the program. The checklist consists of five parts, offering basic recommendations, required steps, and tips to help you grow your account to its full potential.
The AdSense checklist is particularly helpful for beginners to Google AdSense program. Also, existing AdSense publishers are also recommended to check it out as it is always a good idea to revisit the basics. You never know what you may or may not be overlooking. Following below are the highlights of what you to expect from this checklist. Whenever possible, I have provided links to topics I have also discussed here, which you may be also interested to see from a different set of views and opinions.
The Google AdSense Checklist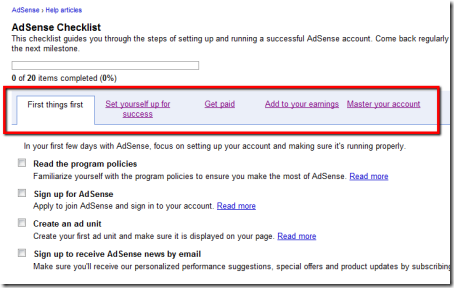 First Steps
You will learn how to set up your account and make sure it's running properly.
The Next Level
Once your ads have been running for a while, learn how to track your progress and make changes to improve revenues and performance.
Get Paid
You have finally reached the verification threshold required to receive your money.
Improve your earnings
Moving up a notch. Now that you've covered the basics, learn more ways to measure your results and make the most of your AdSense account.
Mastering AdSense
Use powerful tools to get more out of your AdSense account.
That wraps up the AdSense checklist. For the time being, the Google AdSense checklist is only available in US English and hopefully it will also be available in other languages soon (stay tuned). Just log in to your AdSense account and follow this link to gain access to the AdSense checklist.
Every once in a while Google launches some very interesting material to help anyone to enhance users experience. While this AdSense checklist is a great starting point, you should also read other information from publishers who share their experience while using AdSense. Combined, I am convinced that you have here a great source of information to hopefully be satisfied and earn a decent amount of money with the Google AdSense program.