What is BridgeURL?
BridgeURL is an easy way to share a bunch of URLs is one simple link. All you have to do is list down all the URLs you want to share in the box provided and BridgeURL will create a single link that you can use to share anywhere.
Now I don't know about you but my imagination in these cases normally works fast (lol) and although you may not find it interesting, I'll give you some reasons where I think this simple service can be of benefit to you.
Create links to share multiple websites (including your own network).
Create a roundup of your top picks for the day, week, month, etc.
Create a link to all of your favorite posts (yours included).
Create links to your landing or squeeze pages 🙂
Create links to multiple videos (even paid ones)
Create a presentation
and more…
How does BridgeURL work?
First, let us see what you will find when you get there. As you see below, almost nothing. Just two boxes where you put in a title and another to put in URLs (any virtually).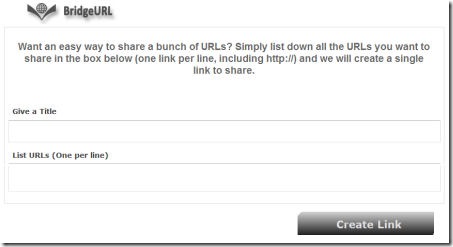 Type in your title, add the URLs and hit the "create link" button.

A link is generated for you and you can now use this to share it on Twitter, Facebook or just about anywhere else where your imagination can lead you.

Now remember that as with anything else, the key is to write a compelling title so that everyone will click on it. Once there, BridgeURL interface takes care of the rest.
Here is an example. I created a link of three must read (I could have created more but this is just an example) post related to blogging tips today. Hit it and come back.
Headline: Blogging tips of the day. These people sure know what they are talking about. http://bridgeurl.com/BloggingTips
If you did what I respectfully requested you to do :), you will notice that BridgeURL embeds the pages of the links you have created, using iframes. IFrames are basically a sort of container that will simply display content from the referred URL. There are two ways by which a visitor can interact with links inside a particular page. When you hover the mouse over the slider windows (on the left or right side of the window), you will see a square button on top. Clicking on this button will open the link in a new window where the user can interact at will. Alternately, if the user clicks on links inside the bridgeurl, they will be able to navigate like always. Since the content is displayed using IFrames, the owner of the original website will see each of these clicks as a separate pageview. Only the referral source will be shown as BridgeURL.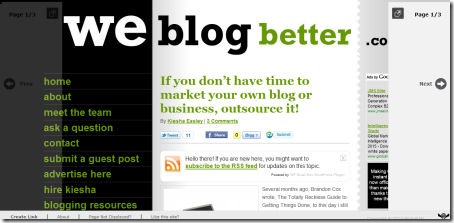 In addition, you may be interested to know that:
The links are permanent and will never change. However at present, the user cannot edit the list of links in a list once created. Version 2 will soon be launched, where registered users can login to add, delete or re-order links inside a list.
There are no limits. Any user can create any number of bridgeurls. Also, any bridgeurl can contain any number of links – 1000, 10,000 or more. It does not matter, although it would not really make sense to create such large lists (I think)
The basic service will be free forever. Eventually premium services may be available to access different types of information, but unless you are very interested in stats, the free service in itself is good enough for me :).
As you can see, the possibilities are endless and all you have to do is use your imagination. Anand Srinivasan sent me an email introducing me to this service and I liked it so much that I have decided to write this review for him (not paid). Just my way of saying thanks. Way to go Anand!
What do you think? Is this something you think you will be using in the future. Can you think of anything else that BridgeURL can be used for? As always, your comments will be appreciated.