Depending on whom you ask there is going to be a different views or techniques on how to develop your elevator pitch. I've narrowed it down to what I consider to be the three versions and three different target audiences; prospective leads, joint venture partners and venture capitalists (or angel investors).
Let's first discuss what an elevator pitch is and is not
An elevator pitch is a message you want to convey to another; what your company is about, what you have to offer and the overall outlook of the business. It is a short synopsis giving others a clear and concise view of your business.
It is NOT a sales pitch but rather more a conversation. Once you've created it, it should roll off your tongue like melted butter on a hot breakfast muffin.
So why is an elevator important and why do you need one?
Your elevator pitch is your opportunity to make a good first impression and show someone that you are the right fit for their needs or a safe and reliable bet as an investment. It is a useful tool that can be used to help you market your business effectively and powerfully.
After much research done for my own elevator pitch, I've broken down into three versions: The One Liner, The 60 Second Marathon Pitch and The Power Pitch. (By the way, these titles are totally made up… just thought it would be fun to name them :).
The One Liner:
This is just as the title describes; pitching your company in one sentence. For example, let's take NewBizBlogger. My One Liner elevator pitch goes something like:
NewBizBlogger provides online business tips and training to

internet entrepreneurs looking to start their own online business.
Straight, to the point, clear and concise …
The One Liner is great to use in everyday conversations with prospects or in your 'About Me' page. It leaves the person with a quick and clear understanding about what you do.
The 60 Second Marathon Pitch:
This pitch affords you a bit more creativity and allows you to get into further details about your business. It is designed to be spoken in the length of time you take an elevator ride. Here you can expand on your one liner to include more information about you and your team, your target market, your revenue outlook, your competitive advantage and a request.
Let's use IBlogZone.com for this example.
Note: This is NOT IBlogZone's elevator pitch! I have taken creative liberties based on what I know about IBlogZone and what is stated on his site and am using this solely as an example (although Francisco is more than welcome to use it however he wishes :).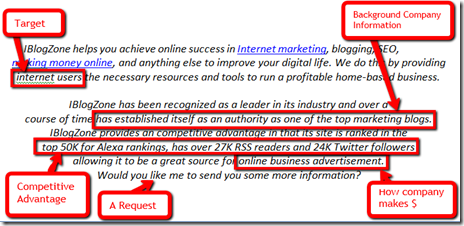 As you can see more details about the company has been added; what it offers, who it targets, its background experience, the competitive advantage and ending it with a request for more information.
This pitch is great to include on your site, such as your 'About Me', 'Services' or 'Sales' page. You may even want to include it in your email marketing if you want to pitch a prospect on your product or service.
The Power Pitch:
This is going to be the meat and potatoes of your elevator pitch. This pitch will be especially useful if you are looking to acquire a venture capitalist or angel investor. It can last anywhere from 10-15 minutes long with videos, visual presentations and reports.
This is when you can go full out with your company presentation. Here you can get into more details about your companies background, your market, product or service benefits, accolades, credibility, how you plan to make money which in turn will make money for THEM, and so forth.
There you have it, my three versions of the elevator pitch. Keep in mind that the elevator pitch is a work in progress. It's going to change as your business continues to evolve. My pitch today is not the same it was six months ago and still continues to change as my business grows as I take on new business ventures.
Care to share your One Liner elevator pitch?