When it comes to blogging, everyone knows that content is king. However, when you are just starting out with a blog, it is challenging to get enough content to make the blog work. How do you create enough content to really get your blog going and get ranking on search engines?
Before you even get started, you need to know where you are going. One of the keys to that is you need to understand what you want to rank for when you start a blog. This should be a theme related to your reason for starting the blog, whether that is to promote your business, to engage in blogging about a hobby, or as a travel blogging or money-generating site.
Whatever your reason, the way you get your blog up and running is both simple and complex. The content on the web comes from a number of places, some obvious and some a little more obscure, and not all of them will cost you. In fact, some of them will make you enough money that you will be able to pay for some of the other content you need, and maybe even make a little money on the side.
How does all of this work? Here are some simple ways to create content on a new blog.
Write it Yourself

It is your website after all, so one of the simplest ways to create content is simply to write it yourself. This makes sure that your message is exactly what you want it to be. The theme you decided on above will largely determine the subjects and categories on your site. If you write in those categories yourself, you are more in control of the message there.
That being said, writing your own content has its drawbacks. The first is that it will cost you time and effort. Any good business person will tell you that time is money, and you need to make sure it is worth your while to write your own content. If you are blogging about a hobby or travel blogging this may very well be worthwhile, especially when you are just starting out.
The key is to be consistent. Write and post consistently, even if that is just once or twice a week. Consistent new posts will serve not only to keep your readers engaged, but also helps with search engine rankings, as the frequency of posts is one thing they use to evaluate the authority of a site.
You are also relying solely on your own expertise and its value to your readers. In most cases, you should write some of the content yourself, but not all of it. Your blog should be a mix of voices. How do you get those other voices?
Guest Posts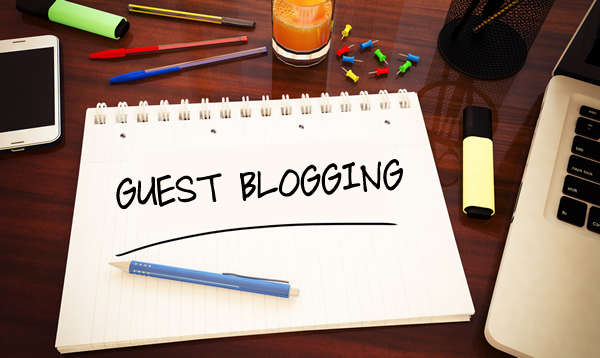 Guest posting comes in a variety of forms, but if you can get other experts in your field to contribute posts to your blog, you will benefit in several ways.
First, they will lend their expertise and voice to your blog, something both readers and search engines will notice. Google operates on the E.A.T. principle when evaluating a site's authority, and determining where it will rank. This goes as follows:
Expertise: Who wrote the article or blog on a website? Are they an expert in the field, and what does that authority look like?
Authority: What authority do the site and the author have? Who has endorsed them as an expert? (This is where backlinks play a big role)
Trustworthiness: Who is linking to your site? Do readers trust the information you are giving, and should they?
For a long time, Google gave authority to whole sites based on these things, and it was pretty even across the board. Now since the announcement that Penguin is live all the time, they evaluate pages individually. This means your overall site and your individual pages both matter.
Second, they will share your blog with their audience. This gives you more exposure and more traffic, therefore influencing your search engine rankings.
Third, they will give your website a different voice than just yours. It is often good to host others on your site who also share your views or even different ones. This offers variety for your readers, and gets you more favorable attention.
Sponsored Posts and SEO Content
Once your site is a little more established, fellow companies and specific brands will want to be seen by your readers and they will also want backlinks from your site to theirs. These companies will often pay you for the right to be seen on your page, from a small amount per article to significant sponsorship fees. Besides running PPC ads and using affiliate links on your site, this can be a way to raise significant revenue as well.
Be careful with this kind of content. While there is good stuff out there, there is a lot of not so great content as well, so be sure you still screen what you plan to publish.
Conclusion
These are just a few ways to generate good content for your blog but they aren't the only ways This article has only just begun to scratch the surface. What are some good ways to come up with content ideas that you have found helpful? Leave us a comment with your best tips in the section below.