Why Do You Need One?
Well, if you want to improve your marketing efforts and get ahead of your competitors, having a chatbot increases your chances 10 fold as you can have an assistant working for you 24/7. You set it up, define the type of engagements you are interested in doing and everything else is almost on "auto-pilot". Yeah I know, I too don't like much that expression but in this case, it really is.
And with that said, here are some of the benefits of using chatbots:
Available 24/7 – they don't sleep
It can handle customers pretty well – Good for customer service as Chatbots can simultaneously have conversations with thousands of people
As it is a software/platform, it saves you tons of money on work force
Repetitive work can easily be automated
and more – I am sure you can find more benefits…
So would you want to test drive a chatbot on your Facebook page?
Once upon a time, you needed a high level of technical skills to build a chatbot. Coupled with limited time you have to create one, everything seems to be difficult and complex. But, what would you say if I told you that there was a complete and effective Facebook chatbot builder that is easy to use and and is ready for business? I think you would want to read on…
Introducing ChatBots Builder from chatbots-builder.com, an online software for building Facebook Messenger chatbots whose sole purpose is to help businesses as well as small and medium online marketing agencies to increase their recurring and overall revenues by allowing them to offer to their customers a simple messenger marketing product.
The cool thing about this Chatbots Builder is that it is extremely easy to use and setup chatbots on any facebook page that you have or control. Decide what you want the bot to do and it will be like your "non-stop" virtual assistant". You basically tell the bot the type of engagement you want it to do and you are on the verge of generating more leads, and perhaps convert much more. Build your list, create polls, and the list goes on. Oh, and before I forget, since it is a ChatBot Builder you can actually even make money from it. ChatbotsBuilder empowers you to create chatbots that you can also resell to clients were you manage for example their social media campaigns. And yes, you set the price you want.
Now imagine doing all this made easy. Difficult to believe , right? Yeah, at first I too was kinda scratching my head asking how in the world all those type of engagements are easy to setup? Well nothing better than to dig in myself and find out.
I will setup one for myself and will walk you through step-by-step on how to create a chatbot with this powerful Chatbot Platform. But first, a word from the builders of this platform themselves. Watch the video below and pay attention to what they say. No need to repeat everything here as what the fine folks from Chatbots-Builder say about their product are quite self explanatory.
So, are you convinced yet? Hopefully you at least would like to take it for a test drive as there is no obligation to do so, for a while at least 🙂
How To Build A Facebook Messenger Chatbot Using Chatbots Builder?
cilck on images for a larger view
Step 1 – Create a Page and Choose The Page
The first and most obvious is that you need to have a page on Facebook that you can control. Once you have a page, you will be able to choose it to install your Chatbot. As a reminder, a Chatbot is always attached to a Facebook page so you will have to link to it. This is true for either a brand new page, an existing one, or a page that you control (ex: a clients).
Now goto your page and pay attention that all Messenger automation features (see the image below – you get to this screen by clicking on Settings > Messenger) MUST be turned off and set to "No". This is to make sure that the bot you will create will be the only one managing with messages sent by users, without any external interferences.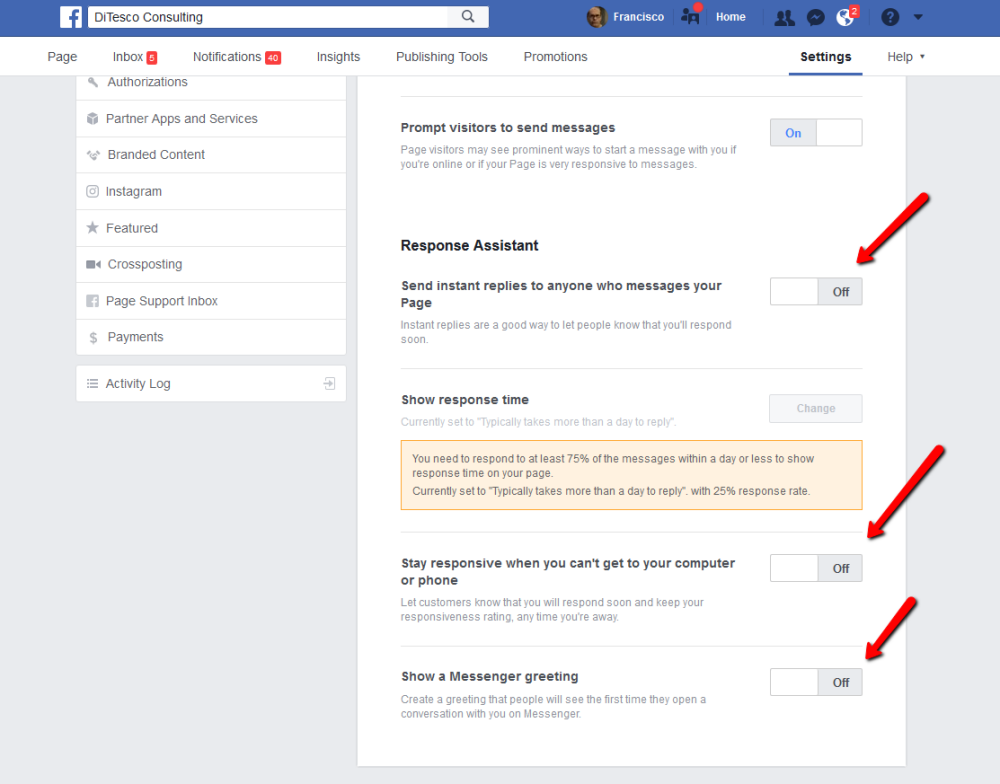 Step 2 – Use ChatbotsBuilder to create triggers and replies
Once you have created your account on Chatbots Builder, your first step in the dashboard would be to start the authorization process (see image below). Click on the "green button" to continue.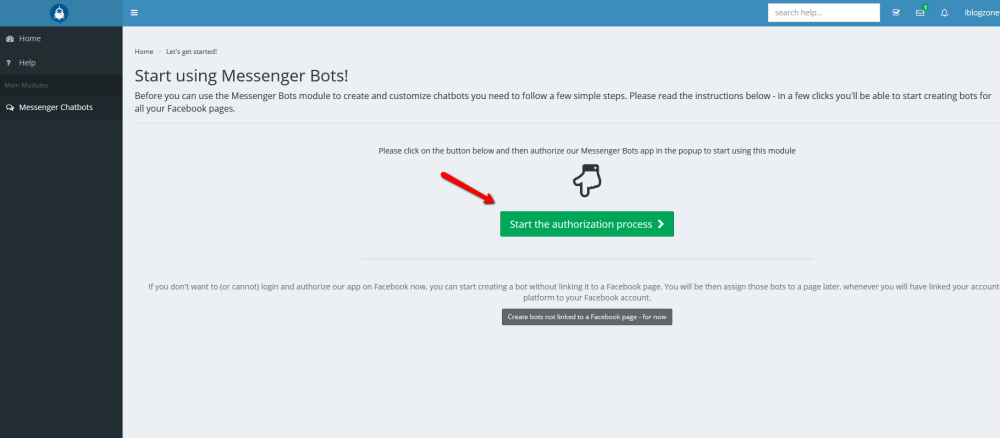 Clicking on the "Start The Authorization process" will pop-up another window to start the process. Click on the "Login With Facebook" and continue.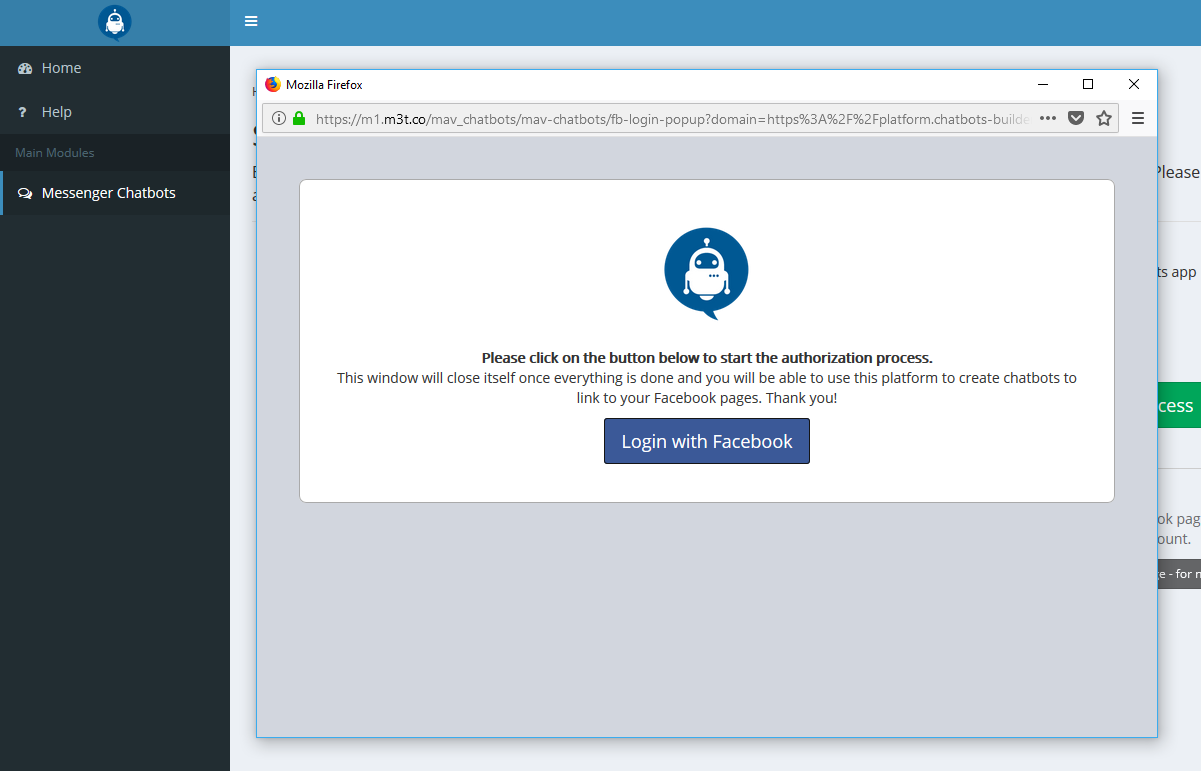 Afetr the Login and process and continuing on, you will be returned to your dashboard and just click on the page (to the right) that you want to add the bot to and start customizing it. The platform has a bunch of easy-to-use features and it allows you to quickly add "triggers" (these are the words that the bot recognizes and responds to) and specify contents and behavior for each type of engagement you wish.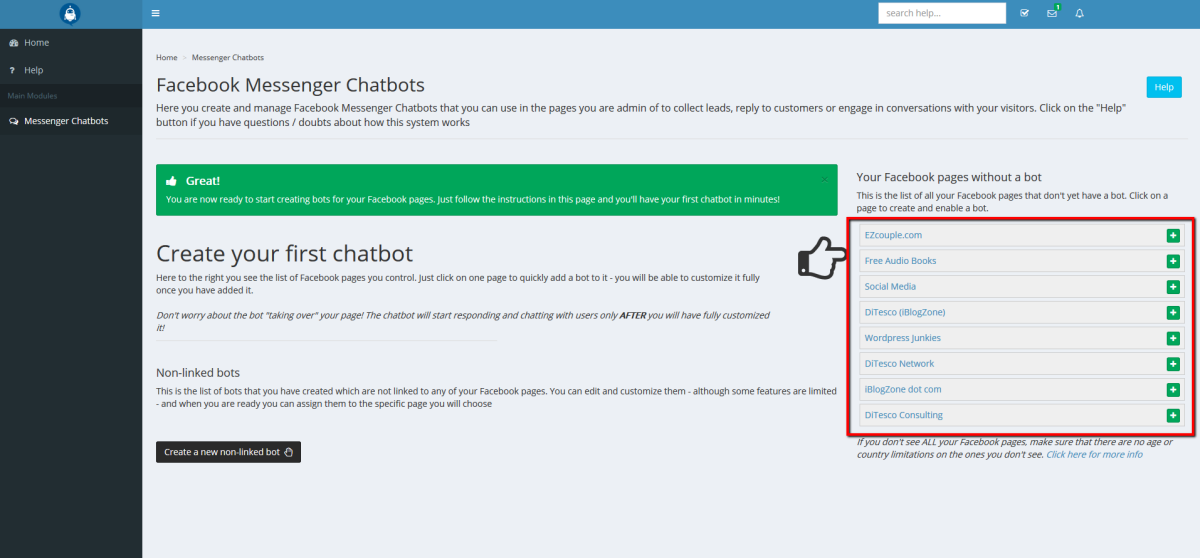 Once you click a page you will get a confirmation window. Click OK to continue…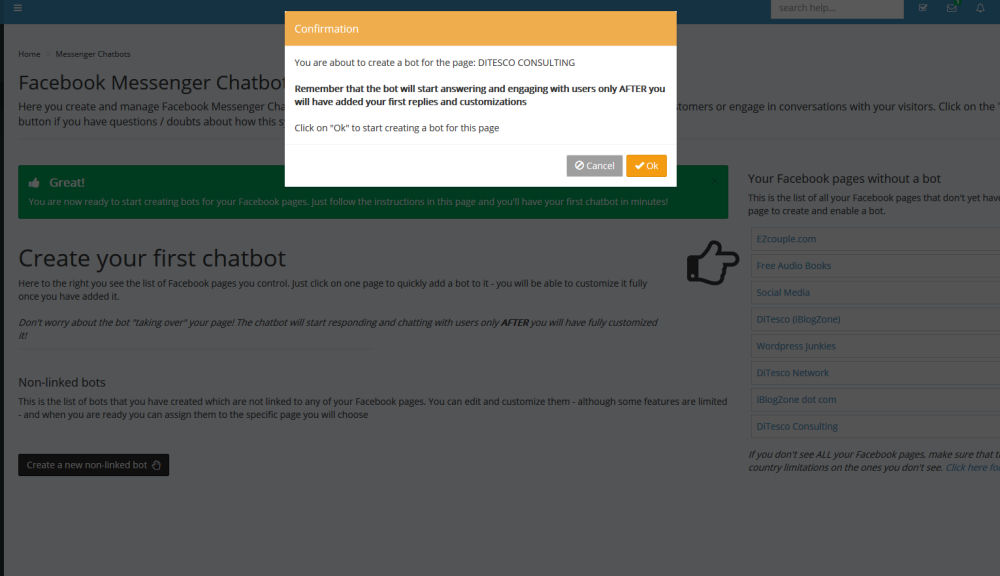 Step 3 – Start The Wizard And Go, Go, Go…
Start customizing your bot by choosing either the manual process or by using the wizard. Don't know about you but the wizard seems to be the right choice. In any event you can always go back and change your settings. So, in this process remember that when you customize your bot you can also specify opening hours, default responses, marketing automation rules, the whole shebang.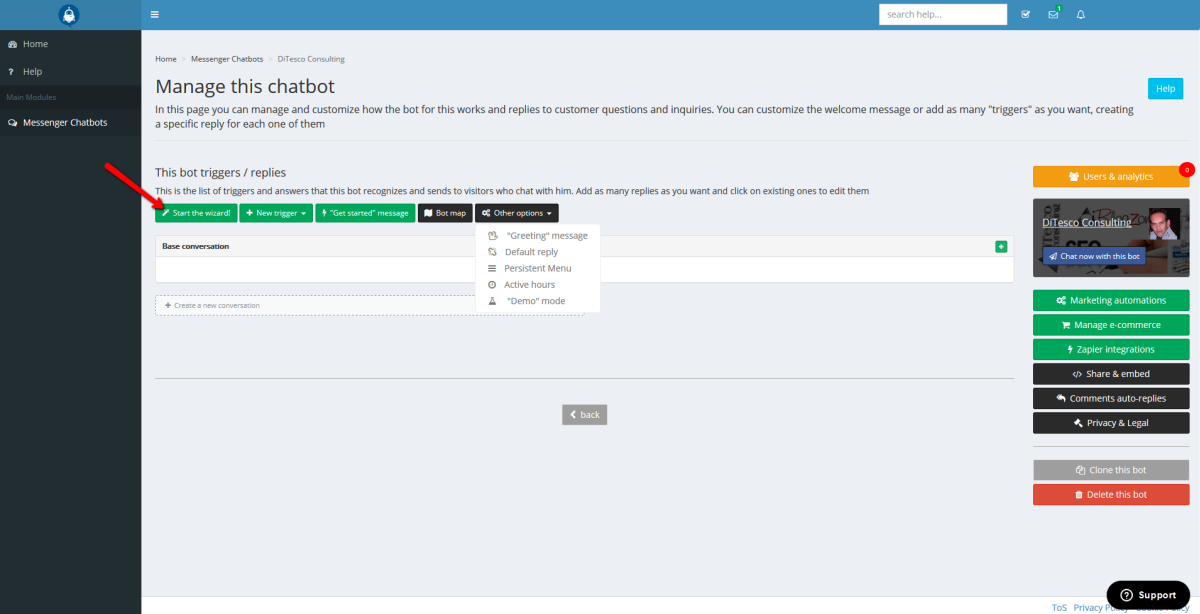 Once you are done with your customizations, deploy and your bot is ready and linked to the Facebook page you have chosen. Now it's time to start promoting it and letting users know that they can interact with this new "virtual assistant" you have just created.
As you can see, all this is made easy & fast thanks to the simple interface that Chatbots Builder has for its users. It also has a very simple and convenient pricing so you can build chatbots for you and for your clients and get the return on your investment that you or your client deserve. As I said before, you can try the platform for free, without any obligation. Start now and see for yourself if this powerful tool can be of help to you. And hey, did I mention that it is free to try?