It's true … blogging has huge benefits, both for companies — think Techcrunch and Mashable — as well as for individuals. In fact, just last month, Pat Flynn earned $153,397 with his blog SmartPassiveIncome.
Done right, blogging is a traffic-driving monster. It sends you leads on autopilot, giving you a virtually endless supply of new and returning customers for your small business.
That being said … most bloggers never break through to profitability.
In fact, Darren Rowse's survey revealed that an overwhelming majority of bloggers — in this case, over 63% — aren't able to make a living with it.
Even worse, as early as 2008, Technorati estimated that a full 95% of all blogs were outright failures, abandoned by their creators.
The key to making your blog work is to understand what your audience truly wants … and then provide it in the most effective way possible.
To do that, I've put together a list of five hacks to transform your blog into a traffic-driving and profit-making monster:
Landing Pages
Inforgraphics
Interviews
Top 10 Lists
Social Media
Landing Page
Far too many bloggers treat their blog like it's their own private diary: a thought here, a thought there … an idea, a hack, an opinion, and so on.
The problem with this approach lies in the fact that readers miss a consistent, driving theme. They don't know what to expect and, as a result, abandon your blog and stop paying attention.
The solution is to treat each of your blog posts like it's a landing page, if you are really interested in free traffic sources.
Above all this means having with one, clear, business-boosting CTA.
A good example would be the Authority Hacker blog. The blog covers lot of actionable material that marketers can use, along with helpful reviews and guides. This particular post on Buzzstream covers everything that a marketer can do with Buzzstream and is developed the same way a landing page would be developed … including a CTA at the end.
To help you create your own traffic-driving posts, a phenomenal tool is the landing page creator from GetResponse, which you can try out for free.
By starting with the end goal in mind — a CTA that tells your audience exactly what to do next — and building your posts around proven best practices — like the ones outlined in Peep Laja's guide you can download for free at the link above — your blog posts become high-converting, business-boosting tools instead of disconnected, personal reflections.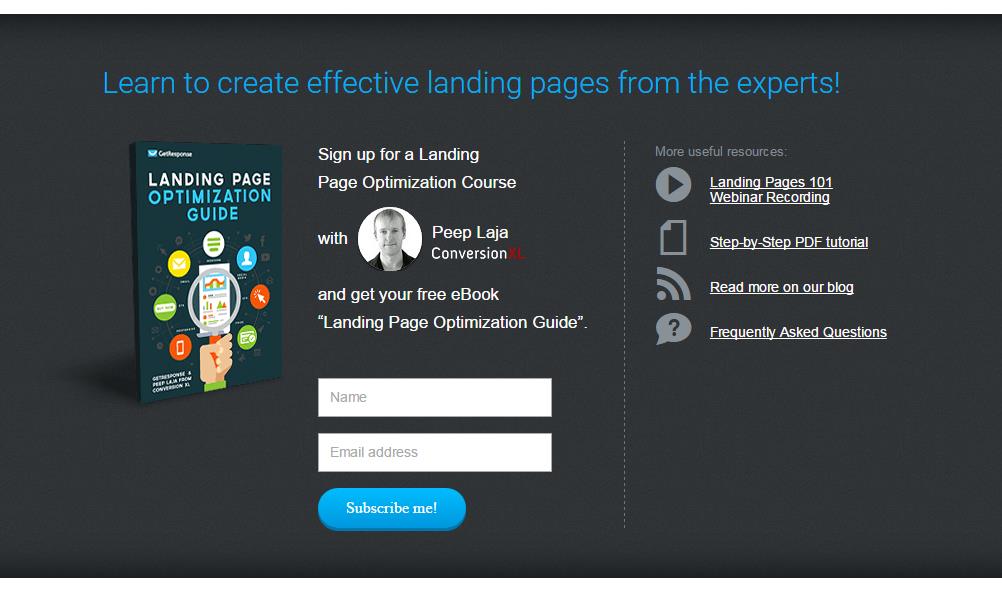 Image Credit: GetResponse
Infographics
Infographic searches have increased over 800% on Google in the last two years.
Infographics have taken the world with a storm and there's ample proof why.
Publishers who use infographics have seen a 12% increase in traffic on an average.
Infographics have received over 6 million tweets in total.
One of the best examples of a beautiful infographic done right comes from iBlogZone's own 5 Tips for Creating Your Next Killer Infographic and is all about the real-world benefits of blogging.
The infographic opens with a clear headline and big picture stats: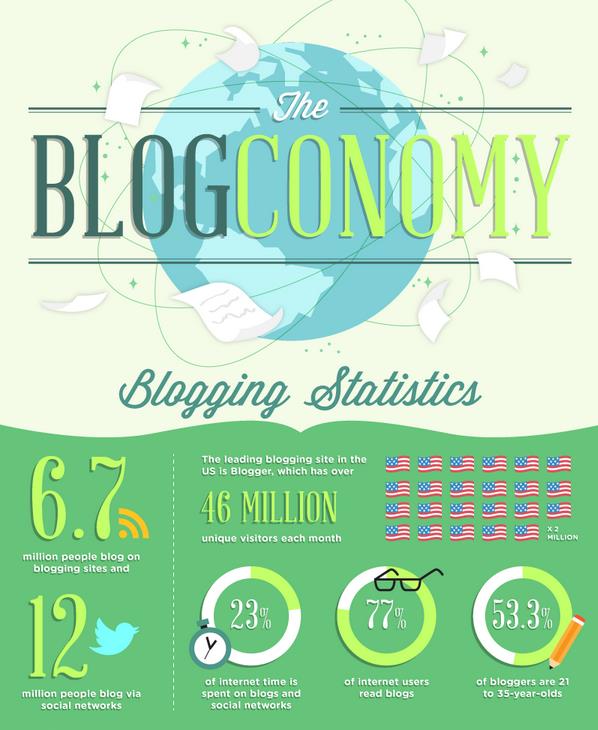 Even better, later on it outlines the "Most Common Ways to Generate Revenue" along with a list of "The Top 10 Highest Earning Blogs":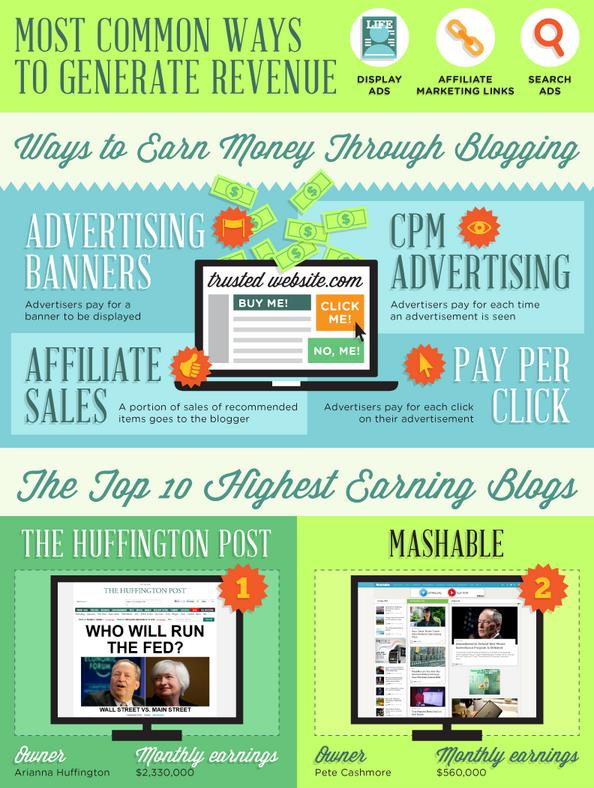 The key thing to remember is that while you may be tempted to cram as much information as possible into a single infographic, resist it. There's only so much a person can grasp without mental fatigue.
Use different colors to visually enhance the data you're presenting along with images. Cartoon images, icons, and screen shots are all great visuals to include that don't take a lot of graphic design experience to put together.
Considering that images are processed faster by the brain there's no excuse to not start using Infographics starting today.
Lastly, be sure to make sharing your infographics easy by providing an embeddable link at the bottom.
Interviews
Here's a traffic generation hack that many people simply don't know about.
Getting experts in your industry to share what works for them is a traffic-driving approach that simultaneously builds relationships.
Just look at the results Wade McMaster got from a single "outreach post" … 2,615 visits!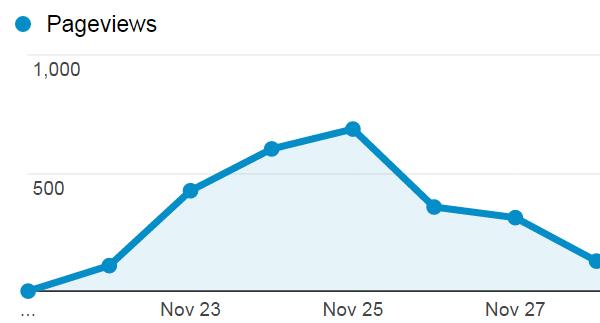 Image Credit: Design Web Identity
How?
Wade featured 18 of "the best techniques from the world's best and most popular internet marketers and entrepreneurs" on traffic and content promotion … and then reached out to each.
This last piece is what makes interviews so effective.
Asking the expert you've interviewed to link to or share your post with their audience you naturally leverage their appeal to drive traffic to your site.
And, considering that most of the work is done by the interviewee in answering the questions, interviews are some of the easiest content to write and publish.
You can read even more about why you should start including interview in your blog here, The Top 10 Reasons Why You Should Start Publishing Interviews … which is the perfect segue into my next hack. While you're on that, check MyBlogU, an active content marketing community for brainstorming great content and scoring interviews.
Top 10 Lists
Like infographics and interviews, top 10 lists are a phenomenal way to generate traffic.
Why?
Because top 10 lists show that there is something in there for the readers. They're meaty and full of value.
After analyzing 100 million articles, Noah Kagan calls 10 the "magic number":
10 item lists on average received the most social shares – on average 10,621 social shares.
In fact, they had 4 times as many social shares on average than the 2nd most popular list number: 23. The runner-ups were 23, 16, and 24.
On top of that, top 10 lists are easy to create one.
Think of a topic that your audience cares about or a problem that's particularly painful. Then brainstorm with a whiteboard or on Google Docs the top 10 reasons why the topic matters or the top 10 stats that relate to it or the top 10 mistakes, top 10 tips, top 10 hack, top 10 redflags, top 10 signs, and so on.
Social Media Promotion
The fundamental mistake most business make when it comes to social media is treating their business just like their personal.
Personal social media networks have a big gap in that they reach an irrelevant audience.
On the other hand, for B2C and especially B2B success you need to ensure that your posts reach the right audience. Also you need to be able to manage posting to different sites and measure the ROI that comes from social media promotion.
Most of all, you need data to find how to improve on what's not working … and a B2B social media platform like Oktopost can help with that.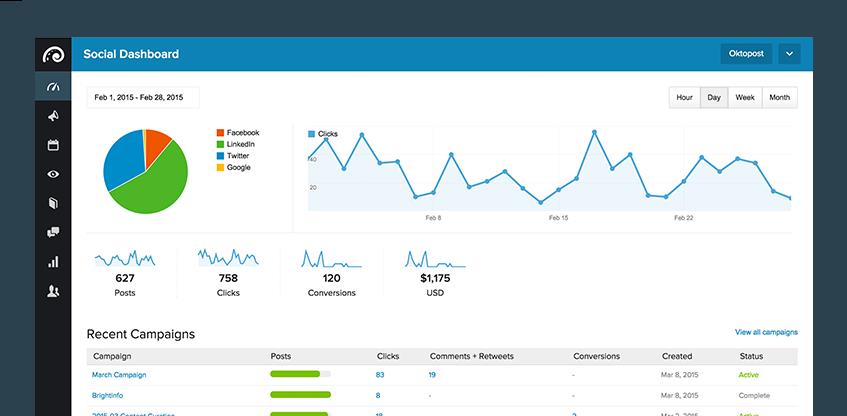 Image Credit: Oktopost.com
Just like Buffer for your personal use, Oktopost can help you schedule your social media posts days in advance. Even better, you can easily measure engagement — clicks, shares, and views on each post — and integrate your social media campaigns with third party applications like Salesforce and Marketo with ease.
Traffic is a mystery to a lot of bloggers …
If all you and your business are doing is creating a few posts and hoping for hits, what you'll probably get is only a trickle.
Instead of just creating a blogpost, focus on treating your articles like landing pages with a clear and business-boosting CTA.
People process images faster than text, so infographics are natural traffic magnets for your site.
Conducting interviews isn't just easy … it's valuable and it builds relationships. Not to mention the influx of traffic from the person you've just chatted with.
Similarly, top 10 lists are easy to scan and highly sharable. Remember, Noah Kagan calls 10 the magic number for traffic.
Finally, it just isn't enough to share your latest post on Facebook. You need to know if what you share is really working with B2B social media analytics and tools.