Blog monetization via advertising is one of the many objectives bloggers, affiliates and/or inbound marketers are looking for. On the CMS (content management system) side, the recommended framework to work with is WordPress. On that, I am sure that many will agree is the right choice.
WordPress has many features and functionalities. One thing that is does not have though is an ad management feature. Such feature can be found normally on certain premium WordPress themes and of course on ad management plugins. It is the latter that I aim to focus on, in this article.
What Is An Ad Management Plugin?
An Ad management plugin for wordpress makes it easy for any level of user to create, track and manage advertising campaigns on their WordPress site. If you think it is relatively easy to manage ads on your WordPress powered site, think again. It really could be complicated, in particular when you want them to say, show in between posts, appear only on certain pages, ad rotation, running multiple campaigns, among other things. Most plugins are pretty straight forward and advanced rules can not be applied. This is where a good ad management plugin can make a difference.
With that said, the next obvious question would be, what WordPress ad management plugin should we choose?
Enter Ad Inserter, a plugin so advanced it will literally surprise you in many ways. One surprise would definitely be the free version of the plugin. It is fully working plugin and on its own has many features that even other pro plugins don't provide. It is recommended by Amazon and Google Adsense, and has been downloaded over 100,000 times with a 5 star rating on the WordPress repository. I don't how about you but in my books, not everyone can boast that much prestige on being chosen and recommended by those behemoths. If that does not impress you, I don't know what will.
Ad Inserter – Main Features
This part is a tough one. there are so many that I can easily miss a thing or two. In any event, in my opinion the main features of this plugin would be the following:
16 code blocks (64 code blocks in Pro)
Automatically inserts ads in posts and pages
Insert before or after post, excerpt, content, paragraph and comments
Insert between posts on blog pages
Exceptions for posts and pages
Support for ads on AMP pages (Accelerated Mobile Pages)
Ad rotation
Manual insertion: widgets, shortcodes, PHP function call
Sticky (fixed) widgets (sidebar does not move when the page scrolls)
Support for header and footer code
Support for insertion of Google Analytics, Piwik or any other web analytics code
Ad blocking – popup message, page redirection
and more…
Isn't that impressive? And that is just a summary of the features available on the free version. The PRO version gives you much more.
Up to now, I am thinking what possible reason would you have to NOT try the Ad Inserter plugin? Not yet convinced? OK, let's look a bit deeper.
How to install AdSerter?
So, first things first. There are many ways you can do to install Ad Inserter. For many of you, using the WordPress dashboard should be more than enough. It is the easiest way of doing it.
Using The WordPress Dashboard
1) Go to WordPress Plugins menu, click Add New button
2) Search for Ad Inserter

3) Click 'Install Now'
4) Activate Ad Inserter on the Plugin dashboard
You can also install the plugin via FTP if you feel confortable with the process.
How Do I Create Ads With Ad Inserter?
Now that you have installed the Ad Inserter plugin, it is time to create some ads and see how it works.Remeber that not all websites are the same. Some "ad positions or placements" may work better in different areas so test, test, test.
BTW and just for you to know. the Ad Inserter plugin allows you insert an ad or HTML/Javascript/PHP code into WordPress. It can be used for all different kinds of ads, from Adsense to Affiliate ads.
And as I mentioned earlier, one of the good things that I lioke most about this plugin is that it lets you insert ads at virtually any point in your post/page, etc. For example you can do it before/after the post content, or even by a % of the way down your content (or the number of paragraphs). It is all automatically set, there are no shortcodes you have to mess with. You can also exclude specific pages and post if you prefer not to show ads on them.
Creating and Inserting Ads
Before I show you how to create an ad do know that Ad Inserter while great has many gfeatures and will need to get some using to fully dominate its potential. It is a bit complex so I recommend you going through
the Ad Inserter plugin documentation
to find out more.
So let's create a simple ad. Go to > settings > ad inserter. You will see the dashboard. Depending on the version you are using, you will have either 16 or 64 blocks of ads to use. Notice on the image below the amount of options you have.
Insert an ad code inside the block. In my example below I inserted an ad from an affiliate program that I use. Notice that I opted for the automatic insertion after post. Also, you probably have noticed the multiple other options you have to set an ad up. Alignment, choosing to show only on category pages, etc. Once you insert your ad code, hit the preview button.
Once you hit the preview button, a pop-up will show up and from here you can do some magic. Notice the ad banner I placed. It is aligned left. On the preview screen, every option works so just play around with and see for yourself. In my case I want my ad to align on the center.
And just for you to see how it could be easy to use the plugin, once mastered, I changed some options as you can see below. I changed the insertion to "after paragraph" 2.
Saved settings and placed it live. Now its right there somewhere in the middle. Cool!
As I said before, I really don't see any reason why you should not give Ad Inserter at least for a test drive. It has many features and you may just like it as much as I do. And if you have already tried the free version, here's a peak of what the PRO version can give you:
Geolocation – Black/White-list IP addresses or countries (works also with caching) – Geolocation or GEO targeting capabilities is awesome. If you want your ad to appear only for certain visitors location, using this function will display targeted ads. The country of your visitor determined via its IP.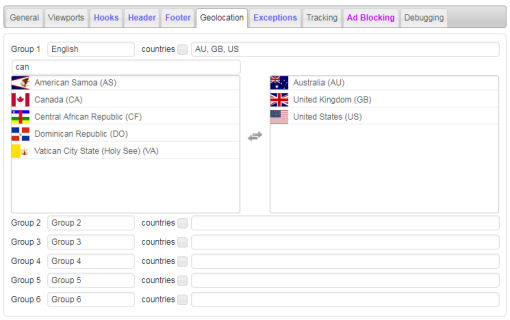 Ad impression and click tracking (works also with <iframe> Javascript ads like Google AdSense) –
A/B testing – You all know waht A/B testing is right? – This is powerful feature were you can test wlhich ad performs best. Create for example two or more versions of an ad and the tracking function, you can determine which version gets more clicks (see above).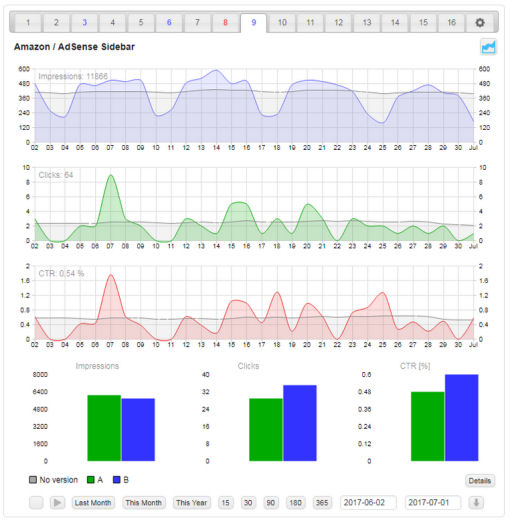 Ad Scheduling – You can define when you want a ad to appear. Insert the ad immediately, delay for a number of days, or insert the ad between specified dates.
Sticky Ads, Ad Blocking, and much more…
To make it easier for you, here's the main links to hop to:
That's it! Enjoy and let me know how your experience with the plugin goes for you.