The 2020 year is going to be known for the COVID-19 and lockdowns, and in this condition, every field across the world is suffering, including marketing. Marketing is one of the few fields which can continue working in these conditions. Many employees are doing work from home, and the competition is still very high. For getting the upper hand in this business, you need to use advanced marketing tools that can help you to improve your performance.
There are many online tools available that can help you to boost up your performance and strategies. Here, we give you the top 6 most useful marketing management tools as below:
Monday.com: Monday.com is a good marketing project management toolthat can give you all the marketing management service in no time like Campaign Management, Client project management, Event management, and Editorial calendar.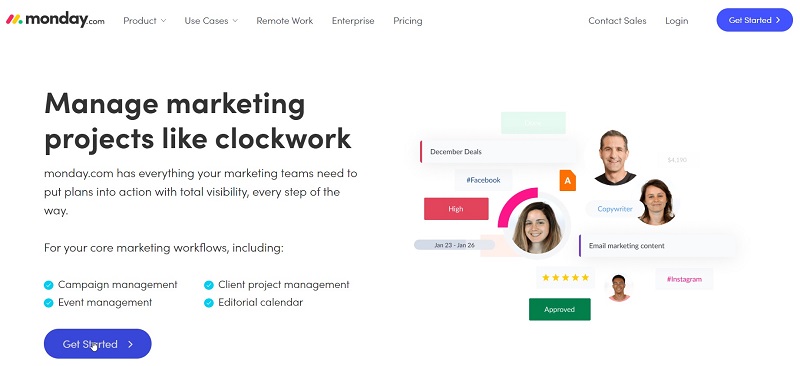 Its automated routine can help you to work more on the work, which is necessary rather than the side work, and its services will help you to execute your marketing strategies efficiently.
You can simultaneously manage multiple campaigns using Monday.com. It will also provide you many marketing-related templates like content planning, social media calendar, event planning, A/B testing, etc. It is available online, which makes it available 24×7 at your service.
Mailchimp: Mailchimp is a freemium service that can provide you email marketing and managing facilities. This tool will help you in picking up leads and in maintaining a good professional relationship with your customers and clients.
These tools will provide some great features which can be very useful for you to like building shoppable landing pages, advanced testing tools, improved sales, and flexible plans with no code requirements.
It will give you an advantage in delivering good infrastructure and marketing platforms. Mailchimp is an application that will provide overview and tips on your business with additional features like insight, campaigning, and branding.
Slack: Slack is a world-class business communication online platform which is developed by Slack Technologies in August 2016. It can run on various Operating Systems like macOS, IOS, Windows, and Linux. It is a collaborating platform that offers IRC style features, responsive online chat rooms secured messaging, and group creation.
By using a special URL, you can create a private and secure communication workspace for teammates. You can also send automated notifications with user input and compatible frameworks and services. It is a reliable tool that you can use on any PCs and Mobile applications with an internet connection from any place.
Canva: The visual designs are also very important in the marketing world, and the Canva tool can provide that facility to you with some additional features like email headers and infographics. By using this tool, you can make the look of your sites more attractive and also give it the personal touch of your organization without requiring much knowledge of graphic designing.
This can be a great tool, especially for start-ups and new businesses. It is a very popular tool in the marketing business, and it can give you all the basic required designing facilities, which can help you to attract more customers to your organization and impress them with your designs. It can be the perfect content creation tool that your team requires.
Google Analytics: Marketing strategies require monitoring and progress. Many marketing companies use google analytics for monitoring and analyzing activities of their websites. It has years of experience in this field, and the brand name google ensures its promising services and functionalities.
Google Analytics will give you the on-time information about the visitors and customers visiting your brand's website and what type of operations they are performing. It can be a great help for your marketing team because the marketing strategies highly depend upon the information like this, and it will give you all these services with some additional features according to the current trend. This tool uses to get updated with customers' feedbacks and review to resolve every single issue related to their service.
Wistia: Wistia is a responsive platform for video hosting. In this time of lockdown and work from home, this tool can help your team to not only communicate but also host videos for your clients.
It is an ad-free service with an advanced player for giving you the best video quality. It also offers you some very useful features like video analysis and key metrics. This can help your marketing team to manage the video marketing strategies.
Final Words
All of the above tools can give you promising facilities on time. You can check out their alternatives as well to get more knowledge about their performance and customer reviews.
The success of any field or organization depends upon the efforts given by their employees, and you should be able to use these modern tools and facilities to your advantage. Since marketing strategy is a great deal and after-sales support should be a must lookout too.