Following part 1 of the Best SEO WordPress Themes published last week, here´s part 2 to complete the article.
31. Xmax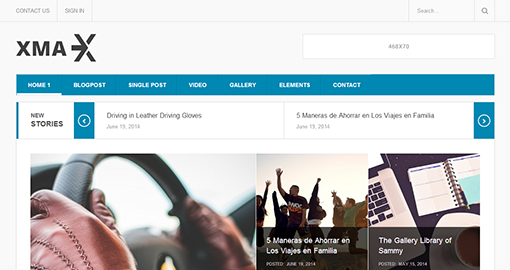 Xmax is another great magazine WordPress theme with clean, modern design and lots of great features. It is ideal for news, blogs and online shop sites. The theme is fully responsive, fast, HTML5/CSS3 ready and much more. In short, the theme is perfectly ready to mingle with SEO and would bring you good rank in less time.
32. Medicate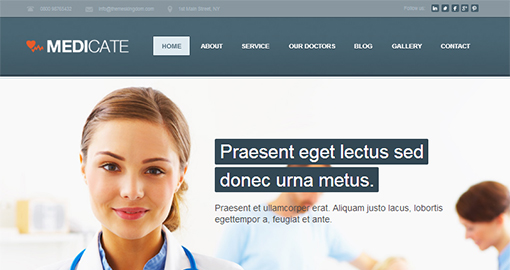 Medicate, as the name indicates, is a premium WordPress theme for Health and Medical websites and blogs. It is very efficient and comes with options like services, doctors, gallery, testimonials, FAQs, blog/news posts and pages. You will have an excellent time with it and search engines can also track you fast and easily.
33. Gamers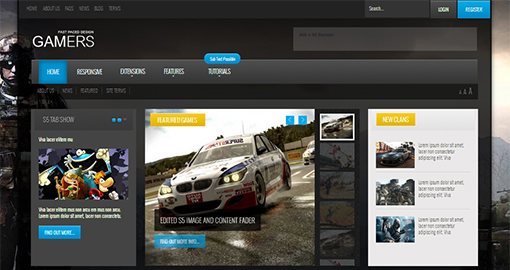 This is a dynamic gaming theme with lots of appealing visual elements that you can customize as per your style. It is very rich in features and offers you all the tools that are needed to make search engines and audience work in your favor. The template is a winner and you will like it greatly.
34. Cabanas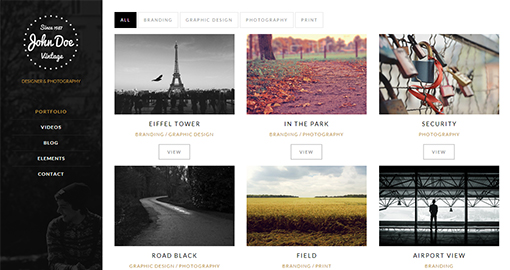 Cabanas is a minimalistic and multipurpose WordPress theme with fully responsive design and easy customization options. The template is fit as a portfolio for creative agencies and freelancers. It offers you an infinite number of options to style your site your way and all this is going to find favor with search engines.
35. Chapelco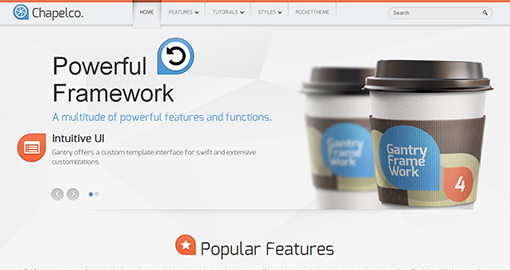 Chapelco is a very cool corporate theme that strikes the right balance between professionalism and art. It is very stylish and comes with a host of modern features needed to impress search engines and audience. The theme is a go-getter and would take you to great heights of success and glory.
36. Events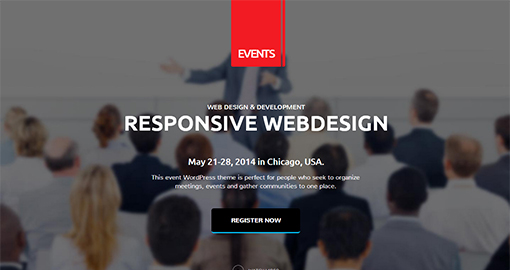 Looking for a theme that will make your events/conference site the center of attraction? Here is Events, a cool and powerful WordPress theme that offers to be the complete package for any organizer to get popular and earn credibility. It is very much in sync with the standards of search engines and thus, will easily cut ice with them.
37. TheHealth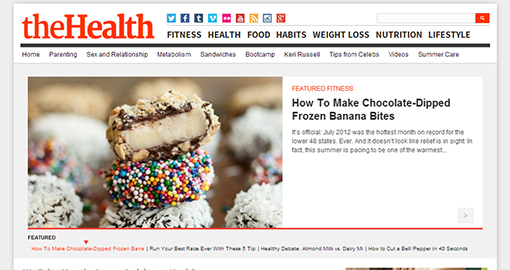 TheHealth is a clean, professional and pretty blogging theme meant for health and fitness bloggers. It is very user friendly and comes with all the support that can earn you good ranking from search engines. The theme provides optimum exposure to your content and always works for its advancement.
38. Diamond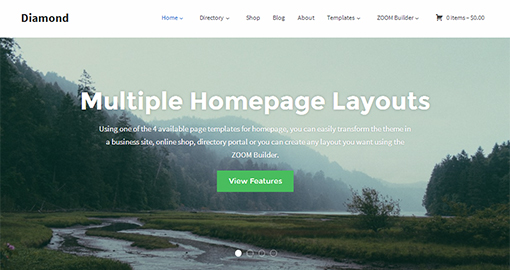 Diamond is a multipurpose theme but best serves as an eCommerce and Directory site. It is very performance oriented and comes with multiple homepage layouts, WooCommerce readiness, parallax slider, responsive layout and many more attributes. The template is a surefire way to success and thus, do check it once.
39. Skyting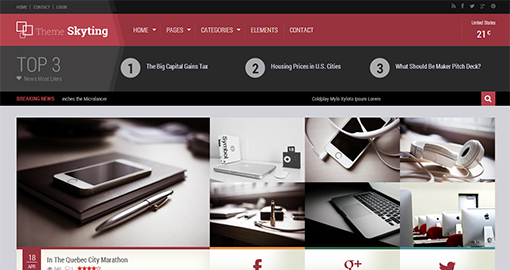 Skyting is a crisp and feature-rich magazine WordPress theme that makes use of HTML5, CSS3, jQuery and other cool techniques. It is very tidy and offers your readers a very enjoyable experience. The template can easily win hearts of search engines and place you on the top positions. So, go for it.
40. iCreative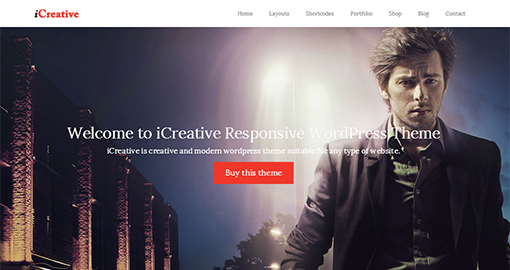 Perfect for agency, portfolio, online store, photography and blog websites; iCreative is a very commendable WordPress theme. It is fully responsive, beautiful, unique, creative and super flexible. It is a volcano of features and all of them have been designed to bring you in the good books of search engines and audience.
41. Business Pro
Fit for any business or corporate site, Business Pro is a very responsive WordPress theme with lots of great features and customization alternatives to help you customize your site the way you want. The template has 97 core theme positions, 12 custom widgets, social icons integration, RTL language support and many more attributes. It is a great template offer and definitely merits attention.
42. NewsTimes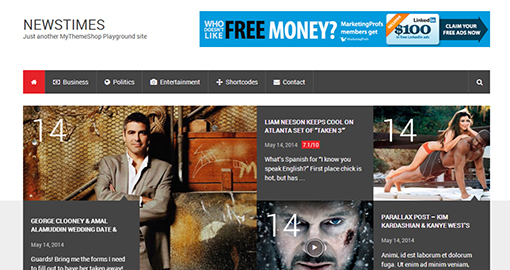 Churned out by MyThemeShop, NewsTimes is classic theme with pixel perfect design, ultra responsive framework, hand-written HTML5/CSS3, incredibly fast speed, SEO optimization and lots more. It has got review system, video post format, HTML5/CSS3 readiness, powerful options panel and lots more. With this theme by your side, you can easily climb the ladder of success.
43. Compass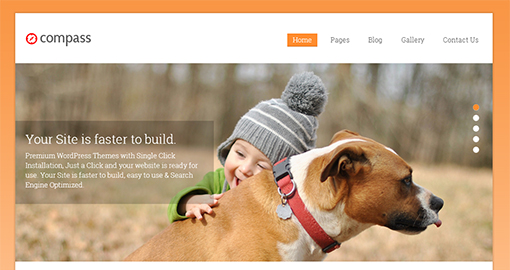 Compass is your ultimate guide if you want to set up a professional WordPress business site. It is very attractive, highly flexible and easy to operate. The template has got multiple image sliders, many page templates, animation effect and many more lovely features. It can easily impress you as well as the search engines.
44. Delivery Lite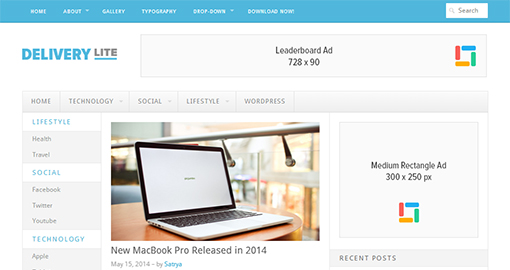 Delivery Lite is a very lightweight, fast and flexible WordPress theme that gets installed in seconds and performs out of the box. The theme is a hub of modern features and also offers customization alternatives so that you can have your site in your style. Just bring it home and you will watch the magic for yourself.
45. Apex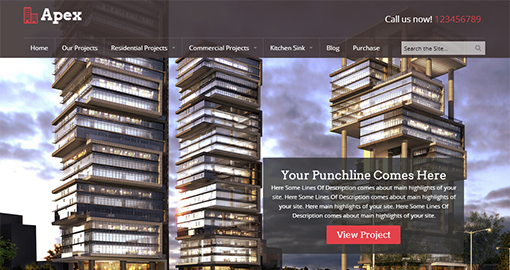 Apex is a mobile friendly construction WordPress theme that goes great with builders, architects and similar professionals. It is very competent and offers quick results to your customers and visitors. The theme is bursting with features like responsive design, cool speed, cross browser compatibility and lots more that are needed to impress search engines and get going.
46. Expedition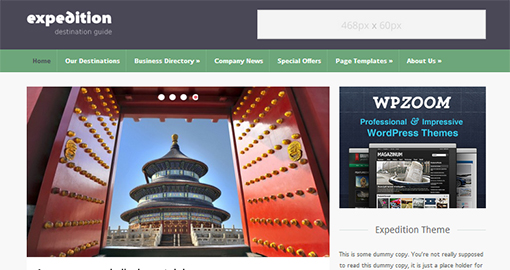 Expedition is a dashing directory theme that will easily gel with travel agencies, travel and city guides, review websites, etc. It is very efficient in designing as well as functionality with a strong ability to strike deep notes with search engines. The template is truly worth possessing.
47. Eat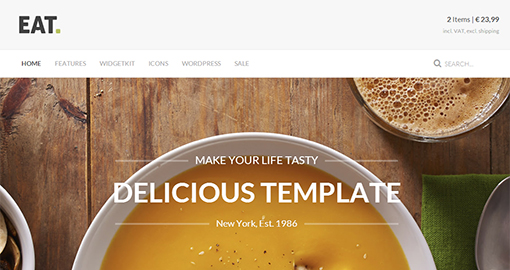 Eat is a fresh and feature-rich theme that comes with classy layout and many functional features. It is an ideal base for cafes, bars and eateries to promote their sales and build a strong brand in the cyberspace. The theme is no less than a show stopper and will easily bring search engines to take notice of your platform.
48. Alpha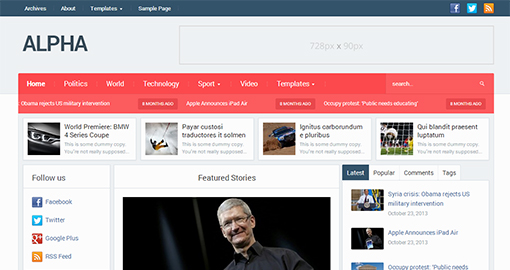 Alpha is a very alluring and effective theme that comes with two skins: Magazine and Newspaper. The template is loaded with all the modern features and carries every requisite quality that makes search engines fall for a site. It is certainly worth a demo.
49. Pin Grid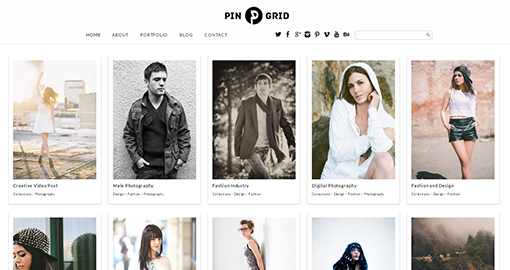 Need a modern and magnetic showcase that will present your work before maximum people? Here is Pin Grid, a responsive and minimal WordPress theme that would go great with any creative designer, freelancer or like-minded professionals. Its clean design, infinite scroll, cross browser compatibility and other features make it an instant hit with search engines and thus, you can easily get good ranking.
50. Video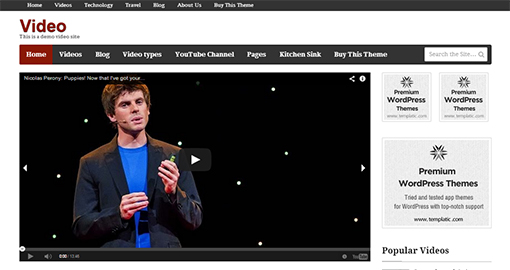 Meant for moving images, Video is a very lightweight and fast theme that also gives an attractive look to your videos. It lets you share from YouTube, Vimeo and other sites. The theme gives you all the styling options and customization alternatives along with a sound ability to impress search engines.
51. Rexus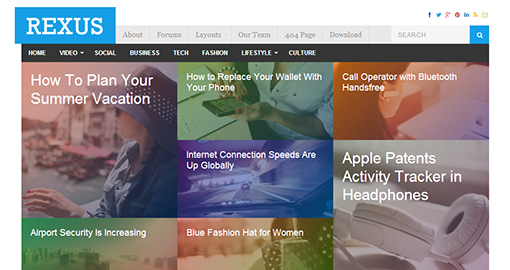 Rexus is a crisp and fresh magazine theme with a modern, elegant design and fully responsive layout. It is perfect for online magazines websites and comes with modern features like cross browser compatibility, social media integration, powerful framework and lots more.
52. Fatima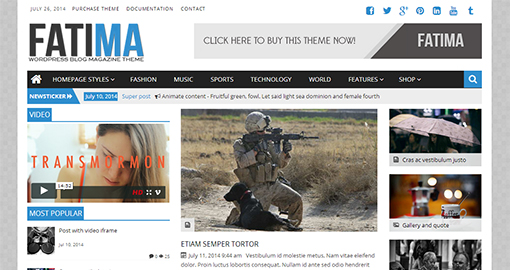 Fatima is a latest professional WordPress blog/magazine theme with responsive design, retina display, Google font integration and many more features. It is a perfect choice for all kinds of blogs and simple magazine sites. The theme is also SEO friendly and makes sure search engines index you properly.
53. Games Zone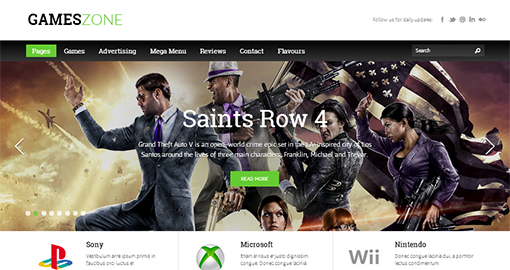 Meet Games Zone- a groovy gaming WordPress theme for anyone who wants fresh looks for their game magazine and blogging website. It lets you craft things in your fashion and offers every necessary tool that is needed to delight your audience and make search engines rate you highly.
54. EstateMag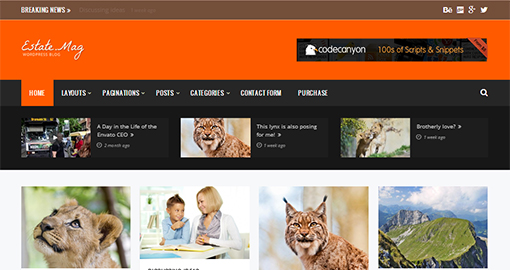 EstateMag is a super fresh blogging theme with professional design, customizable layout, 9 widgets, visual composer, awesome typography and many other attributes. The theme is very nicely coded and anyone, right from a novice to an expert, can use it with equal ease. You will definitely have praise for it once you take the demo.
55. AppTheme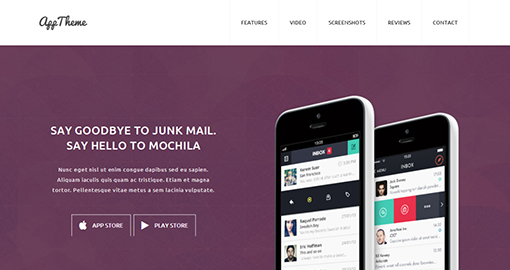 AppTheme is for professionals and organizations that are looking to promote their apps and software projects. This corporate portfolio theme, from MyThemeShop, is built to help you and your company showcase your work in a very effective manner on all viewing devices. It is very capable and can easily impress search engines into liking you.
That´s it! Thanks and in case you missed part 1, just head over to the link provided in the beginning of this post. Have a great weekend!