SEO is the lifeblood of websites and blogs without which none of the web platforms can hope to succeed in the cut-throat arena known as the cyberspace. With millions of web platforms vying for attention, it is really an accomplishment to get into the good books of search engines but anyone who has gone through this grind of impressing search engines knows what a task it is. However, if you are a WordPress user you can easily cut down on this task as the best SEO WordPress themes are here to bail you out. You can blindly bank on them for they know their task well.
Such themes use clean code which is very important in securing a good ranking. They are also responsive and take less time to load. Both these features are also significant in making search engines take notice of your work. Well, with SEO optimized WordPress themes, you can easily focus on your work and leave the rest to the themes. The themes are available in every segment be it eCommerce or news site and here is one such collection that will give you a good look into 55 excellent themes of WordPress with expertise in SEO. Take a look.
1. Schema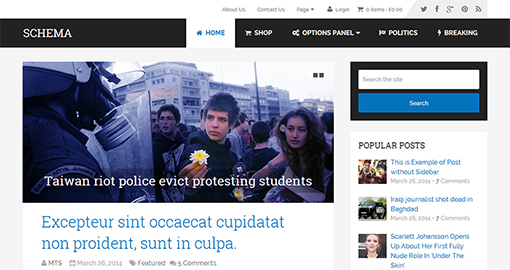 Schema, from MyThemeShop, is a very fast loading and ultra-SEO friendly WordPress theme. It includes responsive design, rich snippets, HTML5/CSS3 integration and lots more that help search engines to track your site in a better manner and thus, give you a good ranking. The template is bursting with features and its mouth watering price makes it simply irresistible.
2. The Flavour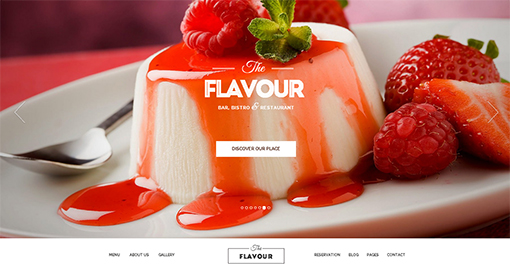 This is a fabulous theme for restaurants that want to create a popular online presence and sell more. The Flavour has got an animated HTML5 slider, responsive design, retina-ready display and all other attributes that are needed to impress search engines and make them give you good rating. The template is also easy for customization and you can control everything from the simple and friendly admin panel.
3. Solar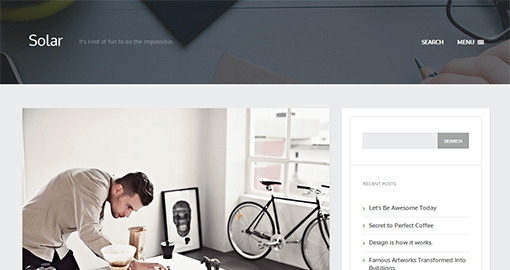 Developed by ThemesKingdom, Solar is a very simple yet strong theme that brings back the basics of WordPress very firmly. This modern theme is responsive, retina-ready, AdSense friendly, Google maps integrated and all those things that help SEO. You will find it very easy to operate and get everything that is needed to design the site of your dreams.
4. OnePage
Bang on target and raring to go, OnePage is a superb single page WordPress theme. It comes with a creative Drag and Drop homepage layout, unique blog layouts, AJAX loading, responsive design, clean, handcrafted code and many more fabulous features. The theme is really a treat and search engines will rate it very positively.
5. Newsmaker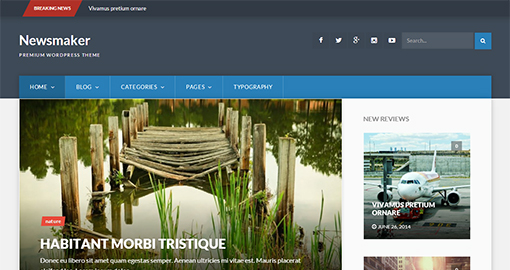 Newsmaker is a haven for writers, photo bloggers and all those who are looking to set up a content-centric site. It is fully responsive, clean and comes with great typography and readability. The theme is bound to bring an increase in your traffic and search engine ranking.
6. SEOTips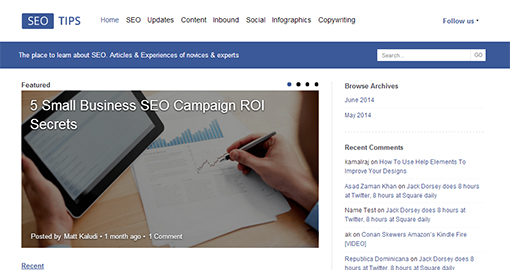 SEOTips is a lightning fast and sleek blogging theme that would easily bring you into the good books of search engines. It lays heavy emphasis on speed and SEO. The theme follows the industry standards like Google Pagespeed, Pingdom, Schema, Microdata and thus, you have got to watch it out.
7. Crossfit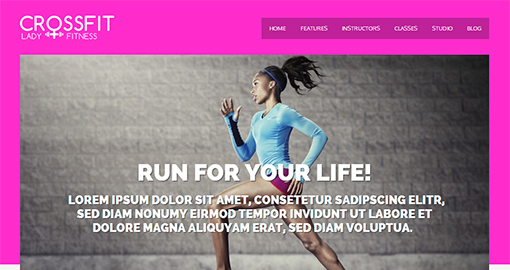 Meant for gyms, sport clubs or fitness centers; Crossfit is a cool WordPress theme that is super easy to use. It is a beehive of features and if harnessed right would wield great results in very less time. The theme is responsive, well-coded, HTML5/CSS3 ready and loaded with well-organized heading and all these go a long way in making your site SEO optimized.
8. StartingUp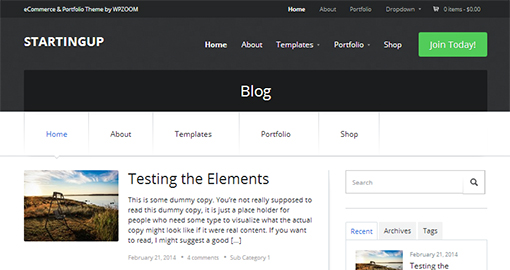 StartingUp is a multipurpose theme that can go great with a blog, portfolio, eCommerce or any other web platform. It comes with three layouts: dark, purple and azure blue and many more features that will help you impress search engines and get to the top. The theme is really simple and sweet; you will instantly develop a liking for it.
9. Osmosis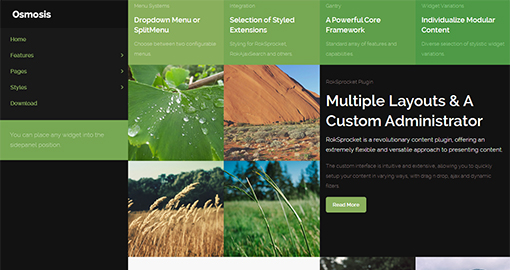 Osmosis is a very elegant and vibrant theme with full width beautiful backgrounds in the header and many more designer elements. It is flexible, well-formulated and technically advanced. You will find everything inside it that is needed to find favor with search engines. The template is a true companion for your website and you will have a great time with it.
10. Yopta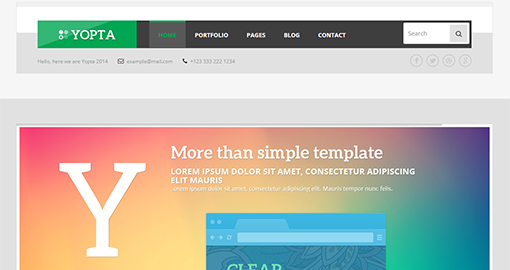 Yopta is suitable for blogs, portfolios, business sites, agencies and many other kinds of web platforms. This responsive theme is bursting with features like Revolution Slider, parallax effect, video support in blog posts, WPML compatibility and lots more. It is very smart and sure to appeal to search engines. Do, take a demo.
11. Philoxenia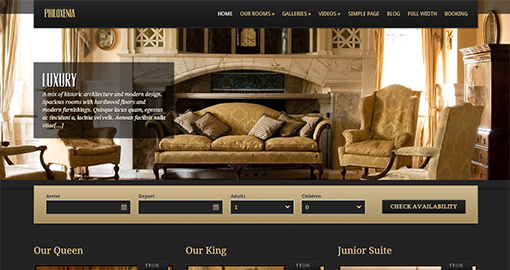 Here is a warm and wonderful hotel theme that goes by the name of Philoxenia. It is very attractive and comes with compatible features that are needed to impress search engines and customers. The template follows the best practices of WordPress and offers you everything on a platter. So, go for it.
12. BlackWell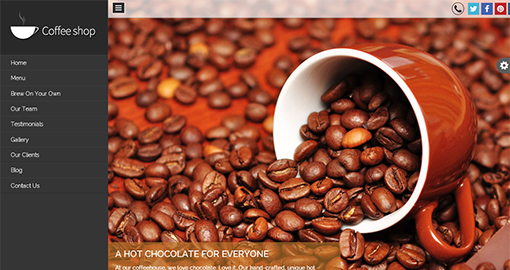 BlackWell is a cool single page theme with highly professional outlook. It gives an extremely eye catching look to your website and establishes your business very effectively. The theme has got responsive design, full-width slider, dynamic sidebar, three column feature area, video section and many more attributes. You will really like it and so will the search engines.
13. GoMedia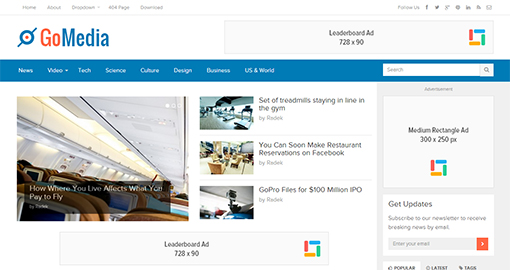 GoMedia is a very content friendly theme with a modern, elegant design and fully responsive layout. It is perfect for online magazines websites, news websites, personal blogs or community blogs. The theme is very compatible with search engines and ensures maximum visibility via smart design and XHTML valid code.
14. Velocity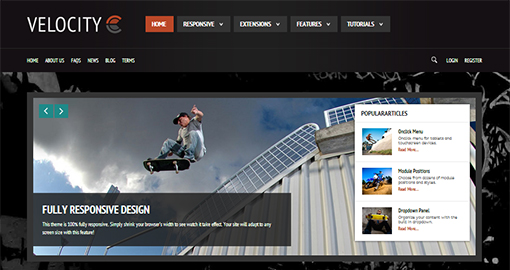 Loaded with simple design and rich features, Velocity is a great WordPress theme for a magazine or news style website. It is very easy to customize and fits well on all screen sizes. The template is very smart and understands the importance of SEO and thus, carries every cool attribute in its arsenal that is needed to rank well.
15. BlogPress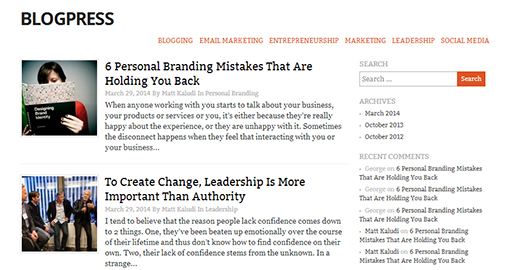 Speed and SEO are the focal points of BlogPress and thus, it is extremely fast. The theme is also well designed and gives you all the styling elements and functional features that are needed to make your website unstoppable. This template definitely deserves to be taken for a test-drive.
16. New Maxx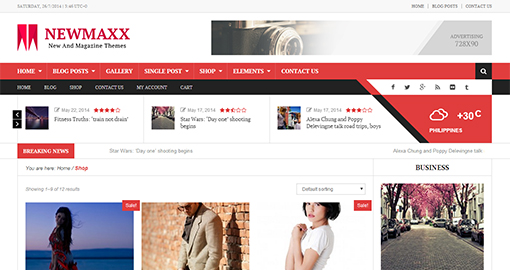 Fully-furnished and flexible, New Maxx is a modern and intelligent theme that comes with clean design, crisp and well structured layout. It supports images, galleries, audio and video. The template has got multiple layouts, post format support, responsive design, featured posts slider, cross browser compatibility, shortcodes and lots more.
17. Monospace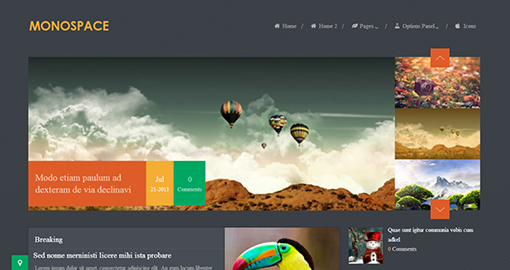 Made by MyThemeShop, Monospace is a very unique, multipurpose and multifunctional WordPress theme. It is well designed and fully customizable, with unlimited color variations and tons of modern features that can take your site to great heights. You will really like this theme and have a great time with it.
18. Newsplace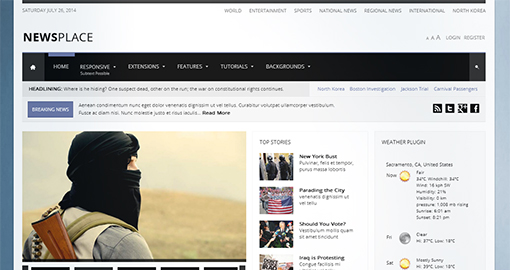 Studded with a clean, simple layout that gives focus to your content and images, Newsplace is a super strong WordPress theme that can easily make way into the hearts of search engines. It carries a long list of useful features that will make your work easier and bring lots of praise from the audience.
19. Real Estate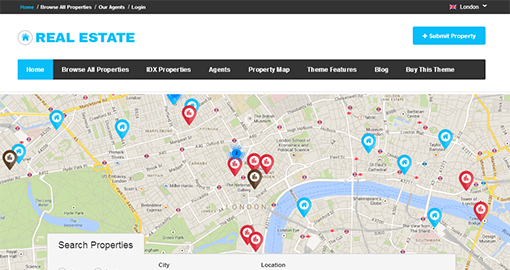 This is a directory theme that caters to the real estate market. It is very nicely designed and offers you extensive monetization and management possibilities. The theme follows the SEO standards and has got everything that is needed to find favor with search engines.
20. MisterBlogger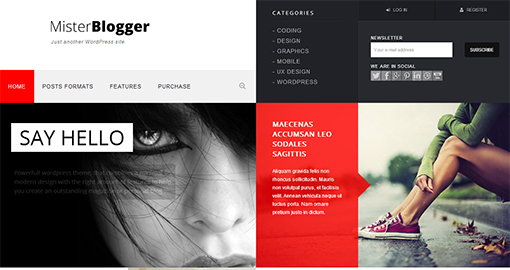 Looking to create a striking magazine site or personal blog? Here is the premium and powerful MisterBlogger that comes with a clean and minimalistic style. It is very flexible, easy to customize, well documented and all those things that make search engines take quick notice of your web platform.
21. Scroller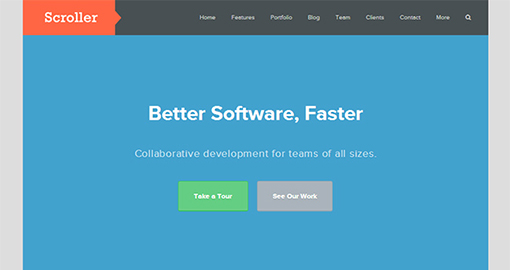 Looking for a neat, flexible and fully responsive WordPress theme that can serve multiple purposes with equal ease? Here is Scroller, a cool theme that goes well with business websites, online studios, portfolios and other kinds of web platforms. The theme uses clean handcrafted code and has got everything you need to strike a chord with search engines.
22. Interakt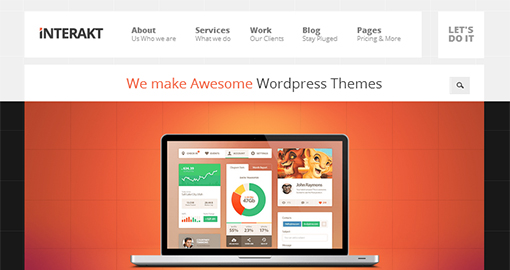 Here is a modern and magnetic theme that would suit agencies, corporate/business firms and creative studios to a T. It is very customizable and easy to use, with all the contemporary features fitted in its body that make visitors and search engines take notice of your work/services/talent.
23. TechSavvy
TechSavvy is a top class theme with modern design, lightning fast speed, SEO optimization and many other great features. It follows the latest WordPress standards and practices. The template has got all the cool features one needs to create a modern website and thus, you should definitely look at it once.
24. Magma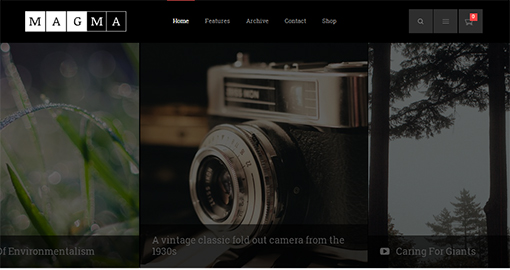 This is a very cool and clean WordPress theme that is suitable for magazine and similar sites. Magma gives a clean look to your site and attracts readers in seconds, giving them everything that they need to stay tuned. The theme is very advanced and score high points with search engines.
25. Novelty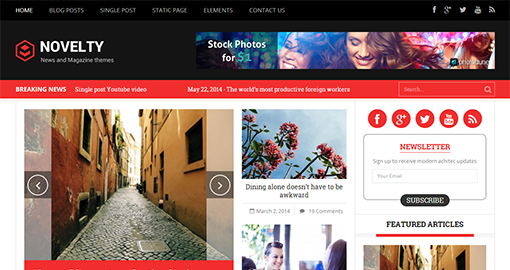 Loaded with HTML5, CSS3, valid code, responsive design, cross browser compatibility and many other great features; Novelty is an instant hit with search engines. This theme is perfect for blogs, news, magazine websites and similar content-centric web platforms. It is all those things that a quality theme ought to possess and hence, you must check it out.
26. University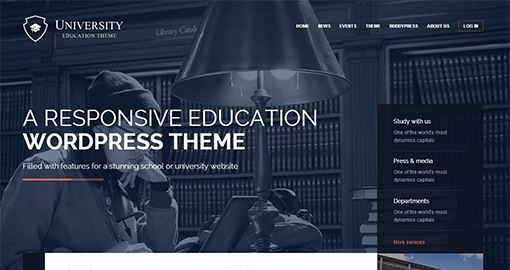 This theme serves the education niche and comes loaded with a clean, unique design and lots of features. University is integrated with BuddyPress plugin and hence, you can easily build a bubbling community around your site. It is also SEO optimized and leaves no trick unused to impress the search engines.
27. iShopp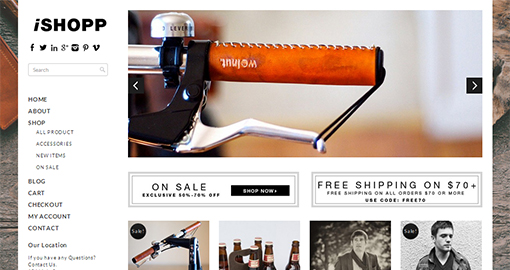 Possessing clean design and minimal layout, iShopp is a WooCommerce enabled responsive WordPress theme. It is fit for an online shop as well as other kinds of websites. The theme is very rich in features and if you want you can also customize it to suit your needs and requirements.
28. Bambino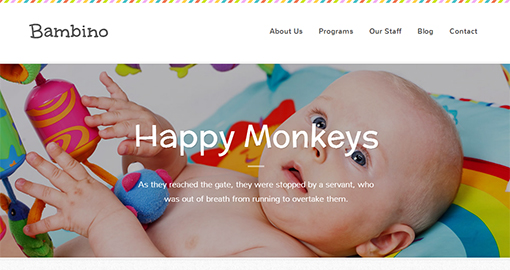 Here is a cute and colorful theme for kindergartens, day cares, nurseries and babysitting agencies. This children theme is loaded with all the contemporary features and comes with lots of features that are needed to increase audience inflow and make search engines take notice of your services. It is a smart way to create an online business presence and will wield quick profits.
29. Stratos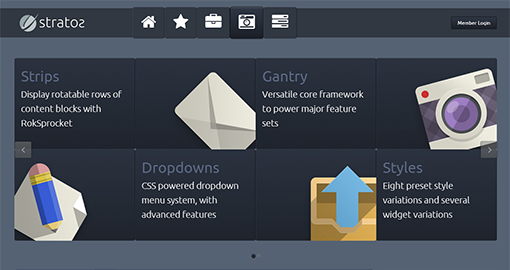 With visually interactive design, CSS transformations, 3D effects and top rate functionality; Stratos is a super strong and sexy theme. It is very up-to-date and manages to make heads turn as soon as they take a look at your site. SEO is also a prominent feature of Stratos and helps you climb the ranking ladder with a good deal of ease.
30. MagXP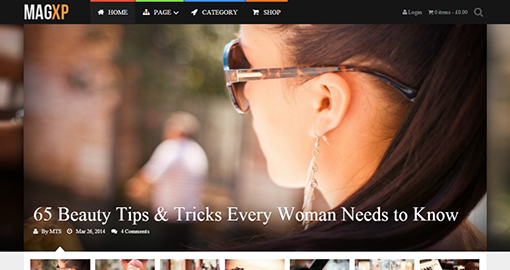 MagXP, from MyThemeShop, offers itself as the ultimate Magazine WordPress theme. It is very friendly, flexible and functional. Its 4 homepage layouts, the options panel, responsive design, Google fonts and other features make it a cut above the rest and give it great power in the SEO department.
That´s it, for now! Stay tuned for the part 2 of this post. See you soon!