Unless you are new here, you might remember that not so long ago I have introduced you to Fiverr, a marketplace where you can buy or sell consulting services (or anything), jobs, gigs or just about anything for a flat $5. Today, aside from giving you a quick update on how my experience went along with that service, I will also introduce you to yet another two recent marketplaces where you can do exactly the same thing (whatever you are good at), but with different prices. First things first.
Fiverr Experience:
I tried being on both ends on Fiverr, one as a seller and one as a buyer. I was either lucky or had a sharp eye as I was able to create a gig (offered a service) that generated $44 in a very little period of time, about as easily as getting payday loans, with virtually very little effort and I've already got paid (via PayPal). Not much you might say, but hey, every bit counts, right? Anyway, on another occasion I hired a "writer" to write a post for me and the article was perfectly written and it cost me only $5. This article generated me some profit too.
The Gigs I sold:
I am not going to tell you exactly what I did, but here is a hint. I imagined what I wanted to do for $5. Actually I came up with almost nothing, lol. Dug deeper and said to myself, what is it that I charge a month that I can do for X days and at the same time could be worth $5? Well, as you all probably know I have more than one website, over 20 right now actually. On one of them, good traffic and PR3, I charge somewhere in the neighborhood of $35 a month for an ad space. That said, I started to offer to display ads on that website for 3 days for $5 (4$ net). Cheap and a good test for an advertiser. Behold! (see below):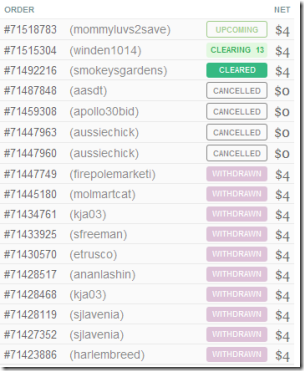 Good test for an advertiser, because three of them actually purchased a full months advertising on my website. If you notice, I had gigs cancelled because I did not deliver. I had so many running that I no longer had space left and therefore lost some. Bad management I guess :).
The Gig I purchased:
On another different website, I had an advertiser who requested for a paid review of their online shopping site. I proposed to charge them $XX (prefer not to disclose) for the review and they accepted it. Following their confirmation, I saw a gig on Fiverr from a guy who said that he would write 450 – 500 word professional article for the flat fee of $5. Did not think twice, said to myself, hire him and we'll see how this goes. To my surprise, the article was absolutely fantastic. So, I made the guy happy and I in return, profited a little.
As you can see, all you need is a little imagination and make it work for you. I am sure that you are able to "find" that little something that you are good at and within the process make an extra income out of it. At this point you might be saying, yeah $5, that's nothing. OK, so here goes:
Enter JobsFor10 and GigsWood (not affiliate links)
GigsWood.com: Gigs Wood is a place where people come to share their talents, skills, and knowledge with one another and make an extra income by doing so. It works exactly the same way as Fiverr, the difference being that the prices are $4, $9, or $19 respectively. Payments are also via PayPal and a small commission of $0.55, $0.75 and $1.25 are charged in accordance with the amount as stated previously.
JobsFor10: As the name suggests, everything is for $10. But this has changed recently to level up with competition and prices are now $5, $10 and $20. Think there is something you can do for $20? This is the right place to start. Payments are also via PayPal and they charge 20% commission for every transaction.
There you have it. Put your imagination to work and maybe you can rack in some extra income for you. Remember though, everything starts with how you market your "gigs". Make them compelling and once hired, do a good job and deliver your orders promptly. By doing this you will get a "thumbs up" from the community. The more the community is satisfied with what you offer, the better positioned your "gig" will be at their marketplace. All this equals more $$ opportunity. Good luck!
Have you used any of these services before? What is your experience? Share it here with us.