Web hosting has been an important necessity in today's online business world. Choosing between good and bad, free or paid, is not as easy as it was before. There are so many factors that we have to be looking at to make a well informed decision, that most of the time we tend to incline ourselves with choosing the "free" ones or the "cheapest ones".
The fact that there are so many web hosting providers, basically offering the same "services", makes it even harder to make a quick decision, as to which service would be the right fit for your hosting needs. In my case, I started from a free service and then shifted over a "shared-hosting" service. Today, I am again considering changing services as my current needs have changed. Like me, as time goes by, your needs change, due to a number of reasons, and for this, a proper analysis and research is always a wise move.
So the question is, what should you be looking for to help you make a decision?
The obvious would be to ask people that you know. This is a good method as they already have the experience with their services and can give you a heads up of whether they are satisfied or not. The problem with this method is sometimes they too may not be satisfied with their service. At the end of the day, you end yourself with looking at several options and get confused.
To help you make an informed decision, you can obviously do some research around and continue on reading this post, as I would like to introduce you to SiteGround´s hosting services. There are also many other Siteground overviews you could research before making the final decision
First, let´s look at some decision factors that I consider, among other things, relatively important to look at before anything else:
WP Specialized Hosting Environment
WordPress Support (along with hosting support)
Speed and Reliability
Security
User Interface and Ease of Use
Tutorials and additional Tools (such as staging, WP-CLI)
SiteGround´s Web Hosting Highlights
WordPress Expert Hosting
As you probably already know, WordPress is one of the platforms that is the choice for many bloggers, website owners and in some cases even eCommerce sites.
There are people that classify WordPress as just a blogging platform. Maybe a long time ago it was, but WordPress has evolved into a versatile content management system (CMS) and now powers more than 60% of all CMS platforms combined. That´s roughly 23% of all websites in the world. Obviously, you can still use WordPress to create a simple blog, but you should know that it also allows you to create fully functional websites and mobile applications. So why am I telling you all this? Well, the first and obvious reason, is because I am recommending using WordPress as your CMS platform.
Second is because of SiteGround´s Premium WordPress hosting service. Aside from being very affordable, their WP hosting comes with servers specifically optimized for WordPress and a lot of cool and important features to additionally improve the performance of your WP site. SiteGround are fanatics when it comes to support, speed and security. But let me tell you why this is important for you.
Support that goes beyond hosting
You got a technical glitch with your website and you need help (its down, you got hacked, you need a backup restored, you got malware somewhere, etc.). Whom will you seek for help or advice? Common sense dictates that you should first ask for your hosting company. This is where the all important technical support feedback is your only friend.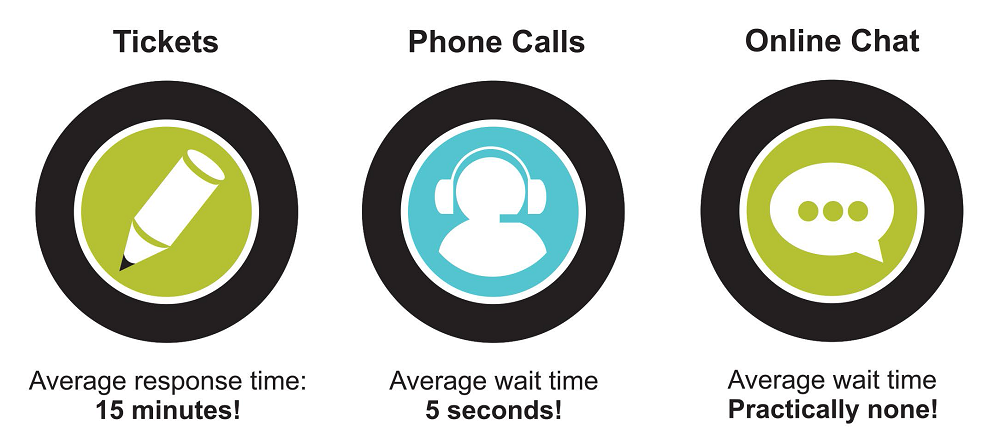 SiteGround is available 24/7 on phone, chat and ticket. Above you see the actual waiting time for each channel and let me tell you this is incredibly fast compared to other hosting companies. What is more in contrast to standard hosting providers who will turn their backs on you when it comes to a WordPress related question i.e. a trouble with a WP plugin, SiteGround's support team will definitely help you with it – https://www.siteground.com/support
Speed and Reliability
In addition to offering a free CDN, which makes your site load faster, SiteGround has an in-house caching solution – the SuperCacher. Not only does it significantly boosts a website's loading speed, which as you know is extremely important for your visitors, it can also help your site rank better on search engines. Now, the interesting bit is that this solution is already built-in their service, meaning no additional software or plugin is required.
SiteGround strategically offers three data centers to choose from – US, Europe, Asia depending on where most of your website visitors come from. This guarantees fast connectivity with minimum connection drops.
In order to increase the reliability of its servers SiteGround relies on another in-house solution which monitors servers constantly and is actually capable of fixing majority of issues without any human interaction. Just check out the uptime they have, amazing http://www.siteground.com/uptime
Security
SiteGround is security conscious and they do boast a unique security feature that I have not seen quite yet on Shared hosting services.

One of the interesting features of SiteGround´s security is that in a shared hosting environment, when one site is attacked/hacked, there normally is a great danger that all other websites within that shared environment could be, affected. SiteGround´s unique security mechanism isolates server accounts from each other, in that it prevents a single vulnerable account from affecting the whole server. This approach makes their shared hosting environment as secure and cost a fraction from its other peers. And btw, when there's a new exploit they usually patch things immediately instead of waiting for the official fix to come out. That´s what I call being proactive.
WordPress Automatic Update – Updates are also very important for keeping your website secure. Outdates software versions are easily affected by vulnerabilities. WordPress and Plugins are constantly updated and Siteground has an auto update feature that does the heavy lifting for you. No need to hire anyone to do that for you either, in case you don´t have the technical knowledge to do so. They will advice you 24 hours before they do the update so you can skip the automated process if you so desire.
User interface and Ease of Use
As I mentioned earlier. I have other hosting accounts, and SiteGround´s cPanel is one of the most user friendly I´ve seen so far. Need a fresh install of WordPress? No problem, just use the "WordPress Autoinstaller" and you are good to go. Or, you can also use their sitebuilder wizard and you are good to go.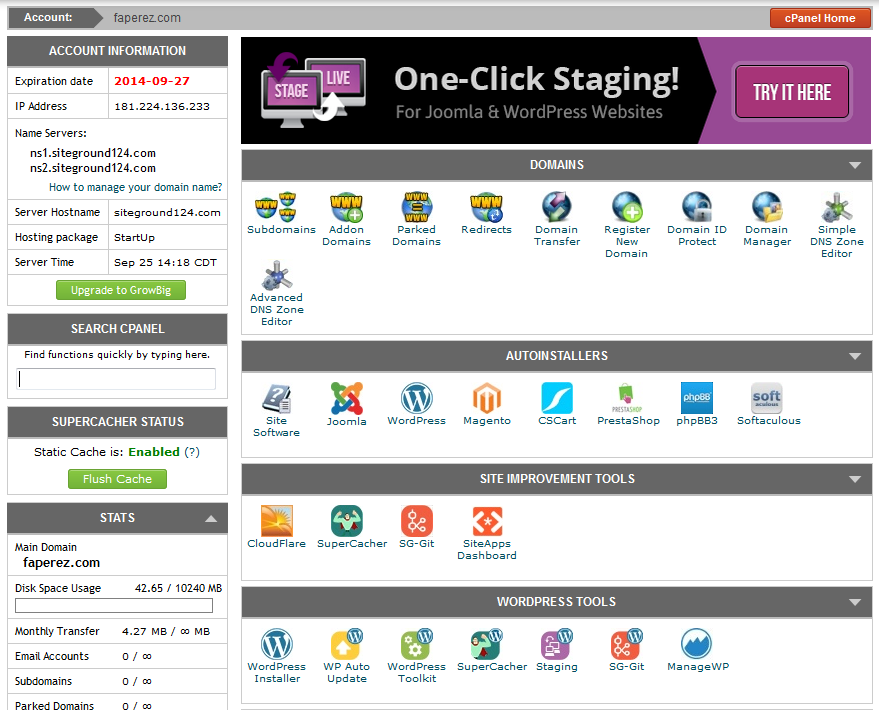 Not quite convinced, watch the video below.
Also, if for some reason you don´t like WordPress, there are autoinstallers available for joomla, Magento, Prestashop (great for eCommerce) and more…
Tutorials & Additional tools –
SiteGround provides and extensive base of tutorials for WordPress covering all topics from WordPress installation to Managing plugins and advanced tools. And to makes it even easier for the user SiteGround also provides video tutorials. You can take a look at their tutorials collection here: https://www.siteground.com/tutorials/wordpress/
SiteGround provides advanced wordPress users with more geeky features such as the SiteGround Staging tool (available only to GoGeek clients) which allows you to create a copy of your website and make changes on the staging copy instead on the live website.
The Pros
Well, I guess everything I mentioned above pretty much sums up what the positives are by using SiteGround. One thing I have not yet said is that SiteGround is not a new kid on the block. They have been in business for more than 10 years and are hosting more than 300 000 domains.
In addition, SiteGround allows for one to grow as your requirements increase over time. Start with a StartUp plans for a simple blogs and go higher depending on your needs. For developers, for example, they have additional tools – Git, staging, WP-CLI, in addition to cloud and managed dedicated server solutions.
The Cons
Not everything is paradise in SiteGround´s land. While pricing are quite affordable, the better choices are a bit high, despite being still reasonable. Bear in mind that it all depends on what requirements you realy have for your website. Do pay attention on some of the "upgrades" as they may sum very quickly. Be sure you really need them. As an example, if you just have a normal blog, you are probably good on exporting your data and rely on their basic backup feature. You don´t need to go premium. For large, complex and ecommerce sites, then that option is definitely worthwhile.
Conclusion
Anyway, from the business owner to the individual who desires full functionality on a small budget, SiteGround provides your complete web hosting solution. Overall, I think that SiteGround is an excellent choice to consider. Obviously, you can do all the research you want, and I encourage it. Ultimately, I hope that this article will provide you with some information that can help you make a well informed decision.
Good luck and to your success!