To make money online, you need traffic. To get traffic, you need content. Now where have you heard about this before? Needless to say that content is one of the most important part of all your blogging efforts. This is particularly true if you are monetizing your blog or blogging for business. However, come a time when the need of creating content meets writer's block. Not sure what to write, not sure where to start, and you keep thinking and thinking and nothing, nada, zero. You just can not get that magic click of what to write next.
What can you do to beat writer's block?
If occasionally you suffer from the Writer's Block Syndrome (WBS), sometimes, the best thing to do is just have several cups of coffee (beer if you prefer), blog hop, make comments, have fun Twittering, and clear your mind. But hey, you are stubborn and determined to write something. You are afraid that you are lagging behind your competitors and you must post an article, at the risk of killing your blog. Should this be the case, here are some tips to help you source content for new articles:
1. Your old articles: These will include your archives of articles that you have published in the past. It is very easy to go through them and If you have been blogging for a while, chances are, you have written some articles that needs updating. Review some of your older posts and see whether there are outdated information where you can provide a newer or fresher version of the events.
2. Comments: Check your comments and look for possible hints to prepare for your next article. Sometimes people leave questions and even suggestions that are worth exploiting. What better article to write than those that your own readers suggest? You can also visit your favorite blogs and browse through the comments section. The same method applies.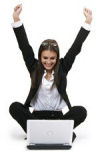 3. In the mood: Contrary to writer's block, there are days that you are on the roll. Take advantage of that vitamin and write as many posts as you can. Make them short (250 – 400 words) and schedule them for publishing. Those days can easily rack 3 – 5 articles in a snap.
4. "Top 7" or "List of" Articles: Everyone likes content they can read very fast. Why not create top 7 lists (or any number of "Top" things) related to your area of expertise. You can begin by creating a headline such as "Top 7 Blogging Tips For The Newbies" and then number the list from 1-7. Come up with a sub-headline for each tip and then do one paragraph describing the tip. You'll find these are easy to produce and crank out several of them per week.
5. Forum Posts: If you belong to a few forums that you might call yourself a "resident expert" on, chances are that you have made forum posts that can be easily converted to a blog post. All of your old forum posts that are greater than 250 words in length can be a source for great new articles that you can put into distribution and create more traffic.
6. Keyword Research: Google Insight or any keyword research tool can discover topics that people are currently searching for that can be related to your area of expertise. Use this as a springboard to launch another article, each related to answering or providing short tips on how to solve or get more out of the keywords they searched for.
7. Free Articles: Article directories can be great sources for ideas. Go to some of the best article directories and browse through the area you are interested abut and sort them by "freshness". Scouring through these directories can easily provide you with some ideas to write about, in your own voice.
8. Ask a series of questions. Stuck? Rather than writing an article, why not brainstorm a list of questions your readers are most likely to wonder about. You can for example ask anything from blogging questions to experiences they had with Google+. Obviously it would be wise to answer them. Depending on the amount of responses you get, this is a very simple way to turn a series of questions into reports or perhaps even fresh ideas for new blog posts.
9. Don't obsess about writing something. Try avoiding the "I must write something" the first thing you think about in the morning. It could be very depressing, specially when you are not inspired. If you can't really think of something to write about, spend your time interacting with your friends, commenting, etc. Perhaps you can even pick up something you left undone on your to do list. That could be a great time to tackle on things you have pending. You may be surprised, that sometimes just by not thinking of having something to write, is when good "ideas" pop up. When that happens, go for it 🙂
10. Social Media. Sites like Quora, Mahalo, Twitter and even Google+ have many people asking for help or questions. Perform a search about topics that are related to you and scan through those. You might just find something that can spark an idea and get inspiration. Sometimes, responding to "real" questions is easier than second guessing.
11. Interview someone. Reach out to known bloggers and interview them on their topics of expertise. Preferably, the interview will be about something that is relevant to your topic. Conduct the interview via email, Skype, podcast, etc. Then construct a blog post around it.
12. Create Videos. OK, not really a writer's block breaker, but you can take advantage and perhaps create videos of a "how to something", by transforming a popular article you have to a PowerPoint presentation and then to video. Not only you are generating content, you are also getting the advantage of marketing your site on a different medium.
That's it! I wrote this post precisely because I had this syndrome the last couple of days. I have to admit that it is a horrible feeling, wanting to write something, had some ideas, and yet that keyboard is just starring at you waiting for something to happen:) What about you? Have you suffered this syndrome before? What did you do to beat it?