Hi everyone! Hope you all had a great and productive week. Undoubtedly, this weeks most noteworthy SEO news is that of Matt Cutts post about guest blogging. In case you've missed it, Matt has literally said he had enough of guest blogging and that you should "stop" ASAP, if you are using this practice as part of your link building campaign. There is a big discussion about it (as you would imagine) on the comment section of his blog (400+ and counting).
New blog post: The decay and fall of guest blogging http://t.co/P0BnRufnKQ

— Matt Cutts (@mattcutts) January 20, 2014
Here's an excerpt from the post:
Okay, I'm calling it: if you're using guest blogging as a way to gain links in 2014, you should probably stop. Why? Because over time it's become a more and more spammy practice, and if you're doing a lot of guest blogging then you're hanging out with really bad company…

…So stick a fork in it: guest blogging is done; it's just gotten too spammy. In general I wouldn't recommend accepting a guest blog post unless you are willing to vouch for someone personally or know them well. Likewise, I wouldn't recommend relying on guest posting, guest blogging sites, or guest blogging SEO as a linkbuilding strategy.
Here's one response from Matt on his comment section:
Several years ago, I would have said that the default answer when someone proposed doing a guest blog post would "yes." However, with the rapid rise of low-quality or spammy sites trying to build tons of links via guest blogging, so I'd say that the default answer now should be "no." Of course, if you know the person writing the blog post well, or want to vouch for them, or if the author is happy to nofollow their links, then that changes the calculation–it's much more likely that someone is looking for a new audience instead of a way to get keyword-rich links.
So, is guest blogging over? For SEO purposes, I guess what Matt has said is pretty much self explanatory. Nonetheless, guest blogging for the purpose of gaining new audience and tapping in quality traffic is still at play, and I believe that links from guest blogging can still increase a sites domain authority and ultimately still help a bit on SEO. The thing is, keyword rich anchors with dofollow links will most likely be devalued, specially if it comes from a low quality site. Let's see. Maybe, rather than "guest blogging" perhaps one of the ways to go for is be a regular contributor of a quality blog. What do you think?
Does Facebook and Twitter signals impact on rankings?
This week on GoogleWebmasterHelp, Matt answers to a question that for the time being puts to rest the question of whether or not Facebook and Twitter signals are part of Google's ranking algorithm. As it so seems, for now, not yet. He mentions that it may appear on search results because they do crawl them, but as far as using "likes and retweets" as part for the ranking formula, it doesn't. There you go!
Social Media Traffic Referrals
Shareaholic recently published their Social Media Traffic Report of Q4 2013. This report highlights the traffic referrals from major social networks and is quite interesting to see where they are coming from their findings which are based on four months of data collected from over 200,000 websites which a reach more than 250 million unique visitors each month. Note that Facebook and Stumble Upon continue to be a big source of traffic, while interestingly, YouTube has dropped significantly. You may want to use this data for your Social Media Marketing strategy.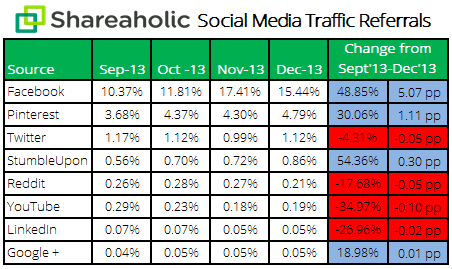 And as usual, in no particular order:
Content Creation & Marketing/SEO and Search
16 Ways to Get the Content Ideas Other Bloggers Haven't
Social/Small Business Bites
More recommended read!
That's it! Enjoy and have a great weekend!