Google+ is a fast growing platform that, a lot people have to say, has already outranked Facebook in terms of SEO value. There are studies to show that content that received many "plus ones" is more likely to rank better on the SERP (even beyond Google) than the ones that had been 'liked'. And yet, some confusion is often noticed amongst Google+ users. This may be caused by the use of 'Circles' which makes Google+ a very different animal than the other platforms where friend requests are sent and received or ignored. It may be confusing to find that someone has added you to their Circle – how the heck can they do that? And do you have to add them back? And is it the same as being 'friends' with them?
Even though this article is not about how to use Google+, we thought we'd clear this bit up a little before proceeding. Circles are a little like Facebook groups and friends lists put together. They are groups where people can add you – you don't have to add them back unless you want to, but it is decent to acknowledge the 'add' by interacting with them (if you consider them valuable). Your circles can be restricted – people from one circle will not necessarily have access to material posted in other circles – your school friends need not be privy to your interactions with your office colleagues – and so on. This is the best we can do for now, but once you get to using Google+, the rest should be easy.
As for the 5 bad practices that you should avoid – they are really nothing too unique. You should avoid them on all social platforms, but like we said, we suspect the nature of Google+ confuses people and makes them prone to errors.
Let's take a look at the problem areas one by one.
1. Bad Profile
People like to know who you are. And your name is not enough, neither are your name and photo. Where do you work? Where did you study? Do you contribute in any form (like writing, for example), anywhere? Unless you include concrete, verifiable details about yourself, you would not appear real. Consequently, people would be wary of connecting with you. Also, make your profile short and interesting – and not a concise bio-data. Let people be interested in you enough to find out more about you – don't overwhelm them with information they didn't ask for. Include keywords in your profile you wish to be found for, but focus on a natural and pleasant writing style.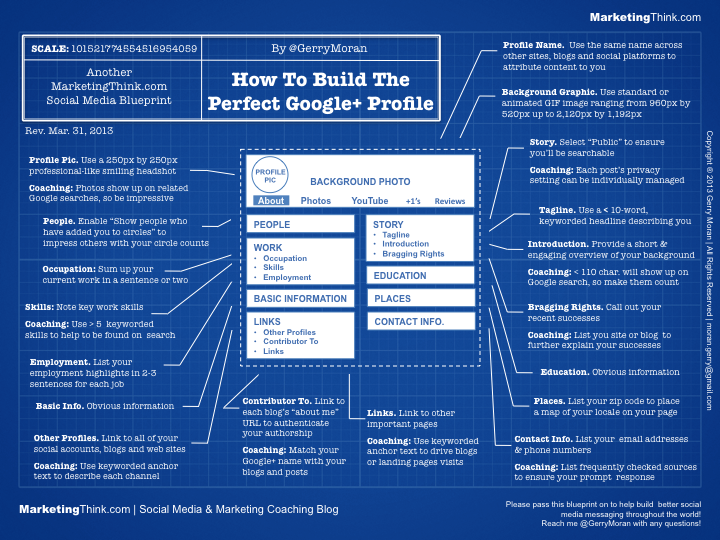 image credit: marketingthink.com
2. Bad Posting Habits
Make a few public posts, or you will appear too full of mystery to connect with. It is unnatural when a person is on a social platform and has nothing that will not hurt to share publicly. Such people are either of questionable intent or very private – either types to be normally avoided. Present yourself with a distinct personality even to strangers. Also, post regularly (doesn't have to be publicly), or you will vanish from view and lose relevance.
3. Bad Interactions
This is a social platform, and in spite of how it may be special or different, the primary word is 'social'. If you focus only on your own posts, why would people want to connect with you? Please make sure that you interact properly by sharing and doing "plus ones" on other people's posts and generally, by taking an active interest in what goes on in your circles and even elsewhere.
4. Bad Sharing Etiquette
You can share by dumping a link or you can add your comments. It is not compulsory that every link you share must have a detailed commentary, but if you keep sharing links without so much as a word of explanation as to why you found it worthwhile to share, people will soon lose interest in you. Remember that this is not Twitter – you are not limited by characters, and brevity is a virtue on Google+ only when it makes your post more succinct.
5. Bad Attitude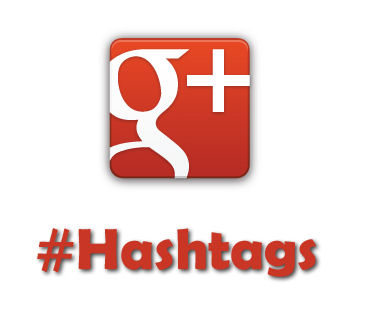 You are important, we have no doubt about that. Everyone counts for something. But it is best not to bear that in mind too keenly when you are on a social platform. You can notify people of your posts by making use of the 'send email to' button and you can let your posts be found by using hashtags. These are useful features, to be used with caution. If, for some reason, you begin to believe that all or most of your posts are important to others, you could be in for a very rude shock. It is possible to 'mute' you, and when that happens, it will be as bad as being 'blocked' on Facebook. There are better reasons than a misguided sense of self importance to ensure that you lose connection with people!
And finally, don't forget to put the Google+ badge on your site so that people can plus your content. That's more or less it – just as we promised, very similar to what you'd do or not do on other social platforms, and nothing that should require a great deal of effort.