It won't be exaggeration in the least bit if we called content marketing the new and economical Search Engine Optimization. When done right, content marketing can help your business achieve the majority of SEO goals. Good content when marketed strategically will widen your base in the target consumer circles, build brand awareness, increase customer engagement with brand, and keep you in the limelight through content exchange and sharing on social media sites.
All in all, if there is one cost-efficient alternative to paid SEO which is as effective as the latter, it is attractive content marketing.
So how do you market your content attractively?

Let's return to the past for the answer to this question, shall we?
Now content marketing is as old as business is. The term may be relatively new, the concept definitely isn't. People have created and extensively used 'great content' to sell their products and services for centuries. Let's go back to the past to learn how to do it right like our ancestors did. I'll discuss with you, three defining examples of successful content marketing from the pre-internet times.
1. Early cave paintings from around 4200 B.C.

Cave paintings from 4200 B.C. were the first recorded instance of content marketing. The content of one of the first paintings, as translated by historians, explained six ways how a spear could save the early man from wild boar. Do you see the relevance of the content?
Not six types of spears, not six beautiful patterns to carve on your spears but six ways you can save your life using spears. Creating relevant and commodious content is vital if you want readers to pay attention to your content.
Lesson learnt – Relevant and contributive content is the prime component of a winning content marketing strategy.

2. The Michelin Guides and Jell-O Recipe Books of the 1900s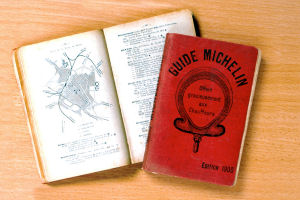 The 1900s saw the development of the Michelin guide – an exhaustive guide comprising 400 pages of information about car maintenance and lodging in France. Now this was the early 1900s when France had less than 3000 cars on the road. Yet, the Michelin brothers researched the market, made an educated guess about the future, and followed their hunch feeling that the motor industry would take off some day.
To promote the industry they favored so much, the brothers printed the Michelin Guide for motorists to find help in maintaining and repairing their cars. The guide had useful information, tips, and demonstrations about everything you would need to know as a motorist in the France in those days. It showed you how to change tires, clean the windscreen, and check air pressure in tires. It also showed you a list of mechanics, shops, and workshops you'd need in case of any motor emergency. The guide did not stop there, but took its serviceability to the next level and gave motorists a list of places – hotels and lodgings they could put up at, during long road trips. The first guides were distributed to motorists for free. By 1920, however, the Michelin guides were no longer free giveaways. They were, instead, sold to interested consumers.
Similarly, Jell-O began distributing free copies of its recipe book in 1904. By 1906, this free distribution of content generated sales revenue of over $1 million for other products of Jell-O.
Lesson learnt – Effective content marketing strategies require foresight and dedication

More and more content marketers now rely on content curation as the primary source of content creation. Originality of content plays an important role in deciding the content's reach. As a content marketer, if you think outside the box and focus not only on what is big in the industry right now, but what could potentially become big later, you give yourself the "first mover advantage". Market research will allow you to focus on new untouched areas related to your field.
Another great tip to take away from these successful content marketing gigs of the early 1900s is the effectiveness of the "try before you buy" approach. Focus on helping your consumers gain something useful and valuable from your content. When your content and the way it is distributed to prospects and customers reaffirm the value addition your business does, over and above the price you charge for your product or service, you win the loyalty of multiple customers and a powerful brand image.
3. The partnership of Hasbro and Marvel for G.I.Joe comic book series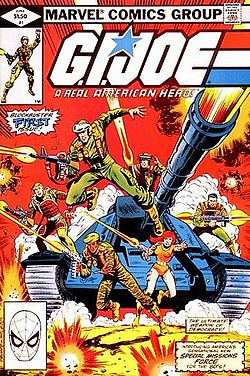 Hasbro and Marvel partnered to publish the G.I.Joe comic books in 1982. Now this partnership and the immense popularity that the comic books enjoyed frenzied the world into a G.I.Joe pop culture phenomenon. The G.I.Joe cartoon series which later rocked the TV was a direct result of the interest that their content created in readers. Now that is the power of effective content marketing for you!
Lesson Learnt – Meritorious collaborations and partnerships can help take content marketing to a whole new level.

Partnerships and collaborations are often used as effective marketing strategies, but seldom for content marketing. However, this is one area which has great potential if exploited strategically. Content created by peers as well as content which collaborating businesses co-create typically has higher credibility. Plus there is the advantage of businesses getting the best of each other in joint collaborations.
Incorporating these "tried and tested" pre-internet methods of content marketing into your modern marketing techniques will help achieve SEO goals faster and cheaper.
image credits: laventuremichelin.com, terrakon.com