You probably have come across this term before – "become an authority and you will reap the benefits of your efforts online". Yeah, everybody talks about it, and searching for the term "How to build authority" on Google will yield over 127 million results. That should tell you something.
Now the obvious question is, how do we get there? What is it do we have to do to build authority? Heck, why is that even important? All these questions are fortunately answered by Duane Forrester of Bing's Webmaster Team. Earlier this year, I mentioned about Bing webmaster webinars and Google's webmaster academy.
While you may not be a savvy Bing user, fact is that there are really some good info that you can extract from these webinars and the video below is one of them. It is a recording of an awesome webinar that Bing has been doing to help people understand how to improve rankings on search engines, among other things. Don't know about you, but I like this kind of educational webinars, specially when there are some real good stuff in there. And this one does.
So, moving forward, here are some highlights of this recorded webinar. I highly recommend you watching it. It is a little over an hour, but the time spent is totally worthwhile, specially if you are just in the beginning. If you want a bit of a shortcut and want to skip the introduction and all that, you can jump directly to the part that starts on 15min (+/-), although if you have the time, watching it from the beginning is suggested.
But first…
What Is An Authority?
The dictionary defines authority, among other things, as an entity or someone with power, or in this case, the power to influence others. Authority is something that you can't buy – it is earned. You are an authority when other people says you are, period.
How To Become an Authority Online?
Duane sums it up by saying:
Your ability to connect with people online is what will influence your ability to to grow and build your authority
Authority Building Shortlist
Know your topic inside out
Engage with your community
Share useful content (preferably freely)
Be consistent and useful
Market your strenghts
Be a go-to resource
Learn to spot trends in data
Here's also a good article from QuickSprout: A Cheat Sheet for Building High Ranking Authority…Without Cheating
Why is authority important?
Having authority on something is important because it influences your reputation, credibility and ultimately impacts your rankings. All these combined affects your business, that is why it is important.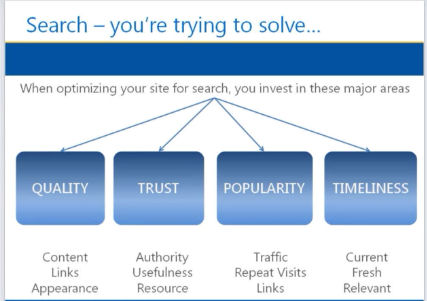 With all that said, here's Duane Forrester walking through what Authority is, how to build it, how to leverage it and the role it plays in how you ultimately rank.
That's it! What do you think about this webinar on building authority? Learned something new? Do you agree/disagree with some part of it? What say you?
image credit: beverlyboston.com