Websites are one of the most important aspects of any company's marketing strategy. It will likely be the first thing that the customer sees, and as we all know, first impressions count, and if a customer doesn't like the look and feel of the website, chances are they will look elsewhere. Website looks and functionality are not just important for enterprise, but for organizations, bloggers, domain owners, or anyone who has or needs an online presence.
The problem is that most people do not have the web development expertise to create a good quality website from scratch. Content management systems are one option, but these are fairly limited and are not a very good choice for enterprise. Another option is to pay for a professional website creation service, but this comes with no small amount of fees, and distances you from the design process.
A type of service which has been increasing in popularity lately is the so called 'do-it-yourself' website building and creation service. From internet newcomers to experienced web designers, this can prove to be a great tool for creating a modern and unique website. They often have more power than your average content management system (CMS) and they keep creative control firmly in your hands, in addition to getting it up and running in very little amount of time.
Now, the next obvious question would be which one of the vast amount of options that exist out there would you choose?
One possible solution to consider is Webeden. Webeden is an online website creation toolkit and hosting service that cuts out all of the complexity in website design. Webeden allows anyone with basic IT skills to create a fully-functioning website with all of the modern trimmings, for any intended purpose and without the need to learn web languages such as HTML.
The creation software with this service is based on the 'drag and drop' paradigm. You can add new web pages, edit and delete existing pages, and add text and all types of media such as images and videos. The website builder toolkit comes with a broad selection of widgets which you can choose and place wherever you want on the page.
Everything that you can drop onto the page can be edited, so you can customize the site as much as you want and create a more individual website. All editing is done with a number of menus, including the edit menu, pages menu, insert menu, object menu and design menu. Some menus allow you to make changes across all pages of your website, and the design menu lets you make changes to the fonts and background.
The File Manager allows you to add many advanced tools, such as online message boards, picture galleries, multimedia players, password protected areas and instant messaging. E-payment systems are fully supported, which means you can quickly create a secure e-commerce website for your business.
The website building process begins with you choosing from one of a huge range of templates. You can select a category and narrow down the templates to make it easier to find the right one. Once you reach the website builder you can then edit your chosen template accordingly.
Step-by-Step
Once you are on the main homepage, hit the get started button. You will immediately be sent to choose a template. Select and hit next.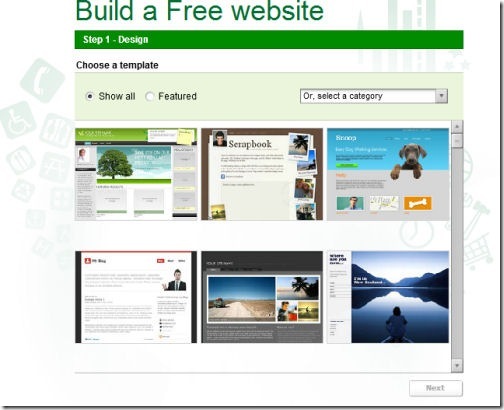 Fill in your free address, site name and description.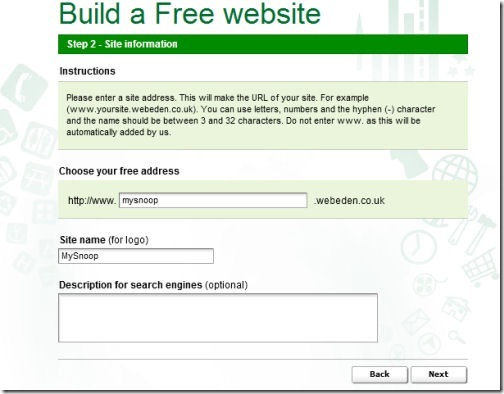 Enter your personal info.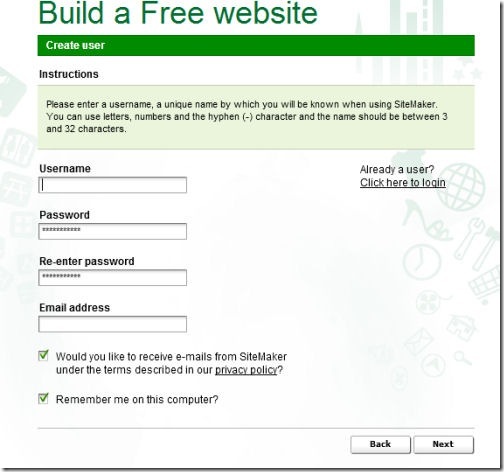 Agree to the terms and conditions (you may want to read that first)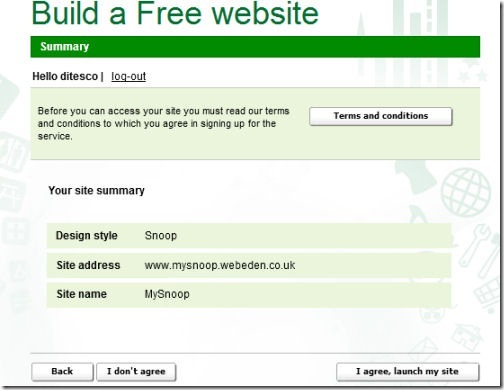 And you are now good to go. Design your look and feel, insert products (if ecommerce), posts, etc., and go live!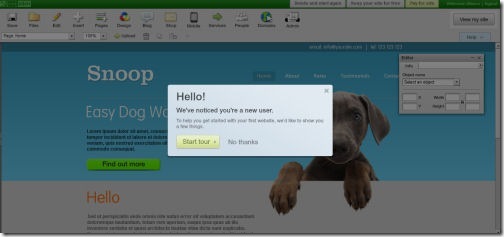 Webeden Web Design Trial and Hosting
Webeden incorporates hosting as part of its web design services, and there are five different hosting packages available. There is a free hosting and web design option whereby a free example.webeden.co.uk web address is created for you. This is a great feature because it lets you learn how to design your website and have it hosted free of charge, and if you like how things are you can then go for a better hosting option for a monthly or annual fee. Their paid hosting services are competitive which leading hosting providers.
Webeden can also help you improve your search engine rankings and get noticed online. This service provides over 100 search engine submissions and over 1000 directory listings to improve your online visibility, and you also receive monthly submission reports so you can keep on top of things. There is a comprehensive "How to Guide" on the Webeden website which helps you improve your web development abilities and get more out of the service.
Conclusion
This service provides the benefits of easy creation and extensive customization. Most other services offer on or the other, but not both, and this is the biggest advantage of Webeden. Users of the free service have however reported difficulties in accessing their domains, but, occasional glitches such as these are quite normal, even for self-hosted services. Either way, if building a website with little effort is what you are looking for, consider giving them a whirl. May just be what you are looking for.
this post brought to you by webeden.co.uk