Hi everyone! Hope you all had a great and productive week. Google this week has released a new "Scraper Report form" to help you report scraper sites that copied your content and outrank you. By providing Google with some information, the form allows you to report the scraper site that copied content from you. This is a good thing as in many instances, copied or republished content can outrank the original source and if you are experiencing this kind of "unjust" treatment, then filling up and submitting the form may help your own content rank better than those who copied from you. Cool, right? Now let´s see if it actually works.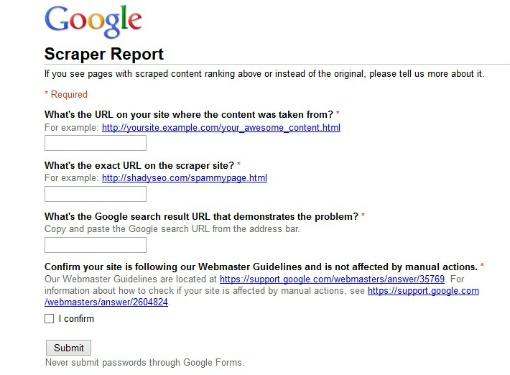 This week, Matt Cutts answers an interesting question about the "kind" of content that would better a user. While quality content is important, Matt talks a bit about "clarity" in favor of "technical mambo jumbo". What do you think? Should content that is as well-researched as possible deserve better rankings, or content that is easier for the layman to understand?
Should I focus on clarity or jargon when writing content?
Scoop.it and Google+
And finally, here´s a great write-up from Mike about scoop.it and Google+ and how to use it to your advantage.
And as usual, in no particular order:
Content Creation & Marketing/SEO and Search
Social/Small Business Bites
More recommended read!
That's it! Enjoy and have a great weekend!