Oh well, that may be a bit far fetched, considering that additional plugins are also essential for WordPress (SEO plugins, Anti-Spam, Security, etc). What I was trying to say here is that with just one plugin, you can literally create a WordPress review and rating site or turn your existing site into one. While there may be other review and rating plugin alternatives out there, few provide the functionality and features that Hesham Zebida of FamousBloggers.net just released. His new WP Review plugin is quite cool and has tons of features.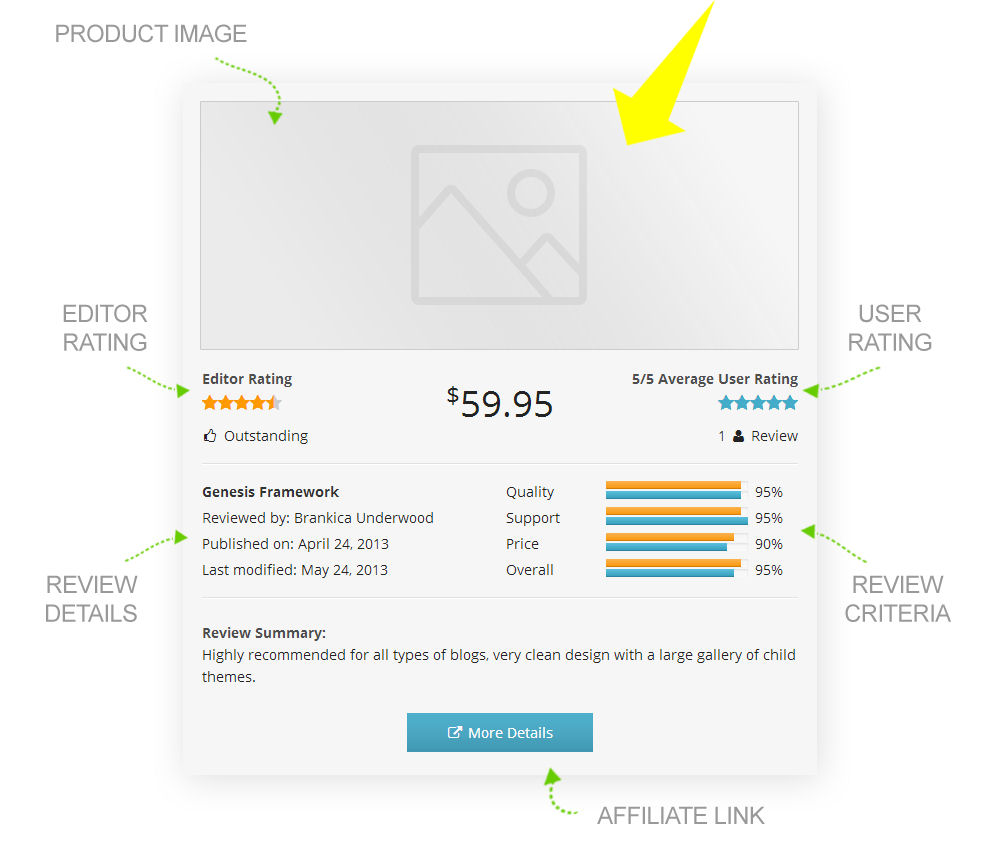 What Makes WP Review Plugin Interesting?
One of the most important aspects of a review site is when the overall rating is not "solely" provided by the reviewer, but rather, from users feedback. The reason for this is that the reviewers insights alone may be considered biased. Having the users provide their own views and rate the product or service being reviewed, gives it more credibility, among other things. Now this is easier said than done. Most of the time, you will have to find a specific theme that is built specifically for this purpose, or spend a bit of money for a developer to build the functionality for you.
Main Features
Add Google Rich Snippets on WordPress (markup)
Author review and rating
Any Visitor or Registered users can review and rate
Switch between author/user rich snippets
Works on posts, pages, and custom post types
Fully Responsive design
Widgets and Shortcodes
Flexible Creation of Review Criteria
Disclose Paid Reviews (FTC requirement and Google Guidelines)
And, much more…
[note]UPDATE: August 1, 2013[/note]
In addition the the features already mentioned above, today Hesham (developer), just released a new version adding more cool stuff to what already was awesome. Some of the new features include:
Added user only rating (now reviews do not require Author Rating).
Added user rating percentage and score when user rating only is enable.
Added YouTube video integration.
Added images slider feature based on image attachments via the Media Uploader.
Added image gallery shortcode integration.
Added a fix to Genesis Tab plugin, conflict in the jQuery UI styles.
Added an option in Reviews List widget (author/user reviews).
Added an option in plugin settings to display 'FREE' when price set to '0.00′.
How Does It Work?
Well, instead of talking about it here, I decided to create a video showing you how it looks, works and basic setup. Sorry I missed a bit some of the other features, but I wanted to make it as short as possible. Nonetheless, you can find the full list of features right here.
What Don't I like About The Plugin?
For now, one of the things I would really like to have is the flexibility of changing the width and template style of how the rating box renders. If you have a "narrow" content area, the box itself may not render as nicely as it is suppose to be. While it is OK on a mobile device, due to its responsiveness, normal desktop view may not be as good. Good news is Hesham is on to it, and perhaps is even coding the fix as of this writing.
That's it! I really think that the plugin delivers on what it promises, and if you all know Hesham, he is a standup guy and will not blink to provide you with any questions you may have or help you if you run into troubles.
And here's a bonus for you. Hesham is giving an on site 30% discount for a limited time. Want to know how to get an additional discount of 20% to total it at 50%?
Simple, the additional 20% code is…
[wpsharely]iBlogZone20[/wpsharely]
Great, now withe code above, that's a cool 50% off! You can get the plugin here (aff).
BTW, I did not get paid to write this post. I did however receive a free copy for being a beta tester. There you go, now disclosed 🙂