Hi everyone! Hope you all had a great and productive week. What can I say, this weeks buzz is nearly all Google. I know that there may be a lot of other noteworthy news out there, but the Penguin 2.0, Google new search by voice feature and AdSense related stuff, are those that caught my attention a lot more.
Penguin 2.0 as you may all have probably heard about has struck some days ago. While it has been an expected move from Google, surprisingly, I think that it came in earlier than what Matt Cutts initially lead us to believe. Anyway, still a bit too early to actually have a clear picture on the outcome of this update, but SearchMetrics.com already reported the biggest losers, based on their available data. Do you like the "new results"? That is if you felt any difference at all.
Anyway, How about you? Do you think you have been hit (negatively) by this update? If you think that your traffic has gone down, you should know that it may or may not be due to this update. To avoid being repetitive and in case you've missed it, read why your traffic may have been affected, but not necessarily due to Penguin 2.0.
BTW, Matt Cutts tweeted recently that if you think that the Penguin roll-out may be still showing some spammy results, you can report this by using this special Penguin spam form.
On a different front (but still Google related), don't know if you have heard about the new "Conversational Search" feature that is now live. I have to admit that it is quite impressive that "search by voice" is now a reality. To make this short, watch the small video I just did about this new feature. Does it work? You'll find out soon enough.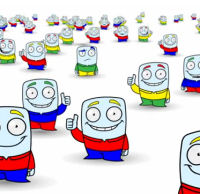 And finally, Google has been recently making some modifications to their AdSense policy. For those of you who uses AdSense to monetize your blogs, know that you are now permitted to "modify" the ad code for a variety of reasons (e.g. ad responsive, a/b testing and more). You do know that it was not permitted before, right? Find out here on AdSense's official blog. Also, below you will find a video from Google AdSense G+ page, clarifying more about what "adult" content is. May sound straight forward to you, but then again, it may not.
As usual, in no particular order:
Inbound Marketing/Analytics/Advertising
Social/Blogging/Small Business Bites
More Cool Stuff and Other Roundups
AdSense Tips: Keeping your site family-safe
That's it! Enjoy and have a great weekend!