You all know that the WordPress platform needs no further introduction as it is already a celebrity of its own. While WordPress in itself is very functional, it is obvious that there are features that are deliberately excluded, as it is not a one size fits all (they do try). For every WordPress user, there is always someone who will want something different from the other. Here is where the so called plugins come into play.
WordPress plugins are tools that extends this popular platform's functionality. With WP plugins, almost anything can be done or added to your WP powered site. There are plugins for your design, WordPress SEO, security, social sharing, management, productivity, and more. Think about some functionality you want to add, and most likely, some WordPress developer has already done it. The WordPress repository has an estimated 15K plus of available plugins for everyone to use and obviously, there are the good, the bad, and the ugly.
Now, you might or might not heard of WordPress Junkies (WPJ) before. It is a project that Michele of NewBizBlogger and I, decided to launch not so long ago. WPJ is a social and bookmarking site for all WordPress enthusiasts and lovers. Find more info here.
That said, the both of us, being users and strong advocates of using this software to support all types of online ventures, we thought it would be beneficial to provide our community and readers a list of plugins that have provided us the most value. After many, many, many hours of work… an eBook is born.
62 WordPress Plugins, You Should Know About…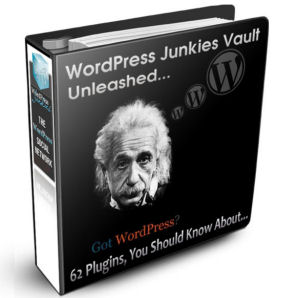 Everything should be made as simple as possible, but not simpler – Albert Einstein
The plugins contained herein are not only the most popular ones, but also new and upcoming superstars. Out of the total 62 plugins, 54 of them are totally and 100% free, whereas 6 are premium plugins. Yeah we got that too..
In the eBook, you will find a list of plugins for several purposes, they are:
Ad Management
Design/Widget Management
Link Building
Productivity / Marketing
SEO/Site Speed Enhancements
Security/Database Optimization
Social Web
Stats/Trackers
Webmaster & Blogging Tools
Premium WordPress Plugins
How Do You Get One?
Easy. Just be a part of our growing community on WPJ and receive it shorty after you complete your registration. You love WordPress don't you? So, why not be a part of a community that shares the same interest as you? If you are already a valued member of WPJ, just be on the look out for an email we are sending out shortly. In it, you will be given the link to download your free eBook. Sweet! Just another benefit of being part of our community :).
That's it! What are you waiting for? Be a part of our WordPress Social Network, meet new and like minded people, establish connections and receive the eBook with our compliments.
One last note. While every effort has been made for this eBook to be as updated as possible, we understand that there might be some plugins that we have missed out. If you know of a rocking plugin that should have been mentioned, please do let us know. The eBook will be updated regularly, as newer plugins make way for the older or outdated ones.
On a side note, if you are relatively new to WordPress, you might want to check out this awesome WordPress Website Checklist. Thanks!