Blogging is getting more and more popular and this trend is expected to continue in the years ahead, with expected regular blog readers of over 60% of the Internet population in the U.S. by 2014. Experts predict in time blogs will become indistinguishable from the other channels which means they'll be accepted as an inseparable part of the online media.
But, have you stopped to think why do people actually blog; what makes them want to blog; is there some psychological basis behind blogging? All bloggers have a purpose for their voice to be heard, but it is in their psychology why they've chosen that purpose, or that particular voice.
Here's some blogging on the brain…
Creativity
Blogging inspires our creativity. It can be viewed even as an artistic experience where instead of painting pictures we are designing our blog pages, posting photos and expressing our thoughts. For the people who want to explore their creativity blogging is just another outlet of expression, a media that's only different from writing in a journal or a novel by its potential outreach. There are bloggers who blog about their new-found creativity, or some creative aspect of their regular "not-creative" work, and even those who blog on creativity in general like Tanner Christensen's "Creative Something".
Being social
In today's world of social media, blogging is another way to communicate and build relationships, relate, compare and just hang out with other people. These social bloggers use the channels they love, like Twitter, Facebook, to extend their personal and/or professional networks online.
Identity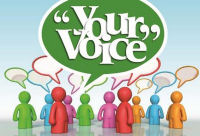 Many bloggers start blogging for the purpose of discovering their own identity. Their satisfaction from blogging is connected with their personal need to be heard by other people – it makes them feel important. This does not have to be viewed as negative; on the contrary, if you blog about something you feel passionate about, something you enjoy researching and learning, then you probably have great ideas on the subject that others will find valuable in their personal or professional life. So it's good that your voice was heard by others – they can relate to your stories, improve from your advices and within the process build your authority.
But bloggers have to also understand the possible consequences of their publicly expressed words. Though many aren't fully aware or choose to simply ignore, what we publish on the Internet stays there forever, and because of this fact everyone should think twice before putting something that may indiscriminate them on the long run. We are maybe proud of the stuff we say or do now, but think about it from your perspective after 5, 10 or 15 years from now. You probably aren't proud about everything you've done or said few years before, so you can guess you won't be either few years after.
Be responsible on the Internet, think about the possible consequences of your statements, and don't assume that if you are blogging under a pseudonym you are anonymous – with the way Internet is connected today there's no guarantee at all that if someone wants to find some information about you they won't connect it easily to your real name. Just think how many other places on the Internet you have used the same pseudonym you use for blogging. And even if you've played it safe and used a unique blog name, you have to also be careful about the details of your life you reveal in your blog and how easily they can help determine who you "really" are.
Business
There are also bloggers who've found financial benefit from their blogging. They've maybe started blogging for other reasons but have seen a possibility to develop a certain kind of business and make the fun profitable. These bloggers may derive happiness from this activity, but they can also call it a job. Many professionals have seen blogging as very beneficial for building their professional networks and personal online brands, where blogging isn't their primary income source, but a way to market themselves and connect with a much larger audience.
Future Of Blogging
WordPress' Mullenweg On the Future of Blogging.
Kara Swisher interviews Matt Mullenweg, creator of WordPress, about where blogging and the software that powers it is going. Recent from SXSW.
Blogging is a great way for people's thoughts and ideas to be heard, but it must be done responsibly, for the more the readers the greater the implications of their words.
image credit: problogger.net