Don't judge a website layout by its appearance – judge it by how well it fulfills its purpose. Business websites exist to make money, and often the most profitable websites include some ugly features, such as advertisements. But almost all websites should use some design elements and avoid others, so here is the best and worst you can do with a website layout:
The Worst Website Layout
Let's start with the worst website layout. The first thing you notice about it is that's it's cluttered with content, advertisements, navigation, notices, and other features.
As I mentioned earlier, ugly websites can often be effective, but unless this website makes money from Pay-Per-View (also called Pay-Per-Mille) advertisements, there's no way anyone is staying on the site long enough to click one of the dozens of garish flashing advertisements.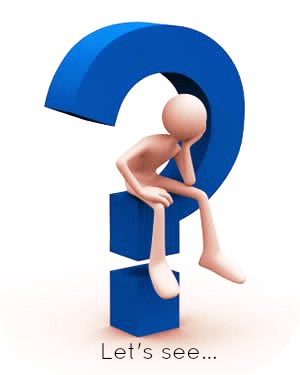 A key aspect of website layout construction is attention management—what does your visitor see, and what does he think about when he sees it. On a cluttered site, you can't determine what your visitor sees, so you can only guess at what he's going to do.
What Makes This Website Layout Worse
In order to fit in more advertisements, our worst website layout uses small text. Small text looks fine from a website layout perspective because you're looking at how everything fits together. But when you actually try to read the small text, you discover how difficult it makes actually using your website.
Finally, this website never makes clear what you want the visitor to do next. There's no call-to-action at the bottom of each page which invites the visitor to read another page or even buy a particular product, so most traffic which visits this page will leave immediately after getting the information they need.
The Best Website Layout
Our preferred website layout is clean—not for clarity's sake—but because we can manage the visitor's attention using a clean layout.
The page provides large text, at least 14pt (although 16pt could work even better). Lines are wrapped after about 60 characters. Generous, but not excessive, space between paragraphs helps the reader quickly scan the text.
This website layout strategically places advertisements where the visitor will see them. The strongest places for advertisements are after the lede (first paragraph), about halfway through the article, and at the end of the article. If possible, the advertisement blends in with the article so the visitor automatically starts reading it before he realizes it's an advertisement.
A Good Website Layout is Good for Traffic
Where do I start…
Website usability is very important:
A good website layout can help keep your visitors on your site, making it easier for them to navigate, therefore reducing bounce rate.
The right website layout does not distract your visitors from completing your goals, after all, traffic is hard to get and we need to make use of it.
All in all, a good website usability serves to improve UX (user experience). Providing good experience is good for your audience and it also fits well within the guidelines of implementing good SEO practices.
Final Website Layout Touches
At the end of our article or at any point within the article when the reader may think of wandering (such as before an in-depth example), the site places a call-to-action to encourage the reader to stay on the site by visiting another interesting page or to buy a product or service which will help him improve his life.
No matter where we look on the page, we can always determine exactly what the webmaster wants visitors to do—whether it's to read the article at the top of the page, click an advertisement in the middle of the page, or read another article at the bottom of the page. A website such as this which leads visitors is the best possible website layout.
image credit: zurb.com