Every marketing tool carries the same straightforward objective: to simplify marketing while increasing conversions. The problem stands in selecting the proper tools for your business, as each company faces many individual variables. Customers' behaviors change, goals change, and industries differ. Even a task as simple as finding an email client for Windows 10 requires research.
While each marketing tool offers its own set of benefits, what's important is to identify the ones that match your business's needs. Instead of going for the first or cheapest option, take the time to choose a tool that best serves your intentions, marketing channels, and advertising approaches.
We've made a list of the seven best tools statistically classified as must-haves.
The 7 Best Marketing Tools for Your Business
BuzzSumo – Never Miss the Trends
HubSpot – A Multi-Channel Solution
Hootsuite – Schedule and Analyze
Optimizely – Refine through Testing
Screaming Frog – Find Ranking Foes
ContactMonkey – Get More Value from Emails
HoneyBook – Manage Clients and Projects Seamlessly
The 7 Best Marketing Tools for Your Business
As a business scales up, its marketing channels require more and more content to be created, distributed, shared, and analyzed. It's impossible to grow and handle this growth successfully without tools that allow for the automation or bulk completion of repetitive tasks.
Marketing tools feature options for seamless content strategy, including its creation, publishing, and performance analysis. They also assist sales teams with data on their prospects for smoother conversions. These tools massively reduce the time and errors that come with each process.
BuzzSumo – Never Miss the Trends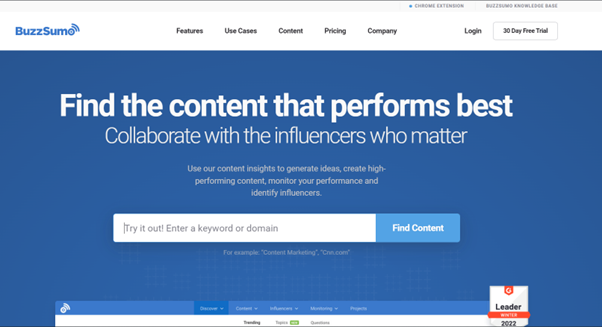 Finding that piece of juicy content your audience resonates with asks for time in calculating insights and scrolling from one post to another. BuzzSumo assists you in getting this done quietly and efficiently, by analyzing which content posted by competitors is doing well.
This supplies you with enough good content ideas and metrics for both the short and long term. Add to this the opportunity to connect with influencers of your niche, which are listed in the platform with their respective details and insights, and you have the tools you need to skyrocket your marketing. No more chances of getting fooled by fake influencers.
Features
Content discovery and research
Available as a Chrome extension and API
Influencer listings
Monitoring
Pricing
BuzzSumo offers five major pricing plans: for individuals or small teams (Pro), businesses and growing teams (Plus), large teams or agencies (Large), and large companies (Enterprise). The respective plans as we speak are priced as follows:
Pro – $99
Plus – $179
Large – $229
Enterprise – price provided upon request
HubSpot – A Multi-Channel Solution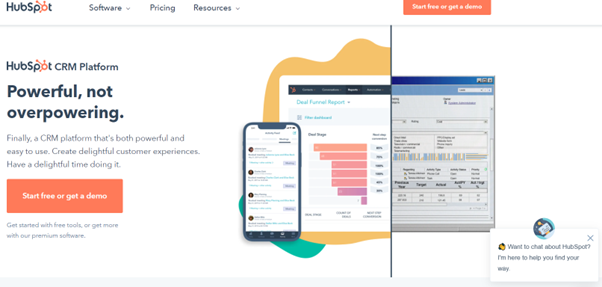 HubSpot was initiated as email marketing software but eventually grew into a multi-channel marketing automation platform that offers a range of services. Integrating HubSpot into your business helps with different processes, such as lead management, customer support, sales, and marketing.
It's powerful CRM software that offers all the necessary tools to supercharge your marketing efforts and boost conversions. As cloud-based software, it's flexible and features numerous tools to help you automate marketing, manage social media campaigns, and even boost your SEO rankings. It's also a fantastic newsletter builder (the old love for email marketing couldn't go away).
Features
Detailed customer segmentation
Audit management
Content marketing and automation
ROI reporting and tracking
Pricing
HubSpot's pricing structure is based on three main "hubs:" marketing, sales, and customer service. Even though there's a free plan that includes the CRM and the light version of other products, without the paid packages there's only little you can do with it.
Paid packages range from $25/month to $50/month per user and could reach up to $180/month.
For medium-sized teams (around ten people) the expenses vary from $500 to $60k per year (including set-up and onboarding).
For larger teams, you could make use of the Growth Suite that packages the three hubs with a 25% discount.
Hootsuite – Schedule and Analyze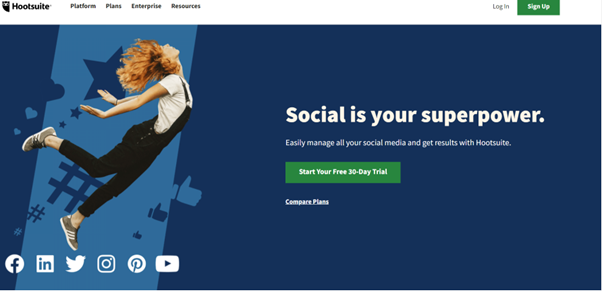 Centralizing the control and automation of your social media platform makes establishing an online presence through it even easier. Hootsuite has built an analytical system that gathers data from all your campaigns in one united view, so you can discard the inefficient campaigns or make changes accordingly.
Posting content doesn't have to be exhausting anymore. Schedule months of content ahead for over 30 platforms and spend more time responding to comments and engaging with users. Moreover, it allows users to filter and find hashtags for your exact industry for more reach.
Features
Content creation and scheduling
Managing all of your channels
Campaign management
Staying up-to-date with recent messages
Detailed analytics of your performance
Pricing
Free Plan – allows one user and three social accounts
Professional Plan – costs $29/month and allows up to ten social accounts and one user, together with metrics and ad limits ($500)
Team Plan – costs $129/month and includes 20 social accounts and three users, unlimited scheduling, and $2,000 in ad spend limits
Business Plan – costs $599/month and allows 35 accounts, up to ten users, unlimited scheduling, and $5,000 in ad spend limits
Enterprise Plan – comes with the option to fully customize your packages and receive a custom price
Optimizely – Refine through Testing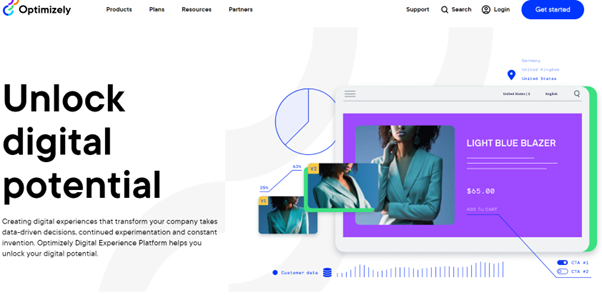 As the name itself suggests, Optimizely helps with the optimization of your sites in every aspect. It focuses mostly on testing the visual appearance, such as headlines, designs, and content, but it also assists with content optimization for better ranking.
It is the ideal tool to help you turn your current website into a conversion beast or build a new one from scratch and test every element from layouts and page design to text and images. The beauty of it stands in the fact that you can test and see these changes without risking ruining the live website. Optimizely has successfully serviced 700 million businesses so far.
Features
AB testing
Account-based marketing
Audience segmentation
Contextual targeting
Funnel analysis
Performance analysis
Heatmaps
Pricing
There isn't much information available regarding pricing. However, we do know that the platform offers no free trials, nor does it have a freemium version, and its costs start from $50k per year.
Screaming Frog – Find Ranking Foes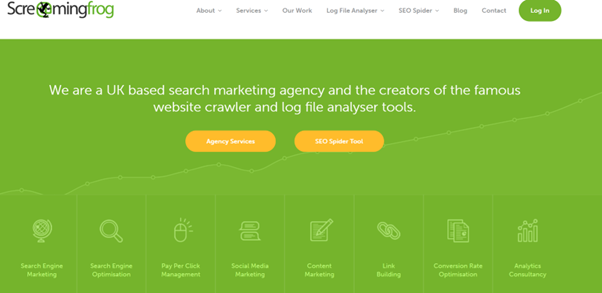 Most of the time, SEO is the answer to your traffic problems, but it's hard to define what exactly these problems are. That's when Screaming Frog comes into play. The Screaming Frog SEO Spider crawls around your website's URLs and infrastructure to provide an in-depth analysis and audits of the technical elements causing SEO problems.
Owned and operationalized by SEO consultants who are always updated with the most recent industry advancements, Screaming Frog is essential for any business with a web presence. Use it to easily tackle duplicate content, locate broken links, create sitemaps, and much more.
Features
Locate broken links, errors, and redirects
Metadata and title analysis
Audit scheduling
Data extraction (using xPath, regex, or CSS paths)
Reviewing meta robots and directives
Locating duplicate content
Sitemap generation (XML)
Pricing
Screaming Frog services are licensed on a yearly basis. The two main plans are Free and Paid. The Free plan allows users to perform tasks such as finding broken links, analyzing metadata, and performing audits for about 500 URLs.
The Paid plan, which costs around $198.70, provides unlimited crawlings, customized extraction, search and robots.txt, Google Analytics integrations, and dedicated technical support.
ContactMonkey – Get More Value from Emails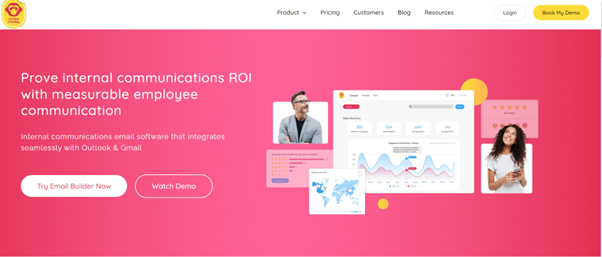 Not yet hitting your sales goals? ContactMonkey makes having a website and social media presence worth it because it boosts conversion rates. It allows for seamless integration of Salesforce with Gmail and Outlook for task monitoring without leaving your inboxes.
ContactMonkey's specialty is email tracking, which gives detailed analytics when you send an email (open rate, user location, device details, etc). You're also able to track the hyperlink clicks and update Salesforce directly from your inbox.
Features
Newsletter creation
Collect employee feedback
Integrate Outlook and Gmail
Track email performance
Pricing
ContactMonkey offers four pricing packages:
Team ($15/month),
Professional ($10/month),
Salesforce ($25/month),
and a Custom package with personalized requirements and pricing.
For a free trial and customized pricing, you're taken through a demo.
HoneyBook – Manage Clients and Projects Seamlessly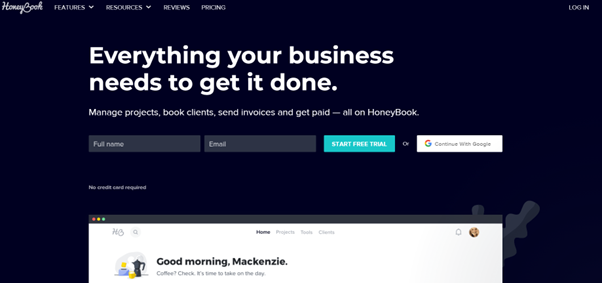 HoneyBook is the ideal solution for entrepreneurs and freelancers in need of a tool that helps them manage projects and clients.
HoneyBook accompanies you in managing relationships with clients from the moment they send an inquiry. It helps you organize materials, contracts, and projects in dedicated spaces for each client and provides invoice templates among other time-saving features.
Features
Calendar management
Billing portal
ACH payment processing
Appointment scheduling
Canned responses
Pricing
HoneyBook provides two main plans: Starter and Unlimited. The former costs $9/month and can't be purchased annually. It includes the main invoicing and project management features but with noticeable limitations: no option to add team members, a $10k transaction limit, and only six months of support from the Concierge Team.
After reaching the $10k limit you have to purchase the Unlimited plan, which is billed either monthly ($39/month) or annually ($390/year). The Unlimited plan has no limitations and can be purchased directly without having to reach the threshold. However, if you're unsure which plan to choose, the free trial allows you to try their services for seven days before making a decision.
Pro tip: to enhance your business results consider using the best Chrome extensions for productivity.
Conclusion
The marketing industry is getting so saturated day by day that it's impossible to navigate through without the proper tools. Equipping yourself with the right content marketing, SEO optimization, and CRM tools will make your workflow smoother and more effective.
The listed tools cover all the aspects of reaching, converting, and managing clients. Even though marketing seems very daunting in 2022, arming yourself with the proper tools will allow you to distinguish yourself among your competitors.
Author
Roman Shvydun writes informative articles mainly about everything related to marketing, business, productivity, workplace culture, etc. His articles focus on balancing information with SEO needs, but never at the expense of providing an entertaining read. See a few more examples of Roman's articles by visiting his Twitter.