Hi everyone, hope you all had a great and productive week! With over 200+ ranking factors that SEOs talk about, another frequently asked question is whether or not branding plays a part in Google's ranking algorithm. According to Rand of Moz.com, there's a short answer with a big asterisk to that, and in the video below, he explains what you need to know.
Is Brand a Google Ranking Factor?
2015 Social Media Marketing Industry Report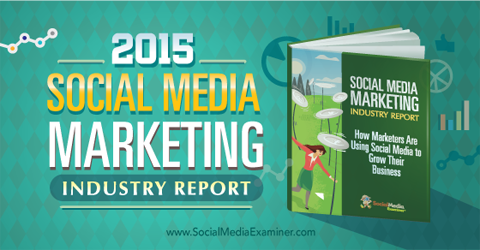 As a marketer, one of the things you would probably like to know is what other like minded people (they) are doing themselves on Social Media. Fortunately, Social Media Examiner does the marketing community a great service by doing a survey on how they use the top social media platform. The survey for their 2015 Social Media Marketing Industry Report includes:
What social platforms marketers will focus on in the future
The top social media questions marketers want answered
How much time marketers invest with social media activities
The top benefits of social media marketing and how time invested affects results
The most common forms of content for social media marketing
And much more!
Download the report here (pdf).
Turn Your Data Into Stories To Earn Authoritative Links
And as usual, in no particular order:
Content Creation & Marketing/SEO and Search
How to Score .Gov Links for SEO
Social Media/Small Business Bites
More from around the web …
That's it! Enjoy, have a great weekend!