Hi everyone! Hope you had a great and productive week. Undoubtedly, Google's announcement about updating their TOS (to go live on November 11, 2013) is one of the news that has been on the spotlight this week. While the announcement mentions stuff about security and all, the most important is that of the so called "shared endorsements". To skip complications, here's the highlights of the announcement, according to Google.
First, clarifying how your Profile name and photo might appear in Google products (including in reviews, advertising and other commercial contexts). You can control whether your image and name appear in ads via the Shared Endorsements setting.
Second, a reminder to use your mobile devices safely.
Third, details on the importance of keeping your password confidential.
As you can see, what really matters is the fact that your profile name, photo, etc. may appear in ads served by Google. This is actually very similar to that of FaceBook's version, the difference being that you can opt-out of it. From what I can tell it is on by default so if you want to turn it off, just follow Matt's Tweet and should be good to go. If you want to know more about the shared endorsement ads, check this article from MarketingLand.
To opt out of shared endorsements where Google shows your name/photo in an ad, go here: https://t.co/AYdyPZ0oHo

— Matt Cutts (@mattcutts) October 11, 2013
SEO Ranking Factors – Rank Correlation 2013 for Bing USA
Not so long ago, SearchMetrics.com has released their study of SEO ranking factors for Google. More recently, they also released the ranking factors for Bing. This study deals with the definition and evaluation of factors that differentiate better-positioned websites from pages placed further back in the organic search results – i.e.: pages that have a positive rank correlation. Very interesting!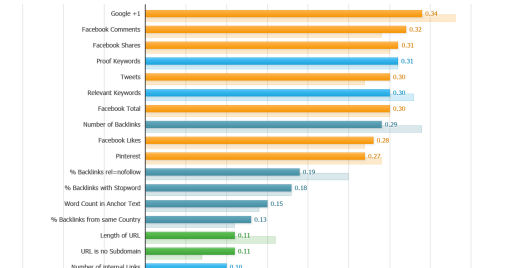 Top highlights of Bing Ranking Correlations 2013:
Keyword domain and backlink diversity filters are more unspecific
Ranking preference but rather insufficient distinction of Brands
Social signals correlate very well with better rankings too
Good content is important: it comes to quality and relevance!
The number of backlinks is immensely important too
On-page technology belongs to the basics
Finally, Authorship is for Google and "Klout-orship" is for Bing. SearchEngineLand reported this week that Bing and Klout have teamed up to form a puesdo-authorship alliance that will appear in the search results pages. A new Klout-verified 'Snapshot' will show in Bing along with social icons, Klout scores and lots more. Klout is becoming a much more powerful tool than simply measuring social significance, and perhaps it would be a good time to take another peak on how things are doing and verify your "klout" with Bing. Here's the full article.
As usual, in no particular order:
SEO & Internet Marketing
Social/Blogging/Small Business Bites
Send Google Plus Posts To Other Social Networks With Friends+Me
More cool stuff!
Why isn't my site's PageRank changing?
That's it! Enjoy and have a great weekend!