I recently received an invite from Ileane of BasicBlogTips to sign-up for a content curation platform called Scoop.it. I have to admit that Ileane never stops to amaze me, as whenever she recommends something like this, it is almost certain that I will like it. Anyway, thanks Ileane for the invite, you rock!
So, first things first.
What Is Content Curation (definition)?
Good question and my quest to find an easy to understand definition of the term yielded very little results. I did however come across GetCurata.com which defines a content curator like this:
A Content Curator is someone who continually finds, groups, organizes and shares the best and most relevant content on a specific issue online.
I guess the above definition should shed a bit more of light about content curation, if you are quite new to the subject.
Which reminds me, do you have a different definition of content curation?
What Is Scoopt.it?
Scoop.it is a content curation platform, where users can curate information about any topic they want. Once you sign up, you will be able to create a topic of your choice (no limits) and start curating information. The site is geared towards providing users a very quick and easy way to "scoop" any information that you feel is relevant to the topic you have chosen. There are several ways you can do this, the easiest being via a drag and drop tool that you add directly on your browser.
For example, one of the topics I created is called Small Business Bites And Social Media. It does not have a lot on info yet (just started some hours ago), but this should give you an idea on how a page looks like. Actually reminds me a bit like Paper.li.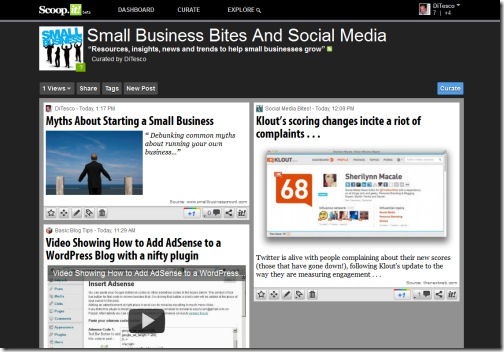 Scoop.it does not stop there. It actually has an important social element, as users can suggest relevant links that they think you may want to include or review. It also allow you to integrate with several social networks (FaceBook, Twitter, LinkedIn, etc.), and micro-blogging platforms such as Tumblr. You can also define Scoop.it to integrate information directly on your WordPress site, if you want.
Anyway, here is a video presentation about Scoop.it. It gives you a great overview about Scoop.it.
What Are The Advantages Of Content Curation?
To be an effective curator of a certain topic, I am of the opinion that you have to not only love it, but also know how to "identify" valuable information. By providing real value to the community and doing things properly, you can at a certain point, be considered as an authority of the subject matter, thus allowing you to build more relationships, increase your social engagement, build your brand, etc. Curated content on Scoop.it can be shared, liked, get +1s, and more. You can share just about anything you want from posts, to images and even videos. Just be sure that they are in fact related to the topic you have chosen, and remember that you can create unlimited number of topics.
In addition, I am not so sure (yet) as to what effect can this have on your SEO Marketing campaign. I did notice that the topics you create generate a "unique" URL and the pages links directly to the sources of the information. What I really like about the tool is that you can edit the information of a post and change whatever you want. I tried doing that for one video I had on YouTube, and I added another link, which was accepted. If that link will have any juice at all, remains to be seen, but unless I am over the top, it could also be used for "mild" link building campaign.
That's it! I have not yet figured out how to send invites, but if you are interested, let me know so I can send you one when I finally discover it. I think I have to reach a certain level first before that. We'll see. Anyway, if you head over to Scoop.it, just hit the invite button and provide the info requested. I heard that you should be approved in 48 hours tops. And Oh, did I mention that it is a free service? For now at least.
[note]UPDATE: Scoop.it private beta has been successfully completed! As of today (3/Nov/2011), the free public version is open to everyone. Invites are no longer required. Wooot![/note]
CONTENT CURATION SOFTWARE: Perhaps I can get you interested with a software that you can use to curate content. CurationSoft is a tool that you can use to curate content and integrates directly with popular platforms such as WordPress, Drupal, Blogger, etc… You can even use it on Google+! The free version is awesome, being limited only to the "number" of sources that you can use to search for quality content. Either than that, its fully functional and it could be very useful to have in your arsenal. Download the free software here (ref link).