Black Friday/Cyber Monday is no longer news to anyone (I think). Black Friday is the day that immediately follows Thanksgiving day in the USA. While this is so, it is a tradition that many have embraced, as it is normally that week where crazy deals are being offered all over the place. I for one am totally in for great deals, as it would not only save us money, but otherwise would probably not purchase a product or service due to budget constraints.
In the spirit of tradition, below is my shortlist of deals that I think would be of interest to you. Some are exclusive to iBlogzone. Obviously there are many more great deals out there, and I will update this post should the opportunity arise. Remember that this is only a short list and scouring the web for "other" stuff you may interested in, may just be a "search" away. Links below are generally my affiliate links and all offers may change without notice.
For those of you who celebrate it, Happy Thanksgiving!
WordPress Training Program (iBlogzone exclusive – super Black Friday/Cyber Monday Deal)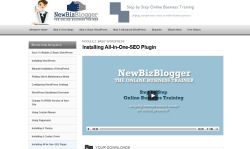 Michele of NewBizBlogger has recently created a WordPress Training Program that will empower anyone with the knowledge on how to build an online presence using one of the most popular CMS platforms. This program is packed with instructional videos and resources that is simply difficult to pass on. I have been using WordPress for three years now and thought I knew it all.. Hmmm, guess Michele has proven that I was wrong. Want to know how to use WordPress properly to build your online business? This one is for you. It is one of those that you can easily say that the investment was worthwhile. Use this link to access this exclusive deal. You will only pay $33,50 for the whole course. If you are not yet convinced, you can always opt for the trial version to make a well informed decision. (offer expired)
WordPress Theme/Skin
StudioPress Genesis (CopyBlogger)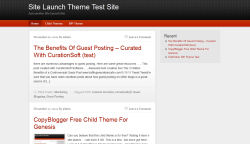 Although I use Thesis here, I have other sites that are powered by Genesis. Recently, Brian Clark has made available to the public their "CopyBlogger" original skin, which I personally like a lot. See demo I have here.
Anyway, if you like that skin, you need to have the Genesis Framework, which is going away with a 25% Off its normal pricing. Get the Genesis Framework for only $45, by using the magic code THANKS (at checkout). (offer expired)
Now here is something that perhaps you might not know about Genesis. There's no "Developer Option" here. One low price entitles you to unlimited support, updates, and domains you can build on. If you've got multiple websites (or client projects), you can use Genesis on all of them. That's an unparalleled value.
ThesisAwesome (Premium Skins For Thesis)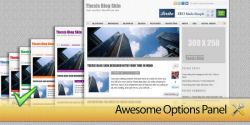 If you have noticed, my site here is powered by Thesis and ThesisAwesome. Hesham, the owner, founder and developer of ThesisAwesome has gone mad (in a nice way), and is offering a whopping 50% Off any skin in his collection. Just use the code 266E and you are good to go. BTW, before I forget, Hesham's Premium BlogSkin is going two for one. So, on top of the 50% off, you get the silver skin for free. How cool is that? Here's a post I wrote about the BlogSkin with its built in Control Panel. (offer expires 28/11)
Note: ThesisAwesome only works with Thesis Framework.
Web Hosting
BlueHost (This One Is On Me)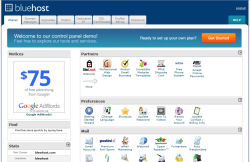 BlueHost is one of the most popular web hosting service providers out there. I personally have two accounts with them, and all but two sites that I own are powered by BlueHost. For now, there is no official Black Friday deal (yet), but in the spirit of tradition, I am giving away a 40% Cash Back deal for anyone who signs up via my affiliate link. It is simple, I am sharing my commission with you, so its a win/win scenario. This offer is only valid for first time one year registrations (hosting only). Just go over the signup process and once you have confirmed your account with them, send me an email with the domain name you used to register and the amount you paid. As soon as I get paid (required for security reasons), I'll send you your cash back via PayPal. (offer expires 15/12/2011)
iPage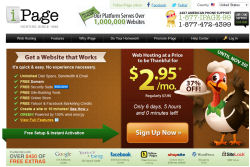 With over 1 million plus websites registered, iPage boast itself as being a "Green" hosting provider (100% powered by wind energy). A serious contender for being one of the best hosting companies right now. The Black Friday deal requires no code. Just sign up, complete your registration and you are good to go. Pricing is at 2.95 per month (24 months) or $3.50 per month (12 months). That's a huge discount over their $7.95 normal pricing. No activation fees, and you get a $450 value of extra services. (offer valid until 30/11 – please check, offer apparently still active)
Hostgator
While I do not use Hostgator personally, I have received a lot of positive recommendations from trusted sources and friends of mine. For the Black Friday deal, the info is not yet out. The deal is 50% off in any hosting account. No code required.
Note: Be advised the promotion will begin just after midnight, Friday, November 25th, 2011 Central Standard Time (-6 GMT). (offer expired, see alternative below)
In the meantime, if you want to use Hostgator, and you miss the deal above, you can use this code that will grant you 25% Off, anytime 🙂 CODE: DITESCO2011
WP Plugins
CommentLuv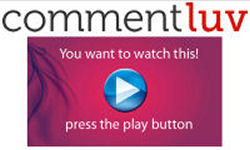 What is there to say about CommentLuv Premium? I am sure that all of you have at least heard of it and you have most likely seen people talking about it all over the place. BasicBlogTips, TrafficGenerationCafe and GrowMap are just but a few that I can think of right now. So here is the deal (again on me). The first five that signs up via my affiliate link will get a 30% Cash Back from me. After that, you get 20% (still good, right?). As soon as I get paid, I'll send you your cash back via PayPal. Get your CLP Plugin now! (offer expired)
Some Miscellaneous Stuff!
The following are not really deals per say, but I am putting it here anyway, in case you are interested.
SlideDeck – Awesome premium content slider (get the free version)
WP SEO by Yoast – My new favorite SEO plugin. Will write a more detailed post later. Get it now on WP repository. This is really good.
Free Cloud Web Hosting – 100% Free
CurationSoft – Content curation software. Grab the free version.
Lanzarote by air – Flights to Arrecife
Cheap flights to Lanzarote are just a few clicks away with our cheap flight search.
[note]Finally, I would ask a favor from you. I am participating on Hesham's online marketing contest. Please take a moment to head over there and provide me with your support. Any comment, Tweets, +1s, Likes, will really be appreciated.[/note]
That's it! Do you know of any other Black Friday deals that should be here on this list?